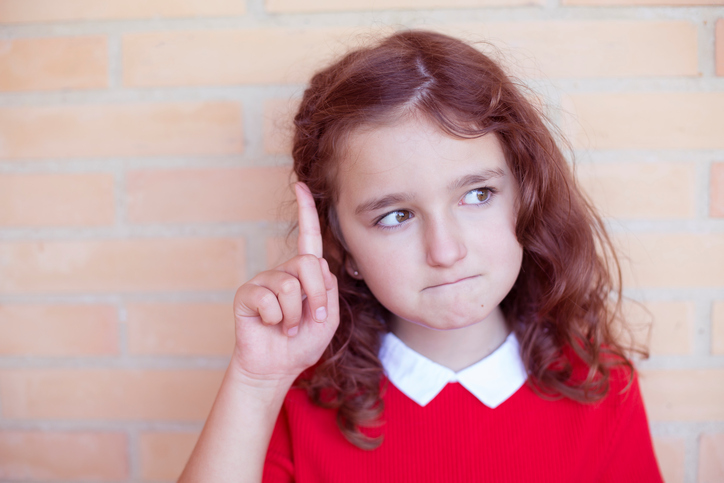 If the emotional state of your daughter and her behavior in the rest have not changed, I believe that there is no cause for concern.
I was familiar with one seven-year-old boy, whose parents complained about his strange behavior, outwardly opposite to what your child is doing. This boy, on the contrary, greeted with people he did not know on the street and looked into their eyes.
Parents felt awkward in front of others, were at a loss. Their child violated the existing social norms (in large cities it is not customary to say hello to strangers), but at the same time he did nothing wrong, rather, on the contrary, showed the politeness that adults taught him. As it turned out, the boy felt like a researcher who studies the world of social relations, and he was primarily interested in the reaction of people with whom he greeted.
Someone looked away, someone smiled, some adults were embarrassed, others were a little scared, and one uncle, who apparently remembered better how he was a child, made a terrible face in reply (which caused deep respect from the author "Experiment").
Children of primary school age are often interested in how their personal needs relate to the rules of behavior that exist in society. Why do I need to greet, say thank you / please raise your hand in class and so on?
The assimilation and adoption of these and many other "external" norms occurs in the process of socialization, it takes effort and time. Protest reactions, which your daughter seems to demonstrate when she refuses to greet you and other close people, this is probably the same "social experiment", a temporary and acceptable way to adulthood.
It is likely that by the time you read my answer, the problem of "unhealthy" is already resolved. If this behavior continues and will still bother you, you can contact a child psychologist.
There are effective and child-friendly methods of play therapy, which will help your girl to solve the problems that her development gives her.