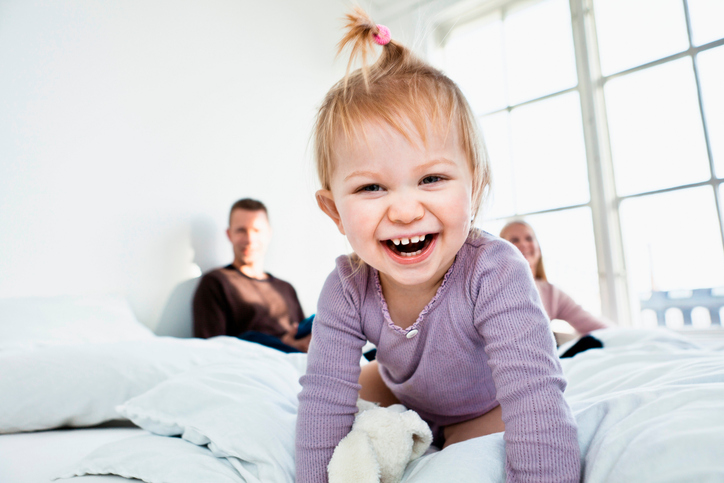 When a baby sleeps in a crib with sides, it begins every morning with a spoiled mood and heart-rending screams, because it requires that it be taken out immediately. And what if you try another version of awakenings? As soon as the baby learns to confidently roll over and roll from the belly to the back, that is, about 6 months, place it on the mattress directly on the floor, overlaying it from all sides with a soft carpet with a thick pile.
Then, when he wakes up, he will be able to decide for himself what to do: soak up some more in his nest or go on an expedition to continue exploring the boxes with toys, touch objects placed on the lower shelves of the closet, or visit the sofa. Of course, for this you have to make the space available for the crumbs safe.
Closer to 2 years (or even earlier) in the kitchen you need to provide a low shelf, on which everything your crumb needs to make breakfast or an afternoon snack will lie. Children learn very early to pour water into glasses and pour it from one container to another. Moreover, at the age of 2 to 3 years, they adore this occupation.
Be sure, your baby will very soon learn how to pour compote or kefir, put porridge on the plate (cold, of course), add sugar to your cottage cheese. If you have the opportunity, arrange for the child a separate children's dining table and chair, and use the child seat only when you plant a baby for a common meal in the company of adults.
In the area of ​​his reach do not forget to put a rag, a small brush and a scoop so that he learns to clean up after himself. Since this is his corner, this is his area of ​​responsibility.
Naturally, the first time you have to help him.
A stool is not enough for a baby: he still cannot reach the valves and see himself in the mirror. If you really try, on the websites of foreign stores you can find plastic baby sinks that are attached to the bathroom. They are equipped with a tray for a glass of water, a mirror and a handle for a towel.
At the bottom there is a hole for the drain plug. After the baby brushes his teeth, he can clean it, and dirty water will flow directly into the bathroom.
You can buy a special children's tap nozzle, thanks to which the jet will be closer to the child and it will be convenient for him to wash his hands (or wash his socks) on his own.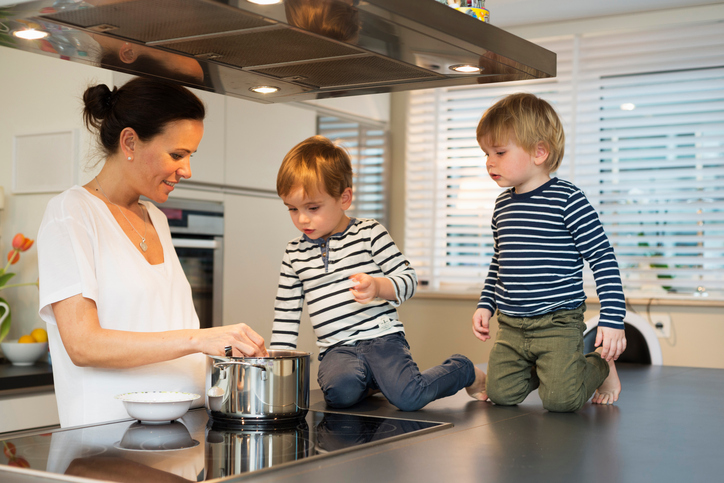 At the age of 2, start introducing the baby to the cooking process. Let him do the tasks that he does: washing vegetables, peeling them, cutting (with the help of a serving knife, you can cope with zucchini and even cucumber), put it into a saucepan or salad bowl, add spices, etc.
In the Montessori method, along with independence, the enrichment of sensory sensations is encouraged. If, before preparing the dish, the baby will touch and smell all the ingredients, this will stimulate his senses and natural curiosity. And so he quickly learns to appreciate and love the most different dishes and will be less picky.
When the table is already laid, the baby should apply food from the common bowl. Let him decide for himself what exactly he wants to eat now and in what quantity.
Thanks to this approach to food, children very quickly learn to relate the portion size to their appetite.
According to the Montessori statute, adults still have to give a signal to a siesta child. A child has freedom, but he always acts only within acceptable limits. If the baby does not want to sleep, naturally, it is not necessary to force him (in fact, you would still not succeed, no matter how hard you try).
But it is necessary to announce a quiet hour. Let him lie down for a while in his bed. With a baby can take a book, toy, pacifier …
The presence of an adult during bathing is necessary, but it's not necessary to do everything for the child. You will become less involved in the process if you shuffle baby shampoo into travel-tube tubes in advance. So you will no longer be upset that in one step a full bottle of shampoo was "consumed".
As early as possible, give your child the opportunity to deal with the caps and bottles on their own. It is advisable to buy a baby soap with a handle in the form of a duck or a crocodile: the baby will be able to hold it tightly in his hand, so it will be much easier to soap.
In 2-3 years, children are able to wash themselves. Your task is to check the temperature of the water, show what needs to be done, and give it free rein.
Parting before bedtime is always accompanied by some kind of sweet ritual, and you probably also have it. But after you and the baby said good night to each other and he lay down on his mattress or bed, he has the right to choose … The kid can look through the book or play a little with his toys.
Do not forget, he is an autonomous person, he (and not you!) Himself must control his sleep and decide when to fall asleep.