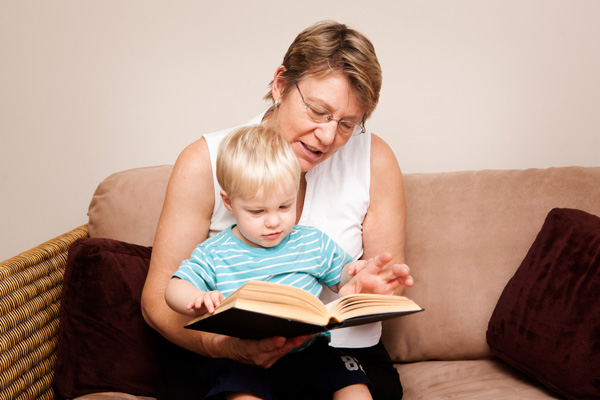 We leave to the nanny the most expensive thing in the world, so the relationship with her is so important for a young mother. The quality of her work in general, and, more importantly, the mood of the baby depends on how the nurse feels in your home. Sometimes, before between the parents and the new nanny peace and harmony prevail, there is a difficult mutual lapping.
And sometimes the opposite: the relationship, which began completely idyllically, gradually deteriorates. "At first it seemed to me that I had found the best nanny for the year-old Vanya," says Elena. – The woman lived next door and immediately said that it would be more convenient for her to sit with her child at home. It suited us. For the first six months, everything was wonderful: every morning, leading Vanya, I saw how he happily ran to the nurse to the arms, and went to work with a light heart.
But then it often happened that the nanny was not at home in the morning. I was opened by her gloomy husband, who burkal that she would return from the store any minute.
I waited, but in the end, afraid of being late, I ran away to work, leaving a worried, ready to burst into tears a child who did not understand where his beloved nanny had gone. "
This story ended well: Elena spoke with the nanny, and she does not go anywhere else in the morning without waiting for the pupil. But sometimes the conversation is not enough: either there is too much irritation, or the reason for it is too weighty – and the conflict flares up in earnest.
"My son fell ill, I took time off from work for one day, called our pediatrician," says Maria, one-and-a-half-year-old Pavlik's mother. – The next morning I gave the nurse a list of recommendations and a syrup, which should have been given to the child 2 times a day. But she decided that "Pavlik is clearly better now" – and did not give the medicine even once! I was angry, but the nanny "calmed me down": from the height of her 12-year work experience, she supposedly can judge the benefits of treatment for a child.
I replied that I trust my doctor and his 20-year experience more! "Not surprisingly, after this" exchange of opinions, "the relationship between mother and nanny became strained.
Another mother, Olga, complains that the nanny was nullifying attempts to teach her two-year-old daughter to the pot. "I taught Sonya to do without diapers for some time and, of course, asked the nurse to do the same. At the weekend, the daughter has already started to regularly ask for a pot.
But as soon as the working week began, it ceased. Finally, I understood: the nanny leaves her for a whole day in diapers, destroying all my achievements. In justification, Elena Petrovna said: "But it will not smell to the whole apartment!
When urine gets into tile joints, it stays for years. " Then the nanny accused me of being overly demanding: forcing my daughter to stay dry when she is not ready yet. I categorically did not like all this.
I immediately went in search of another nanny. "
Suspicions of disorder, incompetence, pedagogical differences, a clash of different life values ​​- not only parents are unhappy, babysitters also have a story to tell. "When the parents of my pupil come back in the evening, they do not say a word, except for" thank you, goodbye. " There is no to discuss what we did with the child, what we played, how he ate, how he slept – as if they were not at all interested in them, "wonders Zhanna Vasilyevna, who has been working in the same family for three years. It turns out that nannies often lack praise, recognition of their success.
The second problem is non-compliance with arrangements for working time.
"I usually don't say anything when my parents are late, but when my employer started to be late for half an hour or more every day, I wrote everything down and offered to pay 5 extra hours at the end of the month. The woman dryly remarked that, if so, I can come back next morning in the morning. I felt like a thief and a brawler when I explained that this is not being done, that I want to get money for recycling. "
The same feeling arose in Svetlana, a nanny with 15 years of experience: "Parents often do not understand that the salary is paid for a month, regardless of whether the child left for 5 days to her grandmother or her mother stayed at home with him for a couple of days. Like any worker, I count on a certain salary: I can't, for example, tell the owner of a rented apartment that my ward was leaving with my grandmother, so I can't pay the full amount this month.
When parents refuse to pay for "missed" days, I have to insist – and in response I sometimes hear: "You are only interested in money!" By the way, this parental reproach emphasizes how much the nanny's work doesn't look like any other, how much it is painted with emotions, how much she has mixed different feelings.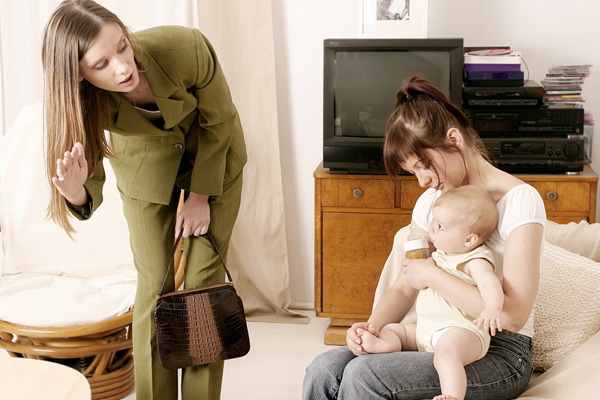 Whether we like it or not, the nanny is not just domestic staff. First, we do not trust her with a car or a vacuum cleaner, but with a piece of blood and flesh and blood.
Secondly, we let the new person into our own home – and at the same time we cannot know the details of what is happening during the day. All this is infinitely far from the classical "employer-worker" scheme, and in such a situation it is not easy to find the right distance.
Wanting to surround the child with a friendly atmosphere, young inexperienced mothers begin to be friends with nannies, which is understandable: with whom, if not with a nanny, you can discuss the success of the baby and enjoy the new tooth. Only she and you know exactly what kind of porridge the baby prefers to eat, and what kind – to smear on the table.
But all – both psychologists and personnel recruiters – practically beg mothers not to come close to their nannies. Do not go to you – in the literal and figurative sense. "In order to maintain a balance in a relationship with a nanny, it's better to keep a professional distance.
Otherwise, you can not express your reproaches. It is difficult to talk about the rules and insist on compliance with the agreements, when you and your nanny have such friends! "Said psychologist Irina Bochkina.
"We must keep the golden mean in everything: you shouldn't become familiar, but arrogant attitude harms your common cause," stresses Svetlana Mironova, director of Aston-Service agency. Not all people feel boundaries.
It happens that the nanny, having felt a friendly, almost related relationship, begins to treat his duties as "kindred": "Oh, okay, I'll finish it tomorrow, otherwise the store will close, I won't have time to buy bread". "Returning the right relationship is difficult, it's better not to allow this to happen from the very beginning," advises the specialist. – Of course, we are all human, sometimes you have to make concessions: let the nurse go to the doctor or help with the move. In general, in my experience, if both parents and nannies are ready to smooth out minor conflicts, then a good, long relationship develops.
In our practice it was that a nanny who had worked in a family for 8 years, the parents of the child gave an apartment, "recalls Svetlana Mironova.
There is another danger: some mothers can not stop, going over one nanny after another, because they do not see a woman worthy of raising their wonderful children. They endlessly find fault with the nannies, criticize.
There is tension, which eventually begins to affect the child: he feels this atmosphere of suspicion and reproach, ceases to feel safe. Remember: if the mother does not trust the nanny, then the baby will not be able to trust her. Try to look at things objectively, the ideal candidate is not found – it simply does not exist in nature.
Make a list of things that are completely unacceptable to you, but what you are ready to accept.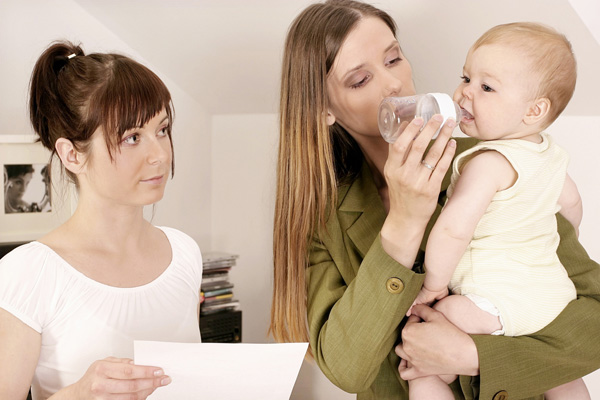 Regular misunderstandings between nannies and mothers show how important it is to discuss everything from the very beginning. When hiring a nanny, make sure that you share the same views on parenting and child care.
Pay attention to the most important nurses, the performance of which you expect especially. Let's say that a child is walking 2 times a day in any weather. The more details you discuss when taking a nanny to work, the less likely there will be conflicts in the future – and it would be good to include all requirements directly in the contract.
Of course, this is long and tedious, but it is better to lose two extra hours, specifying all the little things than quickly giving up on a nanny and losing a lot of time, looking for a new one, with which you have to start all over again.
"Usually, the first 2–3 weeks show if a particular employee is right for you. Sometimes the parents like the nurse, but have not found contact with the child – this also happens. We recommend to our clients, when they are at a loss with the choice, to call two liked nannies in turns for a trial day.
Still, one thing is to talk in the office, and another is to see what a person is at work, "the director of the agency said.
At that moment, when a suitable nanny is found and agreement has been established between you, you just need to try to maintain this balance. Do not save irritation, immediately discuss what is bothering you – just choose a quiet moment, hold the children: you need to talk with the nurse one-on-one.
Politely but firmly note that your requirements must be respected, remind previous agreements. But do not be petty, remember: your baby wins first of all from good relations with a nanny. "When a nanny is satisfied by and large, a compromise must be reached – there is no person who can arrange 100%," Svetlana Mironova is sure. – If, coming home in the evening, you find the child lively – not boring, not agitated, not capricious; if he smiles, says good-bye to the nanny, it means that everything is in order. "
Everyone has different priorities for choosing a nanny: cleanliness and accuracy are important to someone, friendliness and kindness are important to someone, knowledge of methods of early development is important to someone. When you decide on your basic requirements, you can start the search.
1) Start with those who live relatively close to your home, so as not to wait for a nanny stuck in a traffic jam when you have an important meeting in the morning, which you shouldn't be late for!
2) See how the child behaves with the nanny. You will immediately see if he sympathizes with her, whether she will smile at the baby.
3) Find out how your work schedule coincides with the expectations of the nanny. If you have a lot of work on your hands at work, be sure to check if the nanny is ready for paid extra hours, if she can work during the weekend.
4) Ask a nanny about education, work experience: how many years and with what age children she worked. Ask why she went to the nanny.
You may not be told the whole truth, but by answer you will still understand whether the nanny really likes working with children or is it solely for the sake of earning.
5) Finally, give yourself time to think. Even if you immediately liked the nanny, meet two or three more before you make a final decision.