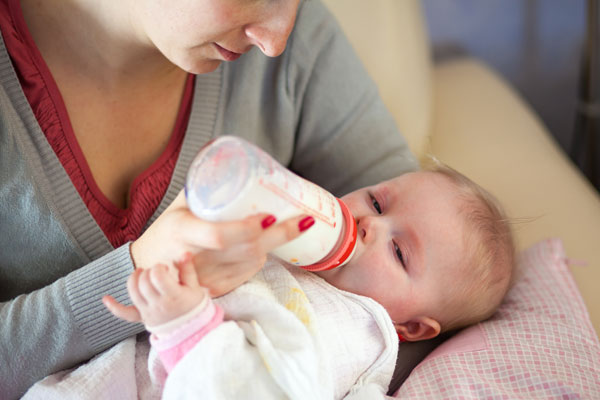 10 ml of regular formula based on cow's milk contains the same amount of allergenic beta-lactoglobulin protein as 10,000 liters of breast milk. Therefore, for children with a predisposition to allergies, there are hypoallergenic mixtures, in which raw materials are "neutralized" thanks to modern technologies.
The method is based on the splitting of cow's milk protein into small fractions. Depending on the final set of fractions, the hypoallergenic mixtures are partially or fully hydrolyzed.
Sight for the future
In partially hydrolyzed mixtures, the cow's milk protein is split into medium-sized fragments, in which there are far less dangerous components than in the whole molecule. Nevertheless, the fractions obtained produce a slight irritating effect on the immune system, so the risk of developing an allergy, albeit minimal, remains. However, thanks to the constant gentle training, the subsequent meeting with complementary foods runs smoothly.
Partially hydrolyzed mixtures are prescribed for at-risk babies for the prevention of allergies.
Temporary isolation
In fully hydrolyzed mixtures, protein molecules are split into the smallest fragments, in which there is no trace of allergenic components. As long as the baby eats such a mixture, he will be completely isolated from contact with the "aggressors".
But sooner or later other products will appear in the diet, and the immune system will not be ready to meet them. For these reasons, such mixtures are used only for the treatment of allergies and only under the supervision of a physician.
The first time the kids try the mixture in the hospital. If the crumb is at risk for allergies, it is better to prepare for such a turn.
His health directly depends on what kind of mixture the baby from the risk group receives in the first hours and days of life. This is known throughout the civilized world.
So, in the West in maternity hospitals, an artificial mixture is prescribed only in special cases, and partially hydrolyzed formulas are used to prevent allergies. In Russian maternity hospitals, newborns, as a rule, are supplemented with conventional mixtures only.
For babies with a predisposition to allergies, this "care" becomes a disservice. To avoid complications, 1–2 packs of partially hydrolyzed mixture, which the expectant mother will take with her to the hospital, will allow.