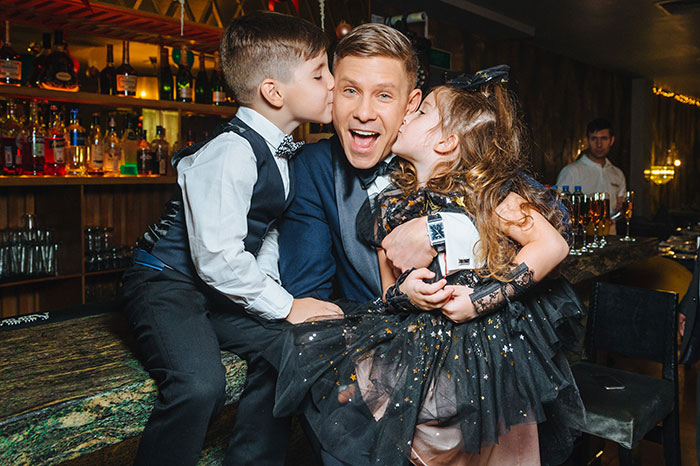 But not many know how attentive and caring parent Mitya is, because he has no children yet. But the godparents are enough to be considered "having many children."
Aris and Igor turn 5 in December, Oksana is several times older. What participation Mitya takes in the education of the godchildren and how he manages to do everything for everyone, the artist told "Happy Parents" magazine
Mitya, how did it happen that you became a "large" dad?
It turned out by itself (smiles). I guess they trust me, they know that you can rely on me, that I will not teach the bad. Therefore, the godchildren over the years only added.
I have to even refuse to some, because I understand what a responsibility it is. Aris is the daughter of my friend, singer Tatyana Tereshina, with whom we once performed in the Hi-Fi group, and TV presenter Slava Nikitin.
Little Igor is the son of hockey player Igor Volkov and fitness model, the mother of four children of Nadezhda Volkova. I have very warm family relationships with everyone.
And I step by step, year after year, I master this new vocation for myself – the godfather.
And the third is not a child at all. This is my close friend and peer Oksana Buturlina. We were friends with her as a youth in Novosibirsk, then we moved to Moscow and spent a long time renting a room in a two-room Khrushchev apartment on Timiryazevskaya Street.
Yes, I am her godfather, because it's not about age at all … As for children, Oksana already has her teenage daughter Ulyana, with whom I am also friends and sometimes take part in the educational process (smiles).
There are different children around you. Who is easier to find a common language – with a teenager or kids?
Ulyana is already quite adult, she is 15, we communicate on equal terms. She is diligent in her studies, tries to develop and self-educate, enjoys photography.
She is an interesting conversationalist, and in the dialogues with her I discover for myself some new aspects of familiar things. Igor and Aris are now at the most interesting age, when they began to understand who is who, except for mom and dad. It seems to me that before I was just a good uncle for them, whom they did not always identify.
Now they recognize me and understand that I am not a stranger to them. We are gradually getting closer.
Do you listen to your songs? Go to concerts?
Often! Only recently, Aris was in my play "Fanya's Family."
Although this is a comedy for a more adult audience, she, according to her mother, stood up to a two-hour performance with an intermission and did not even ask to go home. Always closely watching what happens on stage.
And little Igor has a favorite playlist of my songs.
Now I am preparing for my large solo acoustic concert, which will be held on December 2 in the Golden Ring concert hall. This is an important event for me, the anniversary year. I have been performing at different stages of the country and the world for 20 years.
Of course, it will not pass by my godchildren. And I warmly invite all readers, with all my heart, to your pre-Christmas concert.
This Fomin you have not seen.
Are you involved in raising children? Some parents, for example, read books, watch educational programs …
I am guided by my life experience and the education that the pediatric faculty of the medical institute gave me. And also on the way my parents raised me.
Their experience largely influenced my idea of ​​a happy family, about raising children.
We have always had a very close-knit family – my mother Tamara Pavlovna, father Anatoly Danilovich, who, unfortunately, has already passed away, elder sister Svetlana, and I am a full house of animals of various kinds from dogs to aquarium fish. This is how I remember our apartment in Novosibirsk. Outwardly, an ordinary Soviet family, but quite unusual from the inside.
Parents have lived together for 50 years, and they could be hoo.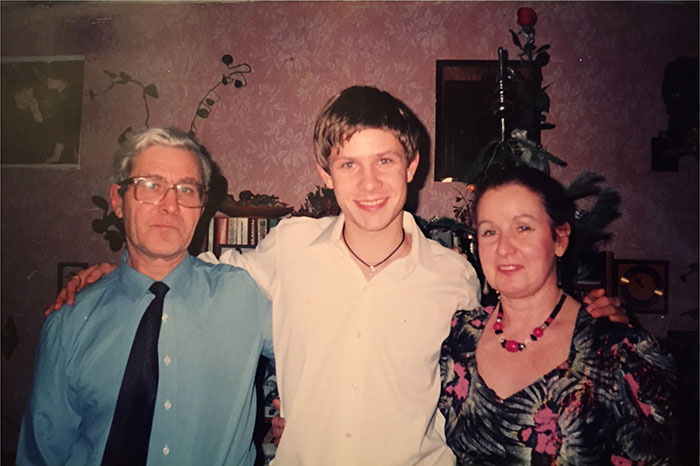 Where is the line between permissiveness and personal freedom in terms of education?
In childhood, the foundations are laid that help people navigate the future adult life. I am afraid that permissiveness leads to violation of the law, while freedom teaches to respect yourself and the values ​​of others.
The priorities here are obvious … And how to find the edge? This is just the mission of the parents.
Hear your child, feel, prevent it in time.
How was your family?
I often tell one case, because a more illustrative example on this topic is difficult to find. It was the beginning of the 1990s, I was a third year student at the Novosibirsk Medical Institute and at the same time I dreamed of a stage.
I was looking for different opportunities to express myself creatively – I worked as a dancer in nightclubs, was a volunteer at the Novosibirsk Theater School. But I wanted more.
There was an opportunity to go to America – and I took it as a challenge. I have to record my own music there!
At that time, a trip to America from Novosibirsk was comparable to a flight to the moon. But I came and calmly announced this to my parents: "Mom, Dad, I take academic leave and go to America."
And do not believe they let go!
Of course, they were madly worried, but they didn't even give a mean. Everything seems to be in the order of things.
Mom had only one condition – that before I left I took a massage therapist course and received a certificate. By the way, this "crust" saved me in America, because there everything went wrong according to plan.
But I had the skill, and he did not leave me hungry. Only after a while, I realized how wisely my mother acted! Gave full freedom of action, but managed to protect on their part.
This for me has always been an example of the highest degree of parental care, comprehensive and most tactful.
Do you think you will be a strict parent?
Yes, rather. But I hope not to go too far.