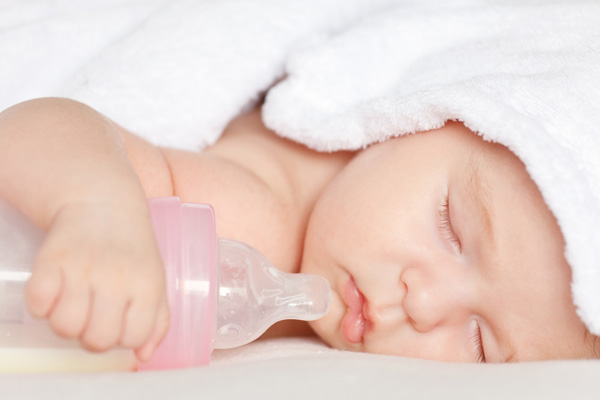 Artificial mixtures for children of the first year of life are divided into two large groups. "Initial" (or starting) are designed to feed babies from the first days of life and up to 4-6 months. The so-called "follow-up" mixtures are suitable for feeding children after six months. In both groups there are dry and liquid, fresh and fermented milk options.
Each of them is represented on the market by several different formulas derived by different manufacturers. And although in all recipes strictly adhered to strict rules for the content of all nutrients and nutrients, the composition of mixtures from the same category will be different.
For example, some recipes use 30% lactose, while others use 80%. Mixtures may also include different proteins, fats and carbohydrates.
Optional options include nucleotides, polyunsaturated fatty acids, pro- and prebiotics, which means that these and some other useful elements are not present everywhere.
It is important to remember that any, even the most modern formula can cause an individual intolerance in a baby, therefore, it is not necessary to change the mixture without good reason and even more without the supervision of a doctor. But to monitor the reaction of the child is necessary. If, when transferring from breastfeeding to artificial, a crumbled rash or diaper rash, the skin became dry, spitting and colic appeared or increased, the frequency or nature of the stool changed, most likely the selected mixture is not suitable for it.
Only a doctor should select another formula. Since the baby's digestive system will take time to adapt to an unusual product, it is important to transfer the baby to a new mixture gradually over a period of 5–7 days, starting with 30 ml in one of the morning feedings. On the 2nd day, the dose should be increased to half of one feeding.
On the 3rd, replace with the feed one whole feed, on the 4th, two feedings, on the 5th, 4 feeds, and from the 6th-7th day – all the rest.
In order for the doctor to make the right decision, he will need clear information from his parents.
It is sometimes quite difficult to understand what a baby suffers from – dysbacteriosis, infection or allergies. For example, a crotch rash can easily be mistaken for a negative reaction to a diaper, although it can also indicate food allergies. However, some landmarks still exist.
To establish the true cause, the doctor will ask when the kid first tried this formula, how he reacted to it in the first days, how much it uses it now, what exactly he ate the day before and how he felt. It takes 7 days to adapt to a new product.
If alarming symptoms appear later, the case is most likely not in the mix.