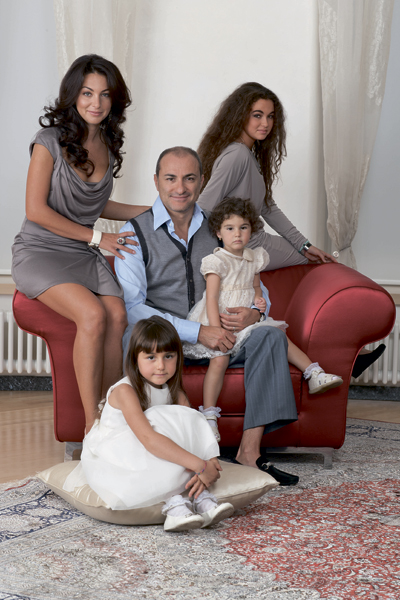 HAPPY PARENTS Is the birth of four daughters a sufficient compensation for a father who dreams of a son? Or do you still think to bring it to life?
MICHAEL TURKEY You know, I have already come to terms with the fact that I have four girls, and even really find in this for myself some kind of satisfaction. But still there are still some ambitions about the boy.
The fact is that a year ago, at 97 years old, my father died, in whose honor, Boris, I always dreamed of naming my son. And in 2013 my father would have turned 100 years old, and now I dream to take a baby in two years and finally give birth to a boy.
I need it. Me and my wife. Especially since modern medical technologies can help in this.
And this is not quackery, this is really real, I talked about this with serious doctors, one of the best specialists in my field. With their help, it is possible to obtain a boy with a 90 percent probability.
S.R. And how does Liana feel about this?
LIANA TURKEY Well, actually, not a single child was planned for us … But about the help of doctors in the appearance of the boy, Mikhail and I spoke before the birth of the youngest daughter, Beata. True, they did not receive any artificial actions, because they again unexpectedly gave birth to a girl. This is a process that cannot be planned.
In any case, to us. What is given is given. M.T.
Frankly, when we still had only two children, we began to work to ensure that children no longer appear. Well, there is the eldest daughter, Natasha, there is the younger, Sarina.
And enough. But when they suddenly began to be born again, we realized that it was from God.
Well, if they manage to appear in such a difficult situation for themselves, then it is impossible to fight this.
S.R. Mikhail, how much time do you spend on raising your daughters?
M.T. If you add up all the days of the tour and those days when you leave early in the morning and return at night, it turns out that I have been away from home for almost half a year. But now I try to devote every free minute to the children, because I understand: I myself need this to a large extent.
For selfish reasons, one might say. After all, parents get a lot from communicating with a child; mutual communication is by no means self-sacrifice. Some women like to say: I gave myself all to him, but this is not quite true.
The child also gives a lot, gives to parents. L.T.
And I think that Mikhail spends a lot of time with children, even with his huge workload. For example, with the eldest daughter, Natasha (daughter of Michael from the first wife who died in a car accident (Note. Ed.), Who is 27 years old and who already lives separately from us, Michael works together – respectively, without permanent father's attention she does not remain now.
With the younger, two-year-old Beata, dad spends time at home, walks on the street, plays. M.T. On the handle takes!
L.T. A medium: 15-year-old Sarina and 6-year-old Emmanuel, if the vacation time coincides, Michael tries to take with him on trips.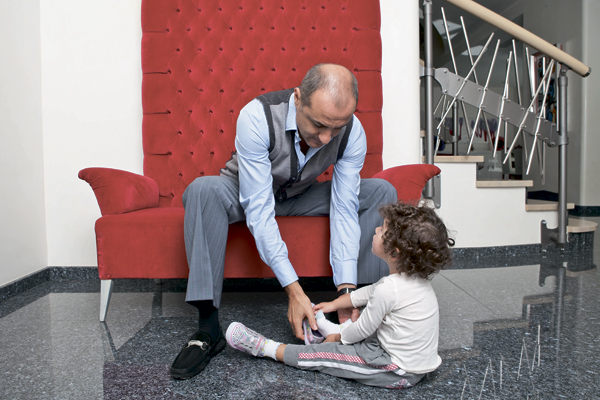 M.T. Emmanuel I love to take with me to the concert.
And she always gladly agrees, although she understands that she will have to sacrifice something for this: to sit quietly for a while, maybe to pretend that she likes the concert, because it is generally for adults. But you know, when she is sitting in the hall, I look at her and see that she does not suffer, she likes it, she enjoys it.
Maybe because dad is on stage … She usually waits for me backstage. But she can go out for a drummer to take a walk during a concert, she likes it a lot.
Viewers do not see this, because our illuminator, when Emma goes to roam, simply does not highlight this scene. True, at a concert in the Kremlin, she still stepped on the stage. And the people liked it.
It all happened just at the moment when I provoked the audience to go dancing. And the daughter began to hug me, asking for hands.
In general, everything turned out very romantic.
S.R. Tell us, what are your daughters?
L.T. Emma went to school. This is a very active child, just a copy of the pope, like a copy made.
And externally, and character. Emma is definitely daddy's favorite, and everyone knows it.
S.R. And the other sisters are not offended?
Not jealous? L.T. Not.
Older sisters treat this well. Emma has everything a man needs to live. She is smart beyond her age, very independent, she feels when you have to press where you should let go.
Feels people. We do not worry about her, because she is the person who in life will probably achieve everything himself.
Buske, or Beate, two years. She is our curly little angel.
Very affectionate, but also quite characteristic girl.
Sarinka of all the sisters traveled with us the most. And at concerts, and on tour, and, of course, more than others lived our lives.
And now her life is mainly devoted to studies, she moved to the ninth grade and graduated from music school. Sarina – the girl is naturally calm, intelligent, with her was easy. And Natasha is already quite an adult, self-sufficient girl, although her whole life is also closely connected with her father's work, with us.
She goes with us everywhere. He lives separately, but, one can say, with us.
S.R. Your family has a lot of experience raising children of different ages.
Who is more difficult to find a common language with small or large? M.T. Harder with the younger ones.
With the advent of the younger ones, more attention was paid to them, and they had more opportunities than our older ones. In such a situation, the younger ones start being spoiled.
To be spoiled, to demand, to be capricious, if they are not given.
For example, if we talk about Natasha, she appeared at a time when I still had a period of creative, professional development, a period of instability. Sarina is not spoiled either, because when she was born (and it was in the USA), her mother, Liana, had to get up a little light and work two jobs. The behavior of children depends on all of this, on various family circumstances.
Children must be kept in strictness.
So the more children – the easier it is, but, in any case, it's harder for us. In addition, they are not the same age, they are all very distant in age.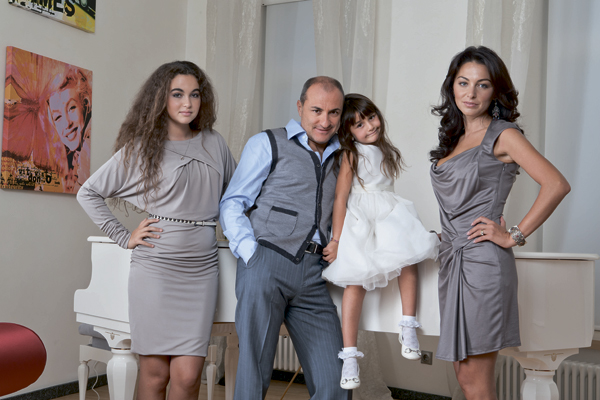 S.R. Liana, you lived in America for a very long time, and with children already, as well. Where was it more comfortable to live family life – there or here?
L.T. In America, of course, everything is very good, very comfortable.
And for family life too. But still someone like that.
Our children love to live here more in Russia.
S.R. And who do they consider themselves to be Russians or Americans?
L.T. Well, they do not ask themselves such questions.
All of them are citizens of two countries. Yes, I myself can not say, I am Russian or American.
I think that I am a man of the world. For example, in the Caucasian environment, I feel good, because for some time I lived in the Caucasus; in the Ukrainian environment – the same thing, since I was born in Ukraine; having lived in America for many years, I feel comfortable there and, having arrived 11 years ago, in Russia too. M.T.
All children, except Sarina, were born in Russia, and therefore they are absolutely Russian children. At Sarina, English is the first language, Russian is the second, the rest are the opposite.
S.R. Michael, have you ever been to give birth to your daughters?
M.T. I think this is still a place for specialists. At the birth I was not, but Beatu already saw about 20 minutes after birth.
I remember, I took her in my arms and was very surprised that a child born so recently is already an absolutely full-fledged person. He already has marigolds, hairs … It seemed to me such an amazing discovery!
S.R. But this is your fourth child!
Have you never seen it before? M.T. This small – the first time.
For example, I saw one daughter after 7 days, when she was brought from the hospital. When Emmanuel was born, I was between Irkutsk and Krasnoyarsk. And then, seeing Beatu, already so self-sufficient, such a real little man, I was amazed: how did she live in her stomach?
Without air, in the water … I thought newborns somehow look different. It was such a culture shock for me!
S.R. All girls, except Natasha, have rather unusual names.
In honor of someone so called? L.T.
Sarina is my whim; I named her after my grandmother. This name is biblical, comes from the name of Sarah – a little princess.
So Sarina is my first princess. And the choice of names for the younger ones I gave to my dad. M.T.
Beatu was called the whole choir. L.T. Two months the baby was without a name!
M.T. Yes, for so long they decided what to call. I wanted the letter B, because my mom and dad have names with this letter.
And I just always liked the name Emma. In addition, Emmanuel is also a biblical name. True, he has some associations with the film "Emmanuel."
Remember this celebration of eroticism in the Soviet era? About a woman who drove men crazy?
On the one hand, it is for a woman, not so bad. I do not mind if my Emmanuel drove men crazy. I hope not only their erotic capabilities, but also brains.
By the way, "-el" is "belonging to God," which means that God loves you.
S.R. Michael, about the role of mother in the family is more or less clear to everyone.
What do you think a good father should do? What are its main functions? M.T.
Well, what is human happiness? Remember Gershwin's song "Summer Time"?
There are words: "My dad is rich, my mother is beautiful." It is very important for a child to have a beautiful mom and a rich dad. Well, when a mother is beautiful, she will give children beauty.
And dad will give them a hard tomorrow. True, if, apart from this, there is nothing else, then this is sad, this is a misfortune, because money in itself is nothing.
But it is good when they are. I consider that I provide my family adequately.
And then I want, of course, something else to give them. Something to teach, something to tell, to open the world to them.
Well, finally, to give them a sense of pride that their dad is an accomplished, famous person.