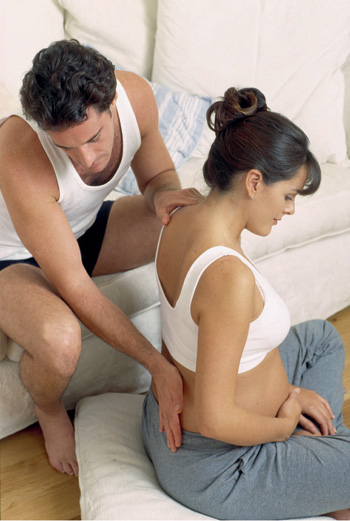 Turn on the pleasant quiet music, sit across from each other, cross-legged. Raise your arms to the side, as if you were carrying large balloons, and take a deep breath. Lower your arms and exhale.
Perform these movements for 2–3 minutes.
Slow breathing relaxes, and a deep breath will help relieve pain during labor.
Staying in the same position, take a deep breath, and exhale the air in parts, as if blowing 3-4 candles on the cake.
Intermittent breathing relieves tension, fear and anesthetize contractions.
Take the foot of the future mother in the palm of your hand and with the thumb of the other hand, slightly pressing, move it around its center for about 1 minute. Then iron your toes a little, as if you wanted to straighten them a little.
It is better to spend 2 minutes and go back to the first movement again. Foot massage soothes and relaxes.
Let the future mother sit on her heels with her buttocks, spread her bent knees wide, so that the belly can fit in this "opening". Then she needs to lean forward and down, stretching her arms in the same direction.
Stand in the back and in a circular motion, lightly pressing, stroke the lumbar region.
This exercise will help relax the muscles of the problem area during pregnancy. It comes in handy with the onset of labor when the water is gone.
You can perform these strokes while sitting: let the expectant mother turn to face the back of the chair, lay her arms bent at the elbows, and her head on top of them.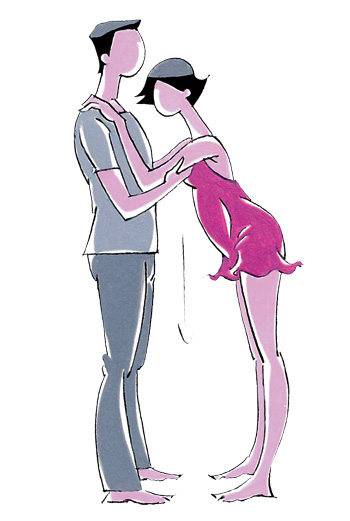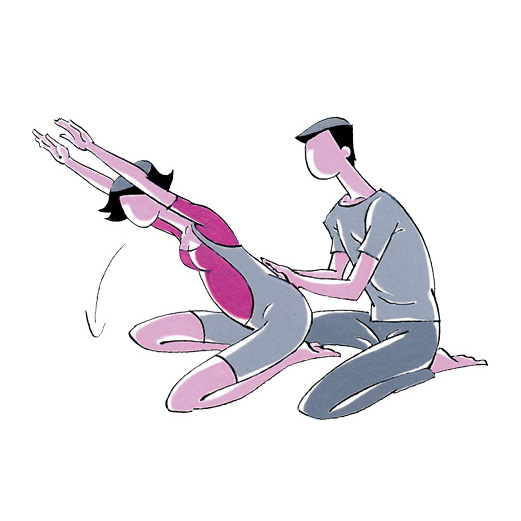 Stand opposite each other at a distance of approximately 60 cm. Let the expectant mother lean on your shoulders and lean forward, and you slightly support her under the arms.
Stay in this position for about 1 minute, then straighten.
A small stretch of the back will help to move the contractions easier.