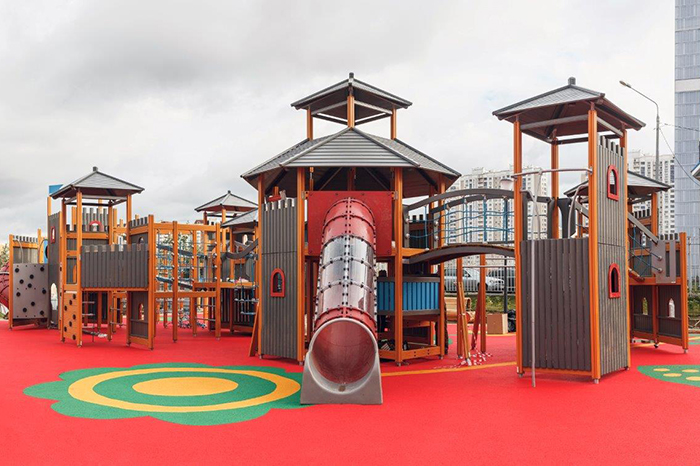 Outdoor playground
In a vast area of ​​4,000 m 2, children of any age can find something to their liking. The youngest guests will come to indescribable delight from the giant sandbox and exciting game zones, and for those who are older, the fairytale castle will become a real discovery, inside which you can feel like a king or queen.
Parents of babies can enjoy their time in the park area, where you can relax on comfortable benches while watching children's games.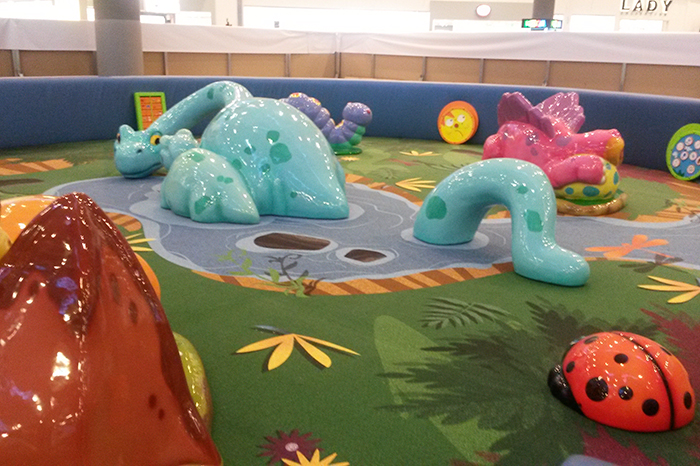 Children's playground "Dinosaurs"
Where: MEGA Belaya Dacha
The universe of good dinosaurs is located in the very center of the food court, so parents can safely eat and drink coffee, while the kids master the new world. The platform is reliably limited to high sides and made of soft organic materials – no need to worry about the safety of children.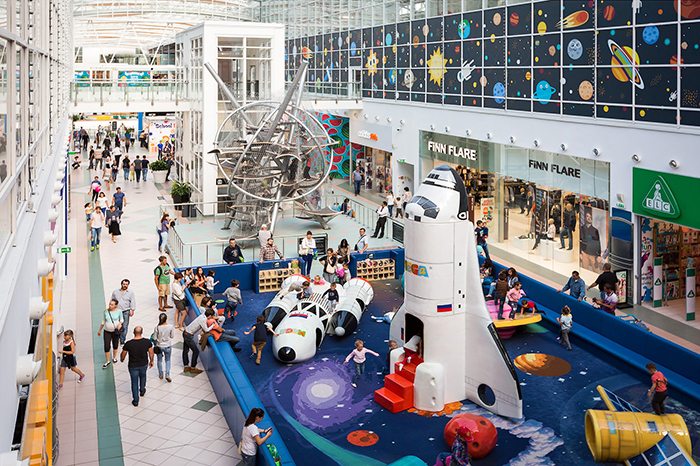 Design for climbing "Cosmos"
Where: MEGA Teply Stan
The unusual futuristic space allows young explorers to feel like real time travelers, climb the "unattainable" peaks through complex structures and find themselves in a completely new world of adventure and wonders. The playground is designed for children from 7 years.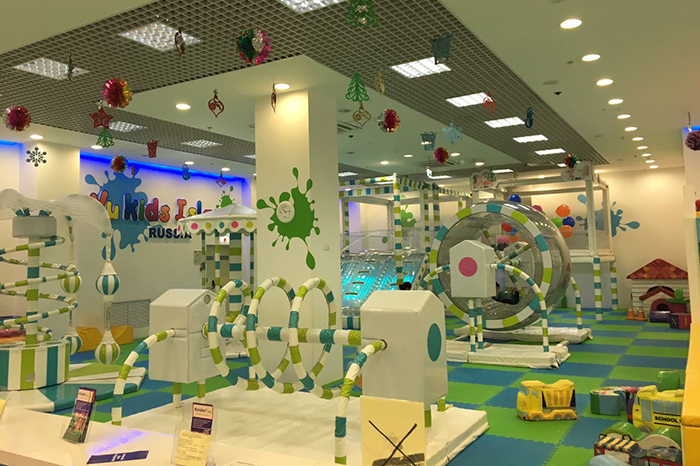 Playground Yu-Kids Island
Where: MEGA Warm Stan, MEGA Khimki
Here, children can not only jump on a transparent trampoline, play with the "dancing" balloons and ride on the carousel, but also celebrate their birthday! The team of children's animators will help to organize the most memorable and fun holiday with an interesting show program and gifts not only for the birthday, but also for all the guests.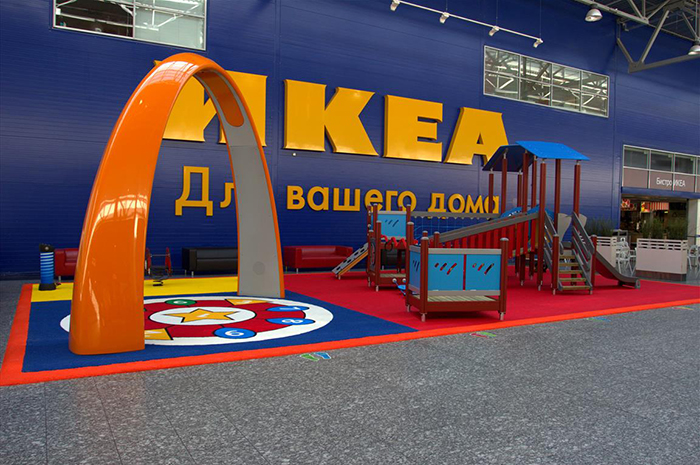 Interactive music platform
Where: MEGA Belaya Dacha, MEGA Khimki
The playground is equipped with a unique musical mat, which helps not only to entertain the kid, but also to develop his creative abilities. Here you can perform various interactive tasks, from the heart dance and frolic with their peers.
The playground is designed for children from 4 to 8 years.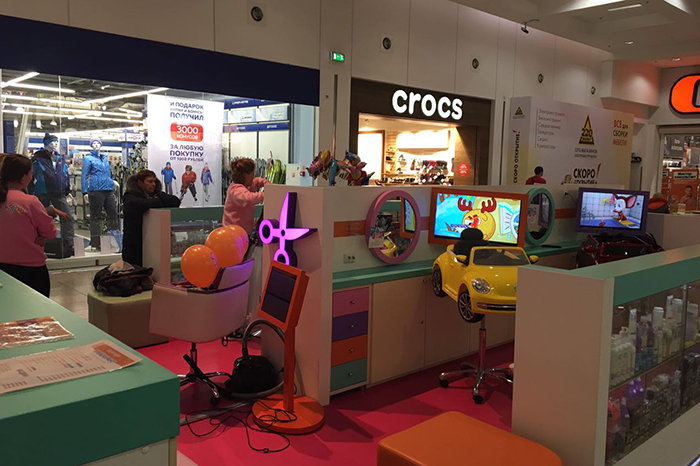 Studio of children's beauty "Imagination"
Where: MEGA Teply Stan, MEGA Khimki
Unusual beauty salon created specifically for the youngest fashionistas and fashionistas. Local wizard-masters can do everything: stylish haircuts, festive hairstyles, intricate braids, as well as akvagrim and children's makeup.
For the youngest customers, there are car seats, favorite cartoons, Xbox and soap bubbles – in such conditions, the haircut will not seem boring!
Culinary Studio Julia Vysotsky
Not only to entertain children, but also family workshops in the culinary studio will help to inculcate in them a love for gastronomic magic. Here you can have a good time, thoroughly smear with flour, creating the first culinary masterpieces under the guidance of professionals, and, of course, try a lot of goodies!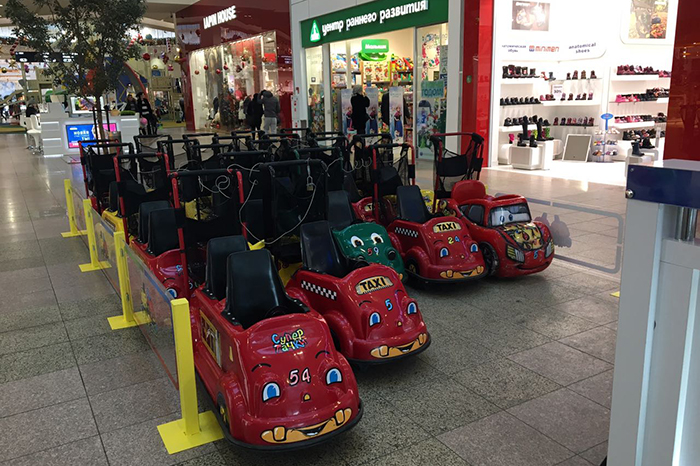 Where: MEGA Teply Stan, MEGA Khimki
Every kid can become a driver of his personal multi-colored vehicle to accompany his parents while shopping. Each "Super Wheelbarrow" is equipped with a convenient compartment for bags and outerwear, and some even have a special video screen that broadcasts the most favorite cartoons about Smeshariki, Luntik, Masha and the Bear, and City of Wheelbarrows.
Unusual constructions for climbing, as well as soft modules and a pool with balls, in which even adults would have frolicked, would have settled on the site measuring 265 m 2. In the maze of magic your child is "lost" and there will not be soon!
Angry Birds Playground
Where: MEGA Belaya Dacha
Fans of adventure, explorers of mountain peaks and seekers of ancient treasures from 5 to 11 years old will be able to realize their wildest fantasies here. The playground is located next to the skating rink and children's club, where, after active games, you can watch cartoons or take part in creative workshops of the day off.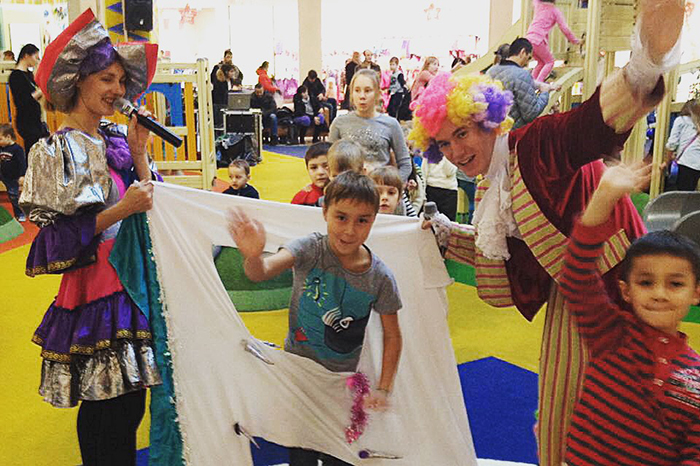 Kids Club for the little ones
Not only older children, but also toddlers can spend fun time on the interactive entertainment platform. On Saturdays and Sundays in MEGA Khimki there is a kids club for the youngest guests.
The animation team each week presents a new fun program with theatrical performances and exciting games.