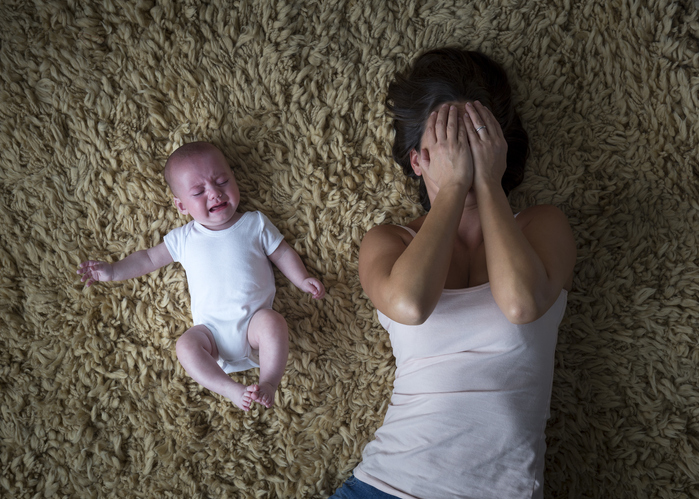 For the first time, burnout syndrome was mentioned by the American psychiatrist Herbert Freudenberger in 1974. In fact, it is a nervous exhaustion caused by overwork. Such a syndrome is peculiar to people of "helping" professions – teachers, doctors, nurses, social workers and priests.
It manifests itself in the fact that people lose interest in their activities and motivation to do it.
Mom, in fact, is also a "helping profession." Only she does not have patients or students, but her own child, for whose life she bears full responsibility. For each mother there is a "groundhog day", which, repeating and repeating, one day becomes the last straw.
It is difficult for someone that there is no opportunity to do any business, someone misses work, for some it is important to stay alone or, on the contrary, to meet with friends. Or it all boils down at the same time.
Such a constant tension, without the ability to rest and recover, no one can withstand for a long time. And then comes the emotional burnout. His provoke:
The need to do everything at once. Being a mom who does everything everywhere is a dream. But in reality, young mothers rarely boast proven skills of self-organization. And as a result – the eternal haste and nervous tension.
Refusal of own needs. I didn't get enough sleep again, I forgot to eat, I don't have enough strength to go to the dentist to cure a tooth … Sooner or later the body will not stand and fail. And in addition to physical ailments entails despondency and longing.
The race for the ideal. I want to be like mums from advertising or Instagram – always energetic, smart, nicely dressed, playing fun with their children. This "picture" of many women pushes into the trap. Where they feel as if they are always watched by someone with the power to say: "No, you are not fit for the role of the perfect mother."
Lack of experience support from their own mother. If you fell and hurt yourself as a child, and your mother scolded and did not regret for it, then, most likely, you will do the same for your child. In this case, the desire to be an ideal mom will crush a sense of guilt and the child, with his pranks, pranks and inevitable falls, will turn into an object that is always annoying.
Any of these factors, taken separately, may not cause burnout. Everything is complicated against the background of eternal fatigue, fatigue and stress. The problems are piling up like a snowball, and then also seasonal flu and ARVI, the battery in the car sat down and favorite earrings were lost … And I didn't notice how I was at one of the burnout stages.
It remains to understand which one.
The main symptom is severe fatigue. Mom suddenly ceases to rejoice at what pleased her earlier, communicating with the child becomes a duty, it is more difficult to withstand the whims.
Mom starts to show more aggressiveness and irritation towards the baby.
I want to go all the day according to the plan, and deviations from it cause anger and tears in my mother. All these changes are accompanied by guilt feelings and doubts in their parental abilities.
However, it seems to my mother that if she tries a little more, makes a little more effort, then everything will be fine.
Here, the mother should just sleep and if possible get rid of a certain amount of cases, so as not to run like a squirrel in a wheel, and breathe out and relax. Because if she continues in the same spirit, she will get to the next stage of maternal burnout.
This period is not just emotional, but complete nervous exhaustion. The main symptoms, except for those that were in the first stage, are problems with sleep and lack of sexual desire.
It is easier to shout at a child than to calmly explain and agree on something.
In this state, it is not enough just to sleep. Most likely you need medical assistance and reduce household chores to a minimum.
If you leave everything as it is, there is a great danger of harming yourself even more.
This includes a specific protection mechanism. The psyche of the emotionally burned-out mother begins to "cover" her. Feeling guilty and tired day and night, not capable of anything is very difficult.
Therefore, the instinct of self-preservation is triggered and "offers" another option – "this is not all around as it should be, but I am normal." Only such an attitude towards yourself and others – the accusatory one – is acceptable for a mother who is completely exhausted.
Unfortunately, we are not talking about any self-help anymore. Looking for a neurologist and a psychologist.
The baby may begin to hurt, give off incomprehensible allergic reactions, enuresis is not excluded. So he psychosomatically reacts to a tense situation.
The habitual and beloved mother has changed, something is wrong, but what is not clear … The child, due to the peculiarities of his age, assumes that he is to blame. He is scared, his mother swears at him, he does not receive support.
Instead, the baby's anxiety level increases, guilt grows, and self-confidence is weakened, and adults who are nearby.
The main thing to remember: parental burnout is not a myth and can happen to every mom. So do not try to "be strong."
It's wiser to admit that you are bad and need help.
Simplify your life as much as possible. All that can wait – let him wait. All that can not – delegate. It does not matter what you will use: a slow cooker, a nanny or a floor wash only once a week – there should be an order of magnitude less than it was. Accurately dismiss the unimportant things aside (for example, ironing diapers or reading books to a baby at night). They are not vital, but your condition may worsen.
Ask for help. Surrounding people cannot (and should not!) Read our thoughts. Understand what is the main source of stress for you. For example, a mess in the house. Then ask someone (husband, parents) to walk with the child, and at this time you will gradually bring order, which you need so much.
Do not neglect medication. Go to the therapist, tell us about your condition. Maybe you just do not have enough iron, and the problem with fatigue will be solved in two accounts, if you start to take it? If the therapist deems it necessary, he will refer you to a neurologist, who will prescribe his supportive treatment, if necessary.
Organize your dream. If you can not sleep for 8 hours a day, then at least "do not hang out" on the Internet, lying in bed. And use the daytime sleep of the child to sleep herself.
Chat with a psychologist. Shaken composure is quite realistic to correct. There are a lot of opportunities now. You can work on Skype and find a specialist in any price range, and even get free help in the service of psychological assistance to the population.
Make yourself a little joy. During the day, do at least a couple of things that you enjoy. Listen to your favorite music, drink tea or coffee that you like. Set aside 15 minutes to read a book or magazine. Slow down to see what is happening around you. Ask yourself questions – what do I feel now, what do I need, what do I want?
Praise yourself. Notice everything that you do, all your achievements and learn to make mistakes. There are no people who are perfect in everything. You are exactly doing something that your girlfriends envy. And your "imperfections" can be huge for you and be completely invisible to others. Try to accept them as a part of yourself, as a certain reality in which you are nonetheless beautiful.
Find the same as you. The network has supporting groups for parents (most often mothers resort to their support), in which you can just complain and get your portion of attention and sympathy.
Remember that period when you became ill and you were emotionally burned out. What contributed to it? What did you feel, what were the harbingers?
Remember this state in order to keep track of it in the future and not reach a critical point.