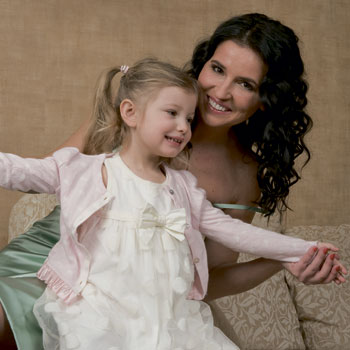 HAPPY PARENTS They say that for writers their work is like their children, the roads are just as painful. Is this really true? Masha Traub Certainly.
Each book was not easy to give. Sometimes at the cost of health, loss of strength, nerves. But I still would not compare the literary process with the happiness of motherhood.
I like each new novel more than the previous one. It seems that he is more successful, better in all respects – probably because I try to make it so.
And you love children equally strongly, before losing consciousness, from the first second to the last. Children for me – home, family.
And books are work.
S.R. Do you think having children contributes to creativity?
Masha Traub I definitely would not have succeeded without children. Thanks to my son, two children's books appeared, very dear to me. "Edible tales" I told him to feed: he, when he was small, did not eat at all, and I was such a table-eating Scheherazade. She told her stories and counted spoons. He did not eat "for dad", "for mom", but under my tales about macaroni of Stesh and Manyu ate porridge.
Then came the story "About the snail and the turtle" written for Vasya. Well, when my son went to the first grade, I wrote "The diary of the first-grader's mother". Then I had a daughter, and I understood what it means to be a girl's mom.
The book "Bad Mother", almost autobiographical, began to write when Sime was two weeks old. And wrote this novel with bare nerves, in the postpartum fever. It is about my mother and all mothers who want to be the best, the best moms in the world.
Well, when my daughter was one and a half years old, I wrote the book "What babies are talking about" – a collection of small, almost anecdotal stories that happen in every family where a small child appears.
S.R. Your husband, besides your common children, has an adult son Vanya.
How are your relationships with him? And his relationship with his brother and sister? Masha Traub Vanya, when I met him, was as old as Vasya now, which is very difficult for me to believe – time passed so quickly.
Vanya was always and everywhere with us. We even went on dates together for three, and also went for three on a honeymoon. Probably I was very lucky with him – he accepted me right away and even persuaded his father to marry me.
We were always friends with Vanka – I did homework with him in English, wrote essays for him, cut my nails, presented the first razor. He is now an adult, he is 25, he lives separately, he works, but he comes every weekend.
I feed him, we sit in the kitchen and chat. He is my own man, another back I can hide behind. He is a very good brother.
Vasya is generally the main authority. Vasya hangs on it and does not let go.
Roly takes him to the movies, to football, takes him from the chess club. It helps, what can.
And for some reason, baby Vanya is rather afraid, but she looks at her sister with such tenderness, with such love, that I am ready to cry.
S.R. Is it true that your marriage grew out of a classic office romance? Masha Traub Passing a pre-diploma practice at MGIMO, I ended up at Novoye Vremya magazine, where my future husband was deputy editor-in-chief.
Young, beautiful, smart, talented. He walked down the hall in a linen suit, ivory-colored, tall, and tanned. It was impossible not to fall in love with him.
In addition, he taught me to write. I clapped my eyelashes and absolutely nothing thought for fear and delight.
And when I read his articles, I did not understand anything at all. Then it turned out that he has one quality that I especially appreciate: he behaved like a man. When I needed help, he silently did what was needed.
I never asked him about anything. He was always there and always helped. He is actually a deeply decent person.
At the same time, then my husband recalled that he first saw my legs, eyes, and everything … fell in love. And my attempts at writing did not bother him at all. Well, the common cause has united us very much and is still binding.
He is a brilliant, though very demanding, sometimes hard, editor.
S.R. Your children Basil and Seraphim have a rather big age difference – 8 years. So it was planned?
Masha Traub Yes, both children are planned, desired, suffered, begged. Thirteen years ago we went with our future husband (journalist Andrei Kolesnikov) on a business trip to Armenia. There is an amazing, unique land.
And in one of the monasteries I tied a scarf on a tree and made a wish – to get married and give birth to a son. The wish was fulfilled, although the doctors said that there was little chance.
The son was hard – I was keeping almost the entire pregnancy. But without him, this boy, perhaps, even the family would not exist. My husband lost his parents in that short time.
I was in the second month of pregnancy when my father-in-law died, and in the eighth when my mother-in-law passed away. They just barely survived until the golden wedding and died like this, almost the same day.
So the son then replaced. He saved my husband, who was crazy about pain, and me, because I did not know how to ease this pain.
The next time I found myself in that Armenian monastery, it was not that accidental … I wrote a novel about how you can love someone else's child, the novel Alien, and for almost two months did not get up from the couch – it hurt terribly. It was as if life was leaving me.
The May holidays were coming, and the husband decided to take me anywhere. I asked to go to Armenia, to Lake Sevan, although I could name any other place.
We went for three days. There we went to the same monastery, I tied a handkerchief on the tree and asked for health, and then added: "And a girl."
Three days later I was returning to Moscow completely healthy. As if nothing had happened.
In the summer we went to Italy, where I drank olive oil in liters and ate kilograms of goat cheese. It was absolutely an animal desire – I was like a cat that goes out into the street and eats the grass that it needs.
And in September I was already pregnant with my daughter.
S.R. Was it easier for you with the second child because you had experience with the first? Masha Traub No, harder.
Vasya was born when I was twenty-four years old. I wanted to work, make a career and did not feel much more acutely than now.
I calmly left him for a nanny or dad and ran off to the duty on the newspaper. There was no such panic fear that appears when you already have experience and when you give birth at a mature age of thirty.
From my daughter, I hardly otlipala even for two hours. Although it was for Vasya that I quit my job and became a housewife.
True, just a couple of months. Then she began to write her first novel.
But it was because of my son that I prioritized: first, I'm a mom and a wife, and then everything else. But what is surprising: now, when my husband and I are returning home, Vasya is running towards me, and Sima is running towards dad.
And I spend much more time with Vasya than with my daughter. I feed my daughter, kiss and give my dad.
All the rest of the time – for the son.
S.R. Is a girl completely different than a boy?
Masha Traub Of course. The girl is my continuation, my soul, my eyebrows and sponges, my heart.
Now I will always be to blame for everything, I will sit with my grandchildren, run away at the first call, break into a cake and still I will be to blame for everything. And boy – he will love you no matter what.
He will not need anything from you, only love.
S.R. What are their characters?
Who are they like? What do you do, get involved?
Masha Traub Vasya is so reflective, subtle, sensitive. At the same time, he has a rather cynical sense of humor and is developed beyond his years.
Yes, his father's humor. So thin, with subtext, but really very kind.
He is an enthusiastic boy from the "drama circle, photo circle, and I also want to sing". He played tennis, then became interested in chess.
Rides on mountain skiing, on a snowboard. Four years otzanimailsya music, then quit.
And now he says that he wants to engage in a theater studio. And Sima is a very serious girl. She very clearly understands what she needs and how to achieve it.
She will have a strong character – it is already felt. Perhaps at least she will be given family talents. None of the children writes or composes.
They feel the word, read with pleasure, but do not write. Let them do what they want.
Let them be more talented than us, more successful than us, more beautiful than us.
S.R. Do you have any basic principles of education? Perhaps focusing on how you brought up your husband?
Masha Traub My husband and I had a very different childhood, and brought us up differently, in exactly the opposite way. He grew up in a friendly happy Moscow family, and I grew up like grass.
In different cities – my mother and I traveled a lot, started all over again. Mom worked three jobs to feed me and my grandmother. But I am not afraid of anything – I quickly pull myself together and never get lost in stressful situations.
My mother thought that I should be able to do everything: cook, get settled in a new place, earn. We had a ridiculous situation: the husband wore his daughter for a long time in his arms, took out for a walk, carried him home.
And then I went out with Sima – she walked perfectly herself. The concierge was surprised then – she thought the girl had something with legs, and she was embarrassed to ask. This I mean, that dad is ready to carry children on his hands all his life and feed him to retirement, and to grandchildren to retirement.
And I am a strict mother. I teach Vasya how to cook, change light bulbs, chop firewood in the country, make decisions, take responsibility for my actions, do not get lost, achieve my goal.
I have a tough upbringing, even my husband calls him a "babayka." I do not tolerate idleness, indifference, irresponsibility, non-punctuality, laxity.
And I also teach them to respect other people, work hard and know how to feel sorry for and forgive.
S.R. How do you like to spend time when you are going with the whole family? Masha Traub Vasya is completely happy when we have the Sunday "quiet hour".
I, papa and Sima are sleeping, but he can, as he says, "calmly" sit at the computer. And then Vanya comes, and we have dinner in the kitchen, at a small table, which is not enough for everyone. But in such close quarters, for merry talk and jokes, we feel like a family.
This is the territory of our little happiness.