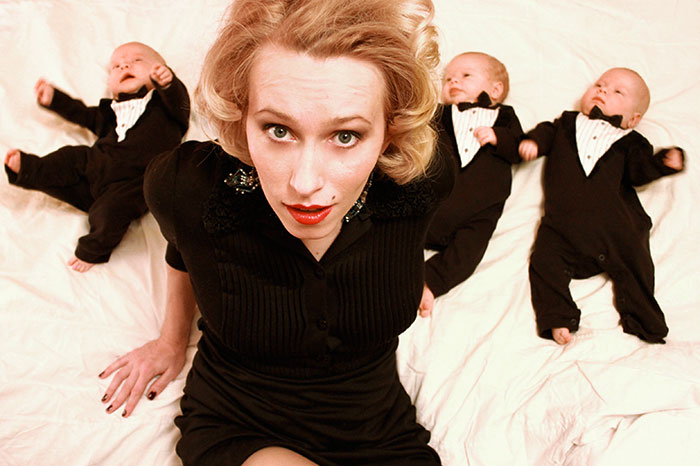 Happy parents: Maria, was the pregnancy unexpected for you or was everything planned?
Maria Boltneva: Planned. More precisely, planned.
And for a long time already, about 25 years old, since I felt in myself the awakening of the maternal instinct. I remember looking at the kids on the playground and felt such warmth and a desire to care! And I also wanted to acquaint my child with this world, to share my life experience with him.
Not with an adult, not with a friend, but for some reason with a child. In my opinion, these feelings mean readiness for motherhood.
The feeling that you want a child, not because it already seems necessary, that status is necessary, not to, God forbid, to keep a man … And when you feel the need to give – this, in my opinion, means that you are ready become a parent. When I met the father of our boys, George and we had a romance, it turned out that he also wants to have many children.
It was on this emotional unity, on the desire to give birth and raise offspring, our children were born.
HAPPY PARENTS: I wonder what was your first reaction when you learned that three are expected to be not one, but just one?
MARIA BOLTNEVA: I found out about this early, at seven weeks, on the first of my many ultrasounds, in the pay center where my acquaintance worked. The best specialist, a gray-haired old man, stared at the monitor for a long time in silence.
I waited, waited, I became nervous already, suddenly, I think, ectopic or something. Finally, I could not stand it: "Well, what is it? Why are you silent? "And he says to me:" Did you have multiple pregnancies in your family? "Oh, I think, twins.
Wow! And I answer him: "No, they say, there wasn't, but what, is there more than one?" "More," he says, "I see three eggs of eggs". Wow, think!
If I had a shock, it was only joyful, as if I won not just a lucky lottery ticket, but immediately bingo. Golden jackpot! Then she learned that this is the first uncontrollable perception of pregnancy – a kind of code that programs all the future fate of the child.
I believe in it and I am glad, because my first thought was very bright, illuminating everything around me.
HAPPY PARENTS: Didn't anyone even have twos in your family?
MARIA BOLTNEVA: When I became pregnant, the family began to remember, and it turned out that my grandmother, mother of three sons, one of whom my father (actor Andrei Boltnev), had twins. I think I generally look like my grandmother, somehow she responds in my soul.
Imagine, in those years she was a motorcycle racer, champion of either the RSFSR, or the USSR in motocross! She was a southerner, lived in Tuapse, such a thunderstorm of fields and gardens, extremalka, riding a motorcycle on sand dunes. Even her photographs on a motorcycle and in a helmet have been preserved.
So, my uncle, Vladimir, said that she allegedly had a miscarriage, and they were twins. Such in our family there is a legend.
Maybe I have a hereditary predisposition … But I think you should not look for physiological reasons. I am sure that I am just a guide to the world of three heroes, a mediator between the higher forces and the Earth.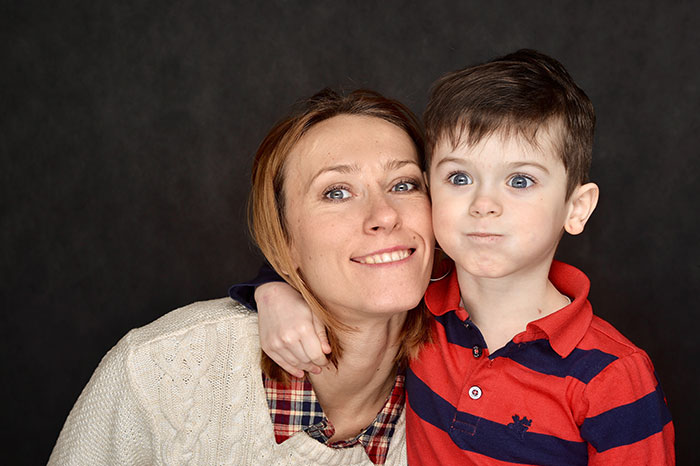 HAPPY PARENTS: Tell me, what happened afterwards, after the joyful news of triplets?
MARIA BOLTNEVA: And then the tests began. Many doctors did not take the news as joyfully as I did. The head physician of that paid clinic gathered a consultation at which I was told about the only time they had triplets. Alas, all three died.
I was offered to think about a week and come again, to re-ultrasound. I came, but instead of a joyful meeting, I was awaited by the questions: "Are you going to leave the triplets?", "Why do you need this?" And they offered to make a reduction.
The meaning of the procedure is that a needle is inserted into the heart of one of the embryos with a solution, and it dies. This allows the two remaining to function and develop better.
Further, the doctors gave unfavorable statistics of multiple pregnancy: premature babies, children with cerebral palsy, paralysis, stillborn … I was depressed. But only because I thought: why do they all say this to me? It was not such that I said to myself: "What if it's true?" We talked and the whole council went on an ultrasound.
Again the doctor watched, watched: "No," he says, "look, they have grown! Scrawny! "They shouted, wondered, and then they say: we will not take such a difficult pregnancy … In order not to return to this issue, I'll say that yes, what doctors frightened me is not just stupid horror stories, some moms have problems .
But I was set up only for a complete victory!
HAPPY PARENTS: Was it sad after this conversation with the doctors?
MARIA BOLTNEVA: I walked in the rain and cried. And then I calmed down – so I had a firm belief that everything would be fine. When I realized that I would not do any reduction, but would wait for three, I had a light at the end of the tunnel and I systematically went to it, discarding everything else as unnecessary.
Imagine, I did not know who I was there – sons, daughters. I believe in souls, in the spiritual world, in subtle matter and I felt three consciousnesses in myself at once.
Being involved with higher energies helped me to keep faith and defend myself against those who were pumping negative. There was a feeling of belonging with the divine, and I am sure that God helped me very much then.
At that time I really believed in God, everything that happened seemed to me such a miracle of miracles!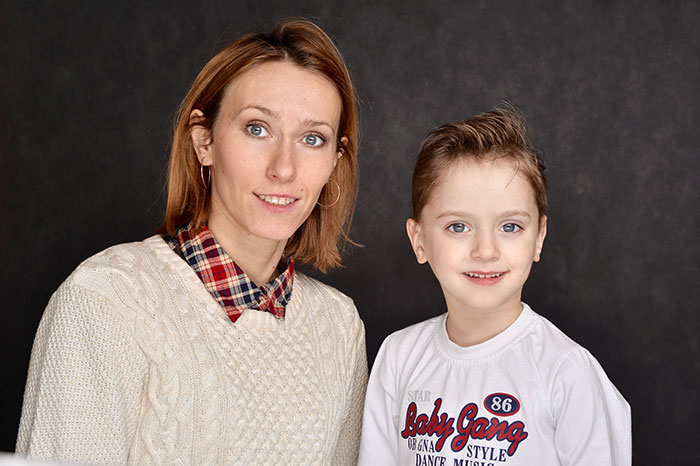 HAPPY PARENTS: How did you feel?
MARIA BOLTNEVA: Good. In my opinion, if I were not burdened with fears, I would have felt even better. However, on the 10th week I had to go to the doctors again, for screening.
I did not have Moscow registration then, but, fortunately, the Theater named after Mayakovsky made it to me in a hostel and I signed up for the district maternity clinic at the Paveletsky railway station.
There I was met by a gynecologist by the name of Shavrebov. She, unlike the previous doctors, was delighted to hear about the triple. "Oh, take it out!
Nothing! "She said lightly to me. She already faced triplets, however, ten years ago, and then everything ended well.
I cheered up – so I needed these words! And then it turned out that my tests are good, and the children are developing as they should, they are already moving their legs and arms … But it was only the 10th week of pregnancy, the beginning of the path, I had a long summer ahead and a lot of different tests.
HAPPY PARENTS: What happened in the summer?
MARIA BOLTNEVA: In the sense of my well-being, everything was fine, I only drank vitamins, I did not lie in the hospital in the hospital. I even had no toxicosis.
It was worse with the nervous system: tearfulness, touchiness for the whole world and for the closest. But I tried not to lose heart, I even traveled. Went in June to shoot in Prague, in Novosibirsk, in Evpatoria.
In the summer I was told the floor of my children. "This is a son," the doctor told me about the first one. And I felt that, behold, I was no longer just a mom, but a mom of a son.
Son of God gave! Well, well, and the second? "And the second," says the doctor, "is similar, albeit in a different egg." Well, I think the third one is for sure a girl.
And the third one curved up so that it did not open. By the way, when I later came to do a 3D ultrasound, the doctors told me that the children, despite the fact that they were in different eggs, are so intertwined with each other that it is difficult to understand whose hand, foot is there.
But I did it anyway, and, I remember, I was looking at who was where, whose finger it was, whose leg. Now, when the sons sometimes argue or even fight among themselves, I tell them that for several months, in one womb, they lay, hugging each other closely. "And are you hitting your brother now ?!" I ask indignantly.
HAPPY PARENTS: Were they different in size? And how did they move in the stomach all together?
And what was it, this belly?
MARIA BOLTNEVA: The boys were almost the same. And this is very good, because it happens, one of two, three, lags far behind due to the fact that others take more and, as it were, are taken away from him. Andryushka is a little more than others, but, it seems to me, it is because he was conceived on another day.
But Timothy and Plato are so similar that, I think, they were originally in one fetal egg, and were divided later. Even during pregnancy, I came up with names for my sons, and thanks to the ultrasound I knew about where everyone was. Top, left, under the heart, lay Timothy.
Below is Plato's silence, one that did not immediately show that he is a boy. He never hustled at all and was so calm and remained.
The characters, in my opinion, already appeared. From the top right, Andrew was lying, he was pushing the most, and when they took off on an airplane, he directly beat me from the inside.
And he remained the same – impulsive, emotional, child-fidget, all on hinges. Plato may be lost in thought, this is his character.
Timka – from the heart, sincere. Although I can not, of course, say that others are less soulful! But Timka sometimes says so: "What would you have, mother, would not save the little dog in the rain?" Do you understand?
The belly where these three men were sitting was huge, I was wearing a bandage. It was hard to sleep, impossible on the back. My cheek itself, my chest filled up, turned into a pampushechku for the first time.
Suddenly I saw myself in the mirror as a woman!
HAPPY PARENTS: And when were you put into the hospital?
MARIA BOLTNEVA: At the 26th week, my district doctor said that it was time to get down to business more seriously. You never know what! The Center for Family Planning on Sevastopolsky Avenue was chosen.
I got registered, began to go to the doctors. They called a council where they sent me — for the prevention of early labor — to sew up the cervix. I obediently went to the hospital.
I lie and think: what did I get here? In 26 weeks of normal pregnancy, absolutely healthy, with good analyzes.
Why am I supposed to go to the hospital now, on this beautiful August day ?! Here I get droppers from all sides. "Why?" – I ask. "So the doctor prescribed!" I asked to do another ultrasound, they did.
It turned out that the situation is ambiguous, but not critical, you can sew, but you can not sew. In general, all my inner being resisted, and I obeyed him.
I think that it is very important for mother to listen to her intuition, to her inner voice. He is the most faithful. No mother, no mother in law, no friend, and only you yourself know everything better than anyone.
And I told the doctor, "I don't want to. Come what may, I will not do it. " "Well, write a waiver," said the doctor. "They will bring it to us this week — this is your refusal." And I decided that now in the hands of God, I am not going to change anything in the natural, absolutely normal and calm pregnancy.
And went home.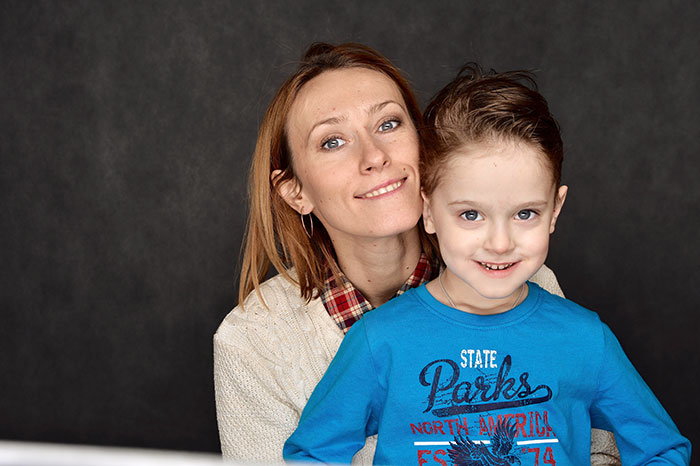 HAPPY PARENTS: How long were you at home?
MARIA BOLTNEVA: When it was 29 weeks, I turned for help to the actress of our theater, Evgenia Simonova, who sent me to the doctor Rosa Nikolayevna, my guardian angel, at maternity hospital No. 8. On the 30th week, she examined me and said that for the time being I can go home, however, punishing even the kettle not to lift. The kettle is not a kettle, but the wallpaper we and my girlfriend in my rented apartment pokleili.
By the 32nd week my legs were wildly swollen, and from the 39th the size increased to the 42nd. And the clothes were all small, but November came already … But these are all such trifles in fact! So, I arrived at the hospital, they put me in a smart room.
One! Is free! And it was good for me, and nothing bothered me, all day I sang under the laptop.
Two weeks later, the children had grown to a weight of more than two kilograms, and they could be given birth. When I learned that the birth was scheduled for November 22, for some reason I sang a song by Edith Piaf "Non, Je ne Regrette Rien" ("I have no regrets"), cried and tuned in to the event.
This was, of course, a Caesarean, in a different way, the birth of a triple is not allowed now, the natural way is very dangerous, especially for the third. The operation itself under epidural anesthesia went very quickly, the sons pulled out, gave me a kiss on their heels and took them away, and my bleeding started, and all sorts of manipulations continued for another 7 hours. Can you imagine giving birth to them myself? And so, both I and the children were under the constant supervision of doctors.
And there were many of them in the generic: three neonatologists, plus an assistant with each, an intensive care specialist, an anesthesiologist, Rosa Nikolaevna herself, and in the end, in my opinion, the head came. After two and a half days after giving birth, I did not get up, and when I got up, I immediately went, of course, to the children.
Well, as she went – wandered, holding on to the wall. And next to other mothers in the same way, after cesarean.
And all of us were taught to fold out. The queue stood to the sister who trained. On the third day, my milk came, my temperature rose, my chest swelled, but I don't know how to feed.
It hurts, and every minute more and more painfully. The breast pump helped, and then the children. Plato was first brought in, and this sacred process took place: he, as expected, clung to me, and my life as a nursing mother began.
The second was Timothy, who fell to the second chest, and on the fifth day Andrei appeared. And the moment came when all three at once were in my arms.
But I am crazy mother, I recorded some videos with them, danced.
HAPPY PARENTS: Fed as-all at once? Hard to have?
MARIA BOLTNEVA: The brothers were mixed feeding: two drank my milk, one at this time – the mixture. On the next feeding they changed places.
Andryushka, the most impulsive, was the most addicted to my milk, then he and his brothers ate everything, and now he is stronger than others to me. I fed for 4 months, then I needed to go to the performances, and my mother was left with the children, who came specially from Novosibirsk. I can not say that I was somehow extremely hard, the children slept almost all the time.
Now, when they are 7 years old, even a little harder, because then they were weak-willed, but now they are all with character. You feed babies, wash, just serve, treat it as work, as your arable land. You understand that you just have to plow the field, and if you don't plow, there will be no harvest in the family.
It helped a clear, on the clock mode. As they are accustomed to feed, they fed, even woke up later in turns: the first was Andrei, at 6 in the morning, then Plato, at 6.15, followed by Timofey, at 6.30.
HAPPY PARENTS: And what are your grown up heroes now?
MARIA BOLTNEVA: Brothers go to kindergarten, getting ready for school. We pay great attention to the English language, we work with a tutor.
Dad teaches them mathematics, and they already know how to solve fairly complex examples, add up 35 and 27, for example. We have good genetics and a variety of bloods from our father: Armenian, Russian, Jewish, Ukrainian.
And brainy, curiosity. And, you know, if we talk about education, then books help me a lot.
All mothers definitely recommend reading books by Komarovsky, Gippenreiter. It is necessary, because, I think, for motherhood we need the same preparation, training, as for playing the piano, suppose. And books help.
And further. In my opinion, it is very important for parents to remember that by raising your child today, you are shaping your old age tomorrow. By the way, this is exactly about my short film "Boomerang", which can be viewed on the Internet.
As a parent today refers to a child, he will later relate to him.