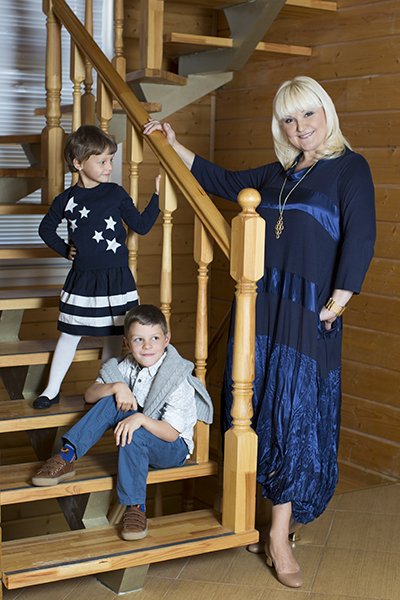 HAPPY PARENTS Margarita, is this a difficult process – the adoption of a child?
MARGARET SUKHANKINA Not that complicated … Very dreary. It takes a long time to go through numerous instances, collect a lot of documents.
S.R. And the status of the star did not help?
M.S. Not! Those officials who sit on the ground and give out or check references, absolutely do not care who you are.
Well, in any case, it was so with me. Sometimes I was told: "We understand that you are a famous person, but, excuse me, the rules are the same for everyone."
For example, when I met my children, I was ready to take them, I heard that I had to wait another two months. During this period, their mother had finally and irrevocably abandoned them.
And after two months of her thoughts, they should have called her and asked about the refusal the last time. Mom barely found, she came and easily swept away the documents.
S.R. This happened before or after the former parents of Lera and Serezha wanted to return them, as many media outlets told about?
M.S. No, it was before these events. But the parents didn't want to return the guys – their grandmother was the initiator.
The parents were dragged, so to speak, for decoration, they themselves didn't need anything. Grandma suddenly, sober, had the idea to return the children.
I do not know why this was necessary, because then, after the television broadcast, where the parents demanded the return of their children, there was silence. And that's all.
S.R. Do guys remember something about their former life?
M.S. Lera – no, Seryozha remembers something.
Periodically he slips: "Mom, that's when we were with another mom …" I once asked if he would like to see this "other" mom again. The answer was instant and without any hesitation: "No!". I asked why. "And we were not fed there."
And when the children first began to live in our house, sometimes it was painful for their reaction to the most harmless things. Hearing salute salutes for the New Year, they both went into hysterics. It turned out that in their old house someone had somehow shot at them … Of course, I am afraid of genetics.
It doesn't scare me that their dad is almost a constant prisoner of colonies, because, in my opinion, the question of getting there is still a question of education. But I am worried about alcoholism in the family. The other day I was presented with a box of chocolates, which we put on the table.
The children took candy, they liked it very much, and then it turned out that the cherry liquor was inside. Quickly removed the box from the table.
Terribly afraid of this traction. But! Today I already know a lot about everything related to children.
How to, how not to do. I now have a lot of very different psychological literature.
S.R. It helps?
M.S. Yes.
Especially when given some specific tips and examples. With examples, everything becomes clearer.
And for children, by the way, too. We were with them recently in the circus, we saw a girl there who did not want to wear a hat.
She lay down on the floor, beat her arms and legs and screamed. My children were horrified.
We stepped aside, I pointed my finger at the girl, saying in a completely iron tone: "We won't have it like this!" Although, naturally, we had situations when children tried to get their tears. At first I acted intuitively, and then began to read books on education. I realized, for example, that both children are choleric, and this is the most impulsive temperament, both are leaders.
According to the horoscope, both are Lions, which means they are generous. And this is true, they forgive everything. Lera especially.
If Seryozha pushes her by chance, in the game, she starts crying, he apologizes, Lera forgives right there. Seryozha is a little different, he can, as a man, harbor something in himself. But I am very pleased that not only are they very easily appeased, but there is absolutely no aggression in them – and I was afraid of that.
The guys are very kind, very soft. And we, with our grandparents, my parents, are trying to encourage and develop this.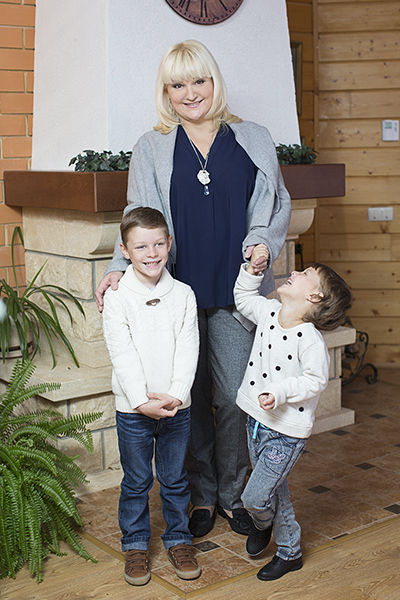 S.R. And how?
M.S. For example, they go to someone on a visit to a neighboring site – and they certainly bring with them gifts: toys, their drawings. So, Serezha goes to visit a friend of David and gives him a ball, and David gives him apples from his garden.
Such natural, simple and very good things are happening.
S.R. Your family lives in the countryside.
Is it because of ecology?
M.S. Not only. I want to hide from too curious eyes, to avoid unwanted interference.
But there are many children in our closed forest area, my friends are with whom to communicate and be friends. Moreover, in the neighborhood with us, in two families, foster children also live. We are all friends, adults try not only to instill in them the rules of good tone – so that they always greet, apologize and the like, but also educate the younger ones in a spirit of collectivism, in a spirit of mercy.
We teach them to share, we teach them to give in, help each other and, of course, grandmothers and grandfathers.
S.R. Is such upbringing already bearing fruit?
M.S. I think it already gives, of course, but my Lera and Serozha themselves perform wonderful and touching deeds.
For example, always, when they, after walking with the grandfather through the forest, return home, they will surely bring me bouquets of flowers. "Mom, this is a present for you!" – they say.
S.R. Did someone teach them this?
M.S. The fact of the matter is that no! This is entirely their personal initiative.
Even in winter, when there are no flowers, some twigs with knobs are brought. Drawings give me all the time. This morning, Seryozha drew a flower to me.
By the way, he draws very well.
S.R. And what can guys do?
M.S. Five-year-old Seryozha already knows how to read, write.
Four-year-old Lera knows all the letters. For example, on the birthday of David, Seryozha with Leroy, in addition to other gifts, made the card themselves and signed it.
David's grandmother (who is also 5 years old) was amazed that our children were already writing.
S.R. Did you teach them?
M.S. Yes.
In the audio books involved in the cubes. Trained memory.
Every day we had such lessons, but only in the form of a game, of course. Sergei wants to draw, I ask, and what colors will he do it, and how many pencils does he need. Lera is not too keen on this process yet, but she always turns around when Serezha is engaged.
It seems too much and does not listen, but remembers everything. So Seryozha could not remember the number "4", counted to three, and then 5, 6 at once. He counts again: "One, two, three" – and he is silent.
And Lera goes around on a toy horse. "Well," I say, "Seryozh, after three what goes?" And Lera, passing by, replies: "Seryozh, well, four goes, don't you understand?" And she didn't sit next to a single minute! So easy, on the fly, picked up.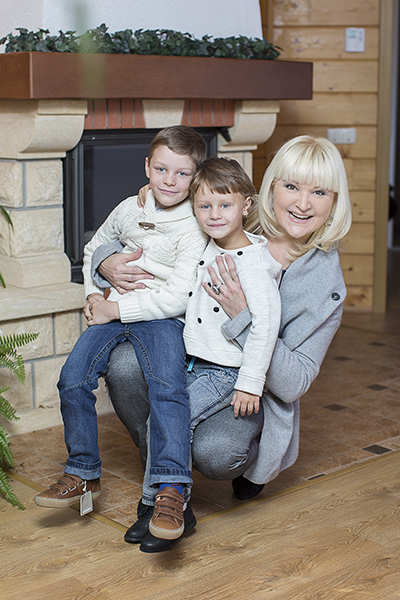 S.R. Had problems getting used to the house?
M.S. Of course. "I will leave you!" – they said. "I don't love you!" That was all.
Now this does not happen, because every time Seryozha said this, he was told: "We love you anyway. Anyone.
Good or bad you do not care. We don't just love you, we adore you! "You know, before, moving away from home, they all looked around and, when the house was no longer visible, they were worried:" Mom, we don't see anything at home. Let's go back? "And now they no longer fear losing him, they know that this will not happen.
When people come to us who saw the guys a year ago, they are surprised at how much they have changed. And it is no wonder, because we – both my grandfather and grandmother – not only love them, but also constantly deal with them, and they play with other children.
I built a playground next to the site for all, where children meet, swing on a swing, play football. Seryozha loves sports, he is a strong and strong boy.
At first, Lera was so weak that she even ran badly. And then they both got stronger. Together with Leroy, they drive around the house on ponicycles – such toys that develop muscles very well, ride electric cars along paths, use bicycles, and exercise machines in our gym.
In general, with regard to toys, we, in my opinion, already have everything that is possible.
S.R. Children are more pleasant than buying themselves, right?
M.S. Oh, a completely different feeling! I am ready to give them the whole world!
But you have to restrain yourself so as not to spoil.
S.R. Are you a strict mom?
M.S. Strict, yes. My mom even scolds me for it sometimes.
But when we come somewhere, people often come up to me and say how my children are gold and educated. Of course, they are dabbling, they can be naughty, but we have certain prohibitions that they are well aware of.
There are some things that can not be done, because it is simply impossible. Usually we talk about this before bedtime, we read instructive books, for example, the stories of Nosov and Dragoon.
In general, we love all three of us to talk for a long time and about everything.
S.R. Do you sing to them?
M.S. Of course! Recently, the guys first went with me to the concert, after which Lera asked why I actually sang on stage. "Because I am a singer," I reply. "Mom, well, I sing quite well too," the daughter says, "why aren't they letting me in?"
S.R. You are touring a lot, and with whom are Lera and Sergei left?
M.S. Grandmother and grandfather are my main assistants. We had a difficult situation when I went on tour, my grandmother went to the hospital, and my grandfather stayed alone for a week with two children. But he did fine.
I arrived, the children are silk, well fed, though not very cleverly, obviously with masculine hands dressed for a walk, but happy.
S.R. Margarita, what has changed in you with the appearance of this happiness in the house?
M.S. I became crazy!
It has changed a lot, because now my whole life is them. Everything I do, I do for their sake, for them. I got the meaning of life.
What I did not have a year ago. Then at some point I just stopped understanding why I was working. I have already provided for myself, I didn't need anything.
And once we sit with mom, and I say: "What's next, mom? And why? "" Yes, "Mom replies," and most importantly, who will get all this? "From this conversation and started thinking about adoption, they began to look in different children's homes.
And then I saw Leroux and Seryozha in the program "Bye Bye", in the section about children waiting for their parents. Kupilas on their huge eyes.
Then she immediately told her mother: "Mine." "Well, they won't give you one child," she says. "And I will take two," – I answer. "You are crazy"! – "So what? You two, me and brother, raised.
And they, on the contrary, will be more fun. " And literally immediately rushed to the guys in Tyumen. And there, right from the first day, I was convinced that I was not mistaken: mine.
At first we just played with them, and the next day, apparently, after some conversation with the tutors, the children greeted me with shouts: "Mom!" It happened last October, and I brought them home in December, on the 27th … Since pore not for a minute, never regretted her choice, despite any problems. For me the most important thing is that my children always know: I love them!