HAPPY PARENTS How did you feel when they learned that you would have a child? MARAT CHANYSHEV Honestly, I most definitely began to realize this only around the second half of my term, when Xenia's stomach began to grow noticeably.
Well, maybe, at the time when they did the ultrasound, they decided on the floor. But you know, even during this period right before the birth, such fuss arises: which hospital? where will be better? what to buy?
The realization that you are a father now, probably comes later, when a person is born and you meet him.
S.R. Now it's not something that is fashionable, but it's somehow accepted that dad was present at the birth. Marat, have you been there?
M.Ch. Yes you!
Not!
KSENIA FROLOVA Marat is terribly afraid of all this. But in some sense my birth can be called "new."
Well, unusual, at least. I had them vertical.
And I advise this method to all. Of course, I have no experience with other options, but, having started to give birth on my back, I very soon realized that it was unbearably painful for me, and in the upright position it became much more comfortable and easier.
If later I will give birth, I will again choose this option.
S.R. Marat, often vocalists of popular groups hide their personal life in order to warm up the interest of female fans.
They say, they say, career interferes. M.Ch. No, it's not about me.
In the "PM" there is no such thing. Everybody knows that we all have children. Usually, such a concealment of the family takes place when the singers have a certain image formed and cannot be destroyed.
Remember, Britney Spears had the image of a virgin, such a dream girl? Naturally, when she had children, something collapsed.
And we are not building our images on that.
S.R. Did you ask experienced fathers from the council group when Vika was born? M.Ch.
When Vika was supposed to be born, everyone frightened us. Friends, grandmothers – they all said that we were preparing that at first, immediately after giving birth, it would be difficult, for the first six months, sleepless nights were waiting for us. But imagine, with the advent of the daughter, nothing like this happened.
Milk will drink – and sleep. Such an ideal girl.
Therefore, in general, there was not even a need for the advice of friends. K.F.
Yes, Vika is an unusually calm child. The only place where she showed off was the maternity hospital. It was there that she did not let me sleep at all.
I left the maternity hospital all exhausted and I think: now the house will continue! And Vika changed completely at home, she slept without problems, she didn't even have any colic.
S.R. Are there any dreams about the future profession of a daughter?
K.F. For some reason, Marat thinks that she will be a doctor.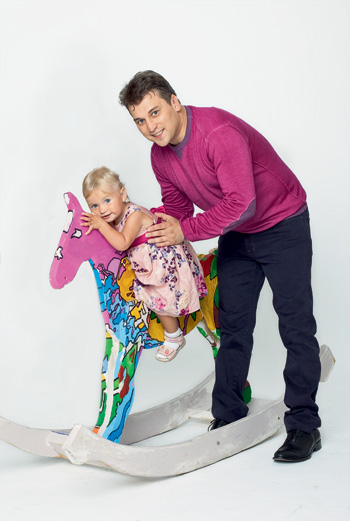 S.R. And if he wants to follow his father's footsteps, do he make a career in show business?
M.Ch. Well, I do not know, I would not like. You know, this is possible only if the daughter has some obvious talents.
And so, if you stand somewhere under the plywood "singing cowards" … Do not. There are many other professions besides variety art.
Even in the art world. Maybe she's a good actress. But better, of course, a doctor.
This is a normal profession, necessary at all times. Show business is a very complicated and even cruel thing.
Especially for girls. He, you know, in many respects breaks, spoils the person. Therefore, to go there by any means, of course, is not worth it.
If there is a talent, if you will write the songs themselves, it's good to sing – another thing.
S.R. Can you talk about some of your own methods of education?
Or are you targeting someone? M.Ch. No, we do not focus on anyone.
Just live with her daughter next, and all. What is good and what is bad, we explain along the way.
Well, by my own example. This is probably the most effective way of education.
After all, if you say how to do it right, you demand it from the child, but you act on the contrary, it turns out only worse. In general, I do not understand how you can approach the child with some ready-made educational principles.
That, they say, I will educate strictly, so as not to grow soft. Maybe this approach is justified to the boys to some extent, but of course not with the girl.
The girl should be cherished and cherished. Besides, Vika is now so small that I cannot even say that she needs some special upbringing. She is quite an obedient child.
I think that we have not yet figured out what to do and how. That is three or four years old when she speaks well and we will communicate on equal terms … KF
Well, some methods are already there. For example, we practically forbid nothing to Victoria. The word "no" in our country is extremely rare, only when it comes to something dangerous or harmful.
In general, we are trying to explain everything: why this is so and not otherwise. Maybe the daughter still does not fully understand everything, but she learns that the parents will never say no or no can and will always try to explain their actions to her. That is, you can approach your mom and dad with any question.
In general, in my opinion, everything is so individual with each child … A parent himself must go through some stages and understand something about himself for his child.
S.R. The birth of a daughter somehow influenced creativity?
Maybe more inspiration has appeared? M.Ch.
Rather the opposite. I began to write less often. Here I recorded the songs for the new album "No need to say goodbye" … And for now everything.
Probably, I have such a period now, that I want to spend more time next to Vika, and not to engage in creative work. A concert activity as it was, and remains, of course.
S.R. In your family, parents of different faiths. Ksenia is a Christian, and Marat is a Muslim.
You have no conflicts on this basis? K.F.
Can not be. Although … Just because of my daughter arguing.
What faith she will have never agreed. Everyone wanted to draw his own. I rested: "In my!", Marat said: "No, in my!" Then they approached each other and agreed: "Well, come on in yours."
As a result, a compromise was found by itself: it was decided that it would be most reasonable to wait for Vika to grow up and choose herself. And it turned out that no one puts pressure on anyone, including the child. M.Ch.
I also think that this option is most likely.
S.R. Ksenia, do you think Marat is ripe for the role of the father?
K.F. I think yes. Marat is a good dad!
He is generally a homebody, although, apparently, he was not always so. Here is ripe.