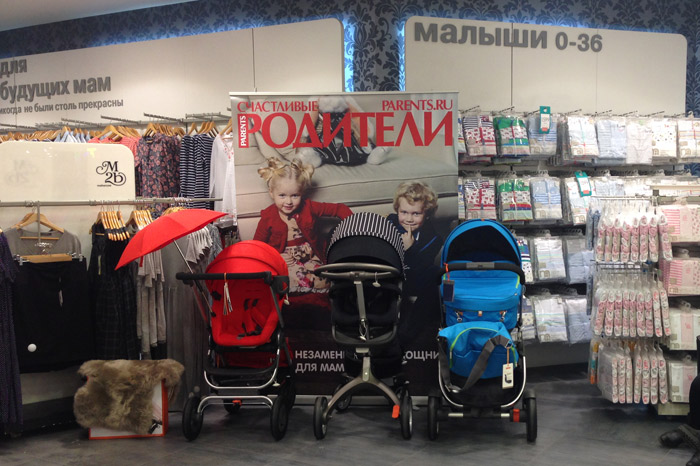 Last weekend, Mothercare's chain of stores, as well as the Norwegian manufacturer of unique practical children's products, Stokke, with the support of Happy Parents magazine, held a workshop on the choice of strollers.
A special master class for parents took place on March 21 at the Mothercare store in the Afimoll City mall.
The representative of the manufacturer of children's goods Stokke not only named the criteria for the selection of strollers, but also justified them in detail. So, what you need to pay attention to if you need to purchase a stroller?
– the weight of the stroller (the mother walking with the baby alone, will often have to face the problem of lifting or moving the stroller),
– the speed of addition / unfolding of the stroller (for the convenience of transporting the stroller to the place of walking or for leaving the city),
– the width of the wheelbase, which is responsible for the stability of the entire stroller,
– the material from which the wheels are made (the convenience and comfort of movement of the baby directly depends on this),
– the presence of several levels of the child's position in the stroller for use at different ages (sitting, reclining, lying),
– the ability to set the cradle face and back to the parent, because over time the child needs to get acquainted with the outside world,
– the material from which the stroller itself is made (lightweight and durable aluminum is best),
– additional accessories (bag, winter and summer sets) and options (possibility of individual locking of the front and rear wheels to improve the cross-country ability in sand / snow).
All participants of the master class not only learned useful information, but also received gifts from Mothercare at the end of the master class. And, of course, no one left without the latest issue of Happy Parents magazine!