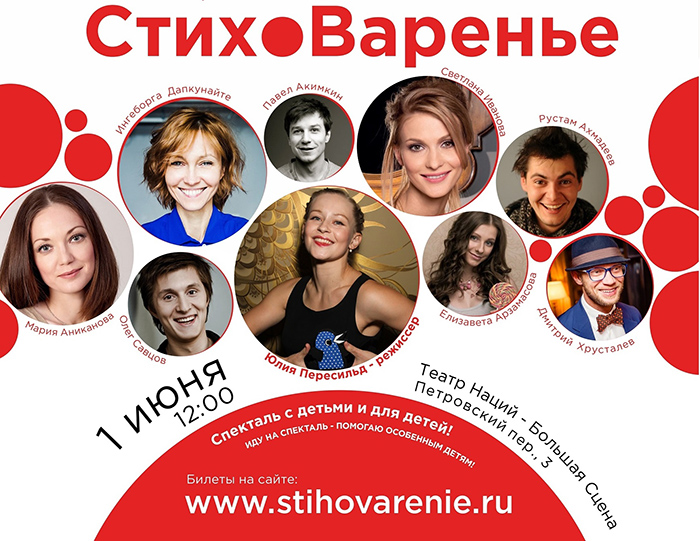 For a charity project, this is symbolic and significant: for the entire period of the performance of the performance, 2 274 920 rubles were collected, which provided treatment and rehabilitation courses for 10 children – wards of the foundation. Julia Peresild, the mastermind and director of the performance, is sure that such bright, creative projects can change the attitude of society towards charity, and the charity itself will become self-sufficient.
In the performance on June 1, together with Julia Peresild, on the stage, they will arrange a real "children's lawlessness" Dmitry Khrustalev, Svetlana Ivanova, as well as artists of the Theater of Nations – Lisa Arzamasova, Pavel Akimkin, Rustam Akhmadeev and Oleg Savtsov. The role of the kindest Grandmother in the world will be performed by the wonderful Ingeborg Dapkunayte, who this time will surprise the audience with her reincarnation.
"Each scene is one poem in which childhood memories are common to all. Therefore, children in the performance rejoice, and adults cry. The first ones are from the clear rules of the game, and the second ones are about lost childhood, "says Julia Peresild.
The poems by Maria Rupasova, Natalia Volkova and Anastasia Orlova, which became the poetic main performance, amazingly accurately convey the children's world of the modern child and help adults better understand their children.
Yevgeny Mironov, artistic director of the Theater of Nations, said: "Theatrical performances for children are always difficult and interesting at the same time, because the small audience is the strictest critics. With the help of art, we can teach children and adults to better understand each other and accept those who are not like us.
It is very symbolic that this kind and incredibly touching performance is on the Children's Day on the stage of the Theater of Nations. "
All actors participate in the performance free of charge, and all funds from the sale of tickets are sent to the "Galchonok" foundation to pay for the treatment and rehabilitation of children with organic lesions of the central nervous system.