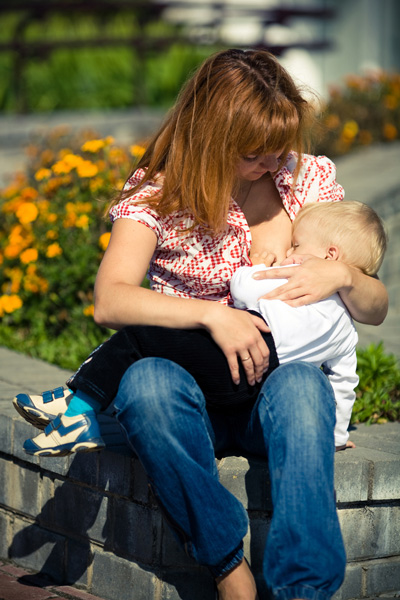 Today it is customary to feed a baby who is breastfed, on demand. However, in this case, sometimes such a demand can be made by a crumb in a shop, cafe, park – and what then? In Europe, you can often see mothers feeding a baby in a children's clinic, in a park on a bench, in a cafe, in a parking lot in a car, and even in commercial centers.
And everyone treats it with understanding. Recently, in Russia, special places have begun to appear in large shopping centers, airports, shops, clinics, where a nursing mother can retire for a while with the baby. Most large shopping centers have "family bathrooms" and relaxing lounges where you can breastfeed in a secluded and comfortable environment.
A store for expectant mothers can also be a safe place. Ask to use one of the fitting rooms, where there should be a bench and enough space for a stroller.
Or go to the furniture department and test the chair with a handkerchief over your shoulder – other buyers will not notice anything.
If your baby eats from a bottle, you need more preparation. In this case, try, first, feed the baby before leaving home. Secondly, before you go into the city with the baby, do not forget to take everything you need with you.
Namely: milk mixture, a bottle and a thermos with hot water. Do not mix the mixture in advance and do not leave it in an insulating container – disease-producing bacteria can grow there.
You can travel light if you buy a bottle warmer that is included in the car's adapter, or if you need to, simply ask some friendly seller or waiter for hot water at a nearby cafe. Make sure that you shake the bottle well with the mixture and be sure to check the temperature before you start feeding the baby with the mixture: there may be hot clots in the liquid.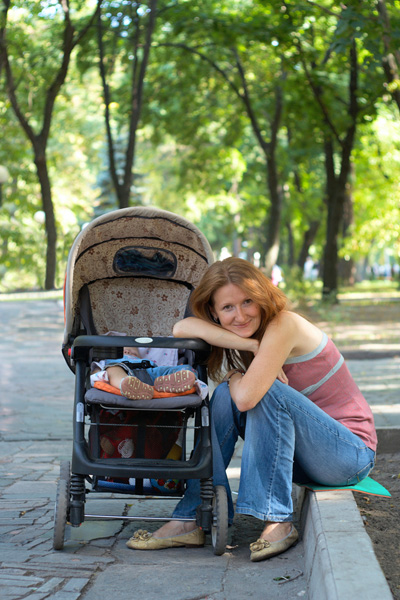 You came to visit friends with a crumb. He is tired and wants to sleep. But where to put it?
To build a bed for the baby is simple. Slide two chairs, put down a small thin blanket or towel.
The resulting "nest" is convenient and practical. And even better – look for a quiet bedroom with a free bed or sofa.
Find a safe place for the crumbs and make it more comfortable. Be sure to move the highchair to the sofa or put something so that the baby does not accidentally roll onto the floor.
Never leave your child alone on the bed and make sure that there are no extra blankets or pillows around that could pose a choking hazard to the crumbs. If the owners have pets, close the door or make sure they are in another room. Of course, additional equipment can be cumbersome, but if you go to friends to the cottage or, for example, visit for several hours, it is better to take along a folding playpen, a folding high chair-cradle or a baby carrier, so that your mind is calmer.
There your baby will feel completely safe. If possible, take a baby monitor with you.
If not, check from time to time if he is awake.
As you get older, your child will find it harder to fall asleep away from home. Therefore, always keep in reserve in the trunk of your car bottles of food and juices, packing of diapers, several diapers for a shift, clothes and toys in case you go on a trip with a crumb again, you forget something important.
You and your baby are in a museum or in a cafe where dirty diapers cannot be ignored. They need to be urgently changed, but how?
Here you will need a correctly filled diaper bag. You will need wet wipes, a disposable diaper and the diapers themselves.
In general, there are no special problems here, when you really squeeze it, you will succeed! The main thing is not to be nervous and not afraid.
So how do you do this? First, you can change the baby's diaper on the weight, holding it face to itself.
Not very convenient, but you can handle. In this case, you will need wet wipes and a diaper. Some mothers can do it on their shoulders: the child is facing the mother's back, the tummy is on the shoulder, the butt is well open and doesn't stain the mother.
Secondly, you can safely go to the toilet and perform the same manipulations there. And at the same time and undermine the crumbs under the tap with warm water. If possible, ask someone for help, then the procedure will be much simpler.
The second person can hold the baby while the mother takes care of the booty. You can still put on the hands of a disposable disposable diaper.
It will turn out not very comfortable, but still a changing table. In addition, you can use your knees as an improvised changing table.
Another tip: put a disposable diaper (or at least your / child / papa / grandma, etc. jacket / jacket / shawl) on the chair (ideally, two chairs, in any, even the poorest museum, they will be). In extreme cases, ask for a stool.
Here is a comfortable changing table! And if you are not afraid, you can swaddle the baby directly on the floor, of course, after putting some disposable diapers on the floor. When your child learns to stand without help, everything will become much easier!
The main thing – do not rush, as crooked wearing a disposable diaper can cause the baby discomfort and rub the skin.