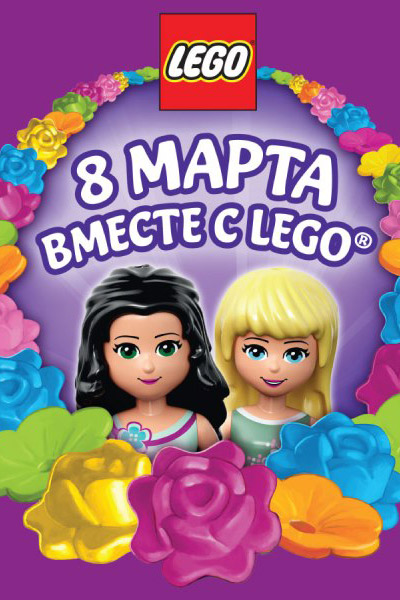 In honor of the holiday of March 8, LEGO gives girls of all ages entertainment for every taste. All those who wish to meet the wonderful spring festival with their children are waited on the rink in the shopping and entertainment center "MEGA Khimki".
Between March 7 and 9, it will become a huge platform for laughter, fun and joy.
The youngest guests of the holiday will be met by animators in the LEGO® DUPLO® zone. Here, with the help of adults, the little ones will build huge structures from large LEGO DUPLO cubes, which are so convenient for tiny children's handles (LEGO DUPLO cubes are 8 times larger than standard LEGO cubes, which allows the child to comfortably hold and quickly build). Classes will be held under the motto "Two palms – a lot of games."
Children will also be able to take pictures with 3D figures from LEGO, for example, with a giraffe – a giant inhabitant of the African savannah. And parents will have an excellent opportunity to talk with a professional child psychologist and ask any questions about the development of the child to the LEGO DUPLO expert.
Fans of the LEGO® Disney Princess series also won't stand aside. Those whose favorite characters are characters of fairy tales Disney – Cinderella, Rapunzel, Merida and Ariel, can be photographed in the costumes of fairy princesses in an old carriage.
Girls will also learn about new plots of games with characters from famous Disney tales.
The town of Heartlake City will be equipped. As you know, LEGO Friends' heroines live in it – Stephanie, Andrea, Mia, Emma and Olivia. These five girlfriends will meet guests.
Together with them, each girl will learn to perform the famous LEGO® Friends dance and will assemble a bright heart-shaped mosaic. Here you can take a picture with the heroines or against the background of one of the city's attractions – a balloon.
Do you know about the new line of LEGO Elves? This is a series of LEGO designers dedicated to the mysterious world of elves.
The festival will open a magical portal to this magical world, and guests will get acquainted with the main character of the series, Emily Jones and her elf friends: Farran, Eyra, Azari and Naida.
However, at the festival, of course, not only girls, but also boys are expected! Boys aged 5 years and over will be special guests.
They will have the opportunity to assemble a gift for their mother, grandmother, sister or girlfriend in the free design zone with their own hands.
And while the children are having fun, the parents will be able to get the magazine "Happy Parents" as a gift and read it at home or on the spot, giving care to the children to the LEGO® animators.
"Mega Khimki" Khimki, 8 md, p. 1., 5 km Leningradsky sh.