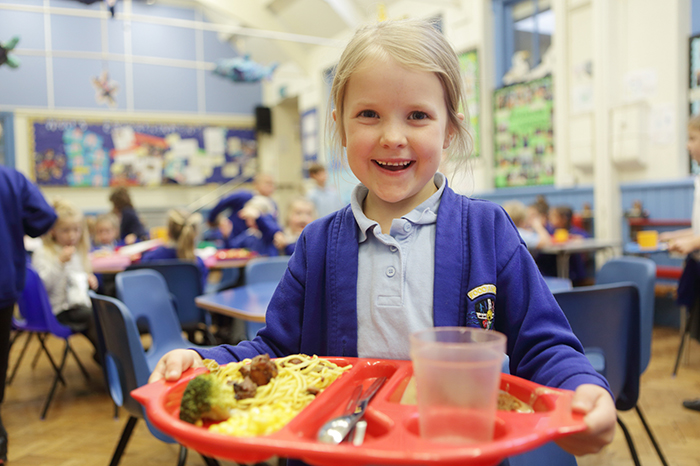 For a good physical and mental development of the student it is necessary to provide him with good nutrition. Proteins, fats and carbohydrates should be properly balanced in the diet: children are actively growing processes and muscle activity, which contributes to an increase in the basic metabolism and enhancement of the overall energy consumption of the body.
Schoolchildren average energy consumption is calculated as follows: 70-80 calories per 1 kg of body weight.
The distribution should be as follows:
proteins – 2.5-3 grams per 1 kg of weight
carbohydrates – 8.5-12 grams per 1 kg of weight
fats – 2.5-3.5 grams per 1 kg of weight
Proteins for a child is a plastic material for building new cells and tissues. Carbohydrates – the main energy of the body.
Complex carbohydrates should be 2/3 of the diet and only 1/3 – carbohydrates from the fast sugars of monosaccharides and disaccharides from fruits, berries, milk, confectionery. Excess easily digestible sugars have a negative effect on the child: his appetite decreases, allergies develop, the central nervous system becomes more irritable, and caries appears. Fats, like proteins, are used for plastic material and energy source.
Fats – sources of vitamins for children (A, D, E) and many other important substances. But their appetite lowers, inhibits the secretory function of the digestive glands.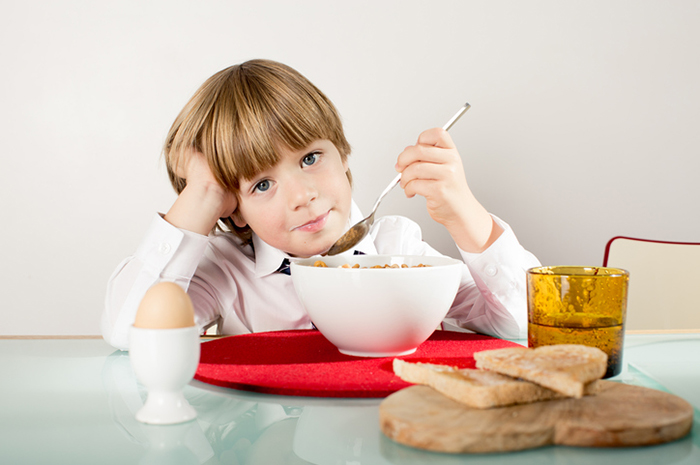 Your baby, like you, can eat 5-6 times a day (breakfast, snack, lunch, afternoon snack, dinner, and possibly another evening snack). For breakfast, lunch and dinner should account for approximately 25% of the total diet (ie, 75%), and snacks – the remaining 25%.
Excessive (as well as insufficient!) Nutrition can adversely affect the development of the organism, the psychological attitude to food. If the baby refuses to have breakfast, you can do some quick physical exercises (a couple of squats, a two-minute jogging on the spot), take a contrast shower.
Show by example what a delicious breakfast you will be eating yourself. Over time, begin to attract the child to prepare breakfast – ask him to wash the fruit, cut the bread / cheese, decorate the porridge with jam.
With a first-grader, give products that can not get dirty yourself and stain school supplies. It is better to put food in a sealed container, the benefit of which is now a huge choice.
You can put in a backpack a bottle of water (just not sweet and not carbonated).
Thick snacks that need to be prepared:
bread sandwiches
sesame buns / pita bread / pita bread with cheese / meat / beef tongue / poultry / home-made pate and pieces of vegetables (carrots, cucumber, radishes, cherry tomatoes). You should not chew homemade sandwiches with mayonnaise or ketchup – these are perishable and few useful products that are also easy to get dirty.
small patties with meat, cabbage, egg, cottage cheese, apple or apricot
pair of cheesecakes
Light snacks that do not require cooking:
nuts
fruits, berries
dried fruits
granola
dairy products (yogurt, ryazhenka, cottage cheese)
Do not force the child to clean the plate if he refuses to eat. It is better to feed him in a couple of hours than to feed by force! Do not punish, reward or comfort food.
First of all, this rule applies to sweet. If the student has received an excellent mark for the control, you should not buy a cake or a chocolate bar.
Better walk with your child for an hour more or go to the movies. A child should not consider food as a reward.
For a bad grade, you do not need to deprive him of the ice cream, which the whole family treats to in the evening (in exchange for this, give up the tablet). Otherwise, the child gets used in difficult situations to seek solace in food, and as an adult he faces the problem of overweight.