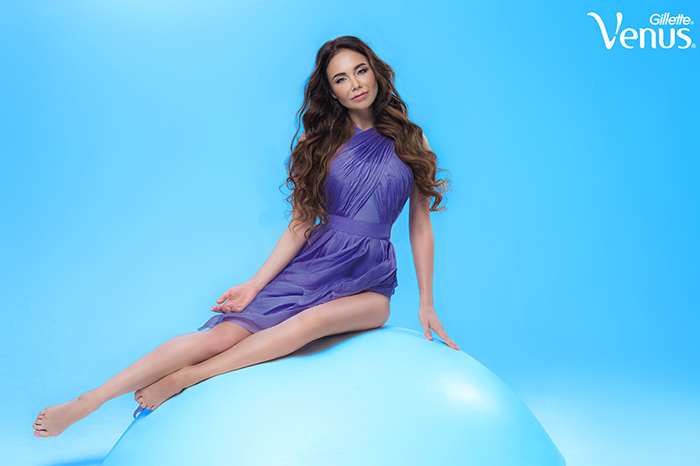 Laysan, you are very popular now and are taking part in many projects. Permanent flights, shooting – how do you do everything?
Laysan: I now try to choose those projects that I really like. And this is probably the concept of my life at the moment, because Pavel (Pavel Volya is the husband of Lyaysan Utyasheva) told me: "You can not work.
I appreciate your enthusiasm, that you are a hard worker. " But I have been working since I was 12 years old, and I cannot imagine myself without work. And then with my temperament at home everyone will get tired of me!
So far, thanks to Paul's parents, we manage to do everything.
Most recently, you became the ambassador of beauty Venus. What does this mean for you, and how do you understand beauty in general?
Laysan: Being a Venus beauty ambassador is a compliment to me. I am a deeply shy person. When other people begin to paint my titles, embellish their number, I am always very shy.
In terms of an ambassador of beauty, this is a kind of responsibility. We must always look good, take care of yourself, especially the legs, regardless of the state, mood, time of year, because I am always under the gun.
How I perceive beauty. Beauty, it is multifaceted. It seems to me that beauty is when labor is visible, it is clear that a person tried, creating something.
You may think this is beautiful, or strange, or interesting, but you will never pass by diligence, labor. Accordingly, also with female beauty.
When a woman watches herself, when she puts a certain effort into it, you will never pass by, you will always notice beautiful makeup, beautiful hair, beautiful behavior – manners, ability to behave.
Do you have an ideal of beauty?
Laysan: I try to take a little from everyone, but for me the ideal is Maya Mikhailovna Plisetskaya. Her demeanor in society, a love story, the way she dressed flawlessly, how she looked: her posture, grace, ability to move.
As in 70 years, she danced with her hands – it's incredible! I am proud that I lived at the time when she lived and spoke.
Every time I do something, I ask myself: "Maya Mikhailovna would do that? Hardly".
And it always leads me.
Do you think a modern woman should be multifaceted?
Laysan: A woman owes nothing to anyone. If she wants to be multifaceted, she will be like that. A woman is a goddess.
This goddess must be awakened in her, and she must be awakened by love, tenderness and faith in her! I was born in the village of Rajewski in Bashkiria, in a very modest cultural, intelligent, well-read family. Everyone has always worked and helped each other! All that I have right now has not just fallen over me, this is all a colossal work, above all on myself.
When you work, you end up with it. There is no other way. When they say to me, "I tried, I worked, but not at all!", I ask, "How much – 2 days or a month?".
People often lack patience, and they turn off the road, looking for easier ways. If you do not look for them, if you go and do not lie to yourself, then every woman will achieve what she wants. Want to get married?
She will marry, she will marry beautifully. If she wants to work, she will be successful at work.
Everything depends only on you. And this is the most correct, most important motivational attitude – the understanding that everything is in your hands.
And when they told me: "Lyaysan, you go out on the carpet, you are not afraid of the evil eye, everyone sees you …". I replied: "No one will do and this ball will not be knocked out of my hand, only I myself can throw it wrong and not catch it."
Same thing in life – no one will push you if you don't give in.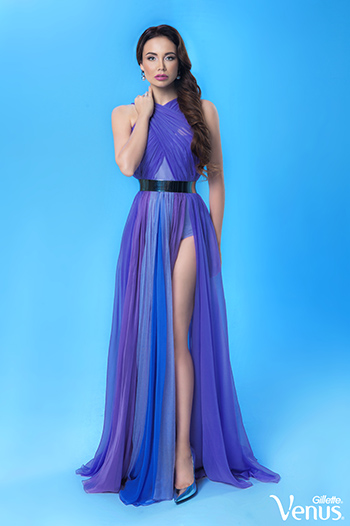 How do you understand femininity? How can a girl become more feminine, attract attention?
Laysan: A modern woman should cease to set herself the main goal for her to be noticed, and then she will really pay attention to her. No need to look for flaws in yourself, you need to love yourself and try every day to work on yourself, including on manners.
A real woman should not swear, should not condemn anyone, hurry, be angry. She is a mother and a woman, no negative should come from her, she should be beautiful in everything.
And this is a colossal work – to behave femininely and wisely in any situation!
Can you emphasize your femininity with clothes?
Laysan: First, I always advise women to give preference to minimalism and elegance. I sincerely believe that absolutely all girls are beautiful, you just need to be able to emphasize their dignity, not trying to hide their natural beauty behind the outrageous, jewelery, excessive makeup.
In general, if girls want to learn how to dress properly, find their own style and work on themselves, I will be happy to wait for everyone in our new course, The Style, as part of the "Power of Will" project.
How do you care for your skin? Do you have any special procedures or do something at home?
Laysan: As a woman, I like to take care of myself. I use the services of SPA-salons.
I really like massages, chocolate wraps, hammams. I am madly in love with everything related to cryo therapy.
At home I also like to arrange beauty procedures for my skin. Be sure to salt bath or bath with chamomile. For chamomile baths, we specially cook herbs or buy packaged chamomile.
I also adore oil.
How do you care for your feet? Do you do any sports exercises?
Laysan: Naturally, I do, because I am, though the former, but a gymnast and teacher now! I have more than 2,000 students on the course who are really starting to lose weight correctly, live with the right motivations. We pay special attention to the legs.
I advise as often as possible to do relave (rise on the toes), to run, but not on asphalt, but on natural pavement; grass, earth, sand or a treadmill. Be sure to come home after work, especially if you walked on your heels all day, you need to put the legs on the wall, give them a rest, then pamper them with a bath.
Baths can be arranged salt, herbal – they give the skin a well-groomed and velvety.