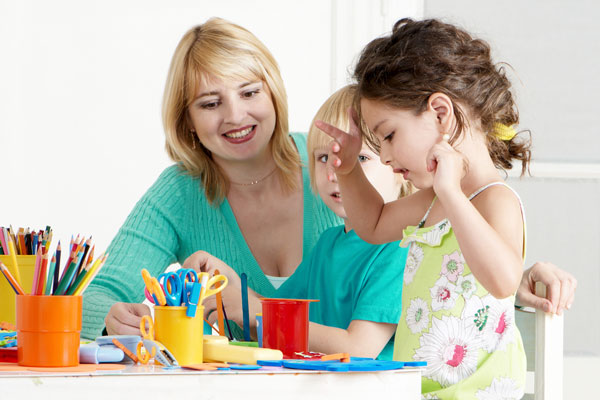 The ability to build good relations is very important for those parents who are going to send their child to kindergarten. After all, the comfort of our children in a new institution, where they are under the supervision of someone else's aunt all day, is very dependent on how we will get in contact with their teacher and other parents.
"In connection with the move to a new apartment, I transferred my son to a new kindergarten. The kid quickly became comfortable, but I feel awkward when I take him or take him out of the kindergarten. All the other mothers have long been familiar with each other, and they have something to discuss, while I do not even know how to approach them … "
Ale, mother of 3-year-old Ivan
Just as children gather in small "flocks", so their mothers are usually divided into groups of interest. If you want to join one of these groups, for a start, observe everything that happens from the outside. Look at those moms who are most willing to communicate.
Catch the moment when one of them is left alone, and try to start a conversation. Moms are usually easy to find a topic for communication.
Ask another mom: "Does your baby like it in the kindergarten?" Or "How long have you been going to this kindergarten?" Etc.
If this mom is cold with you, apologize for the trouble and turn your attention to someone else. The main thing is not to extinguish, continue to communicate with other mothers, until you find the one who wants to chat with you with pleasure.
And there will definitely be one.
"I just can't improve my relationship with the tutor of my child. How can I overcome this barrier? "
Olga, mother of 4-year-old Dasha
You will be surprised and at the same time breathe a sigh of relief when you learn that in fact most parents experience the same feelings as you. And there may be many reasons for this: our own children's complexes, uncertainty about the correctness of our actions, and so on. For example, during a conversation, the teacher asked you to sit down on a small children's chair at the same small table, and memories immediately flooded over you: once you also sat in front of your teacher, head down and listened to unpleasant words addressed to you leprosy.
Many parents are also concerned about the influence that caregivers and daycare in kindergarten have on the formation of the personality and character of the beloved child. But because of all these experiences, you completely forget that the teacher of your baby, in turn, may also experience excitement when communicating with you. She is worried about how you will evaluate her ability to competently handle children.
If you want your conversation to be successful, be friendly yourself. Do not flatter, but do not attack immediately if you need to discuss a not very pleasant topic.
Try to endear your interlocutor, start a conversation with general questions. Seeing that you are friendly, surely the teacher will answer you the same.
Yes, and do not be afraid to ask her for a higher chair, if, of course, there is one.
"I am not a" collective "person, while other mothers in our kindergarten are very sociable! They are extremely surprised and even offended when I do not stay with them to chat after meetings or holidays. What should I do?"
Milena, mother of 3, 5-year-old Lisa
If you cannot stay after each meeting in order to communicate with other mothers in an informal setting, there is nothing to worry about. Attend only those meetings that are really important or interesting to you. But do not run away immediately after they graduate, like Cinderella after the ball.
Before you leave, thank other mommies for inviting you to discuss vital children's issues, tell them that they are ready to provide any possible assistance in preparing for the children's holiday. Just give them a moment of attention.
After all, they want to understand that, despite all your employment, you are nice, pleasant in communication and ready to take an active part in the affairs of the kindergarten.
"Most children in our kindergarten have better-off parents than we do. Because of this, I am embarrassed to invite my son's friends to our house to play.
Son offended. And I do not know how to do better. "
Love, mother of 4-year-old Egor
In the world, everything is so arranged: someone lives better, someone worse. But you should not be embarrassed. The only important thing is that you enjoy spending time at home and receive guests in it. "Once my son's friends came to our house to play after kindergarten," says Irina, the mother of 5-year-old Denis. "One of the little ones, entering our house, exclaimed:" What a small apartment you have!
My much more! "At first, I was embarrassed. But then I found the answer: "Do you think that she is really small?" But for us it is the most suitable size.
We love our home, and we are comfortable here. Come to visit us more often, and you will see that this is indeed so! "Soon, the two guests of my precious children happily played together.
Of course, if this statement came from the mouth of an adult person, it would sound rude, but when a four-year-old kid says such things, you should not pay attention to this.
"I feel that we have a lot in common with one of the moms in my son's kindergarten. But our children practically do not communicate with each other. How can I get to know her closer? "
Christina, mother of 3-year-old Dani
Your children may not be as interesting with each other as adults. But they will be forced to "make friends" only because their mothers are pleased to spend time together.
Our advice to you is: do not arrange special gatherings in a cafe or a walk in the park "for four" in order to once again communicate with your mom if you have children who are not very sympathetic to each other. Leave it as it is.
If you really enjoy spending time together, you can chat in a cafe or take a walk together after you take your children to kindergarten.