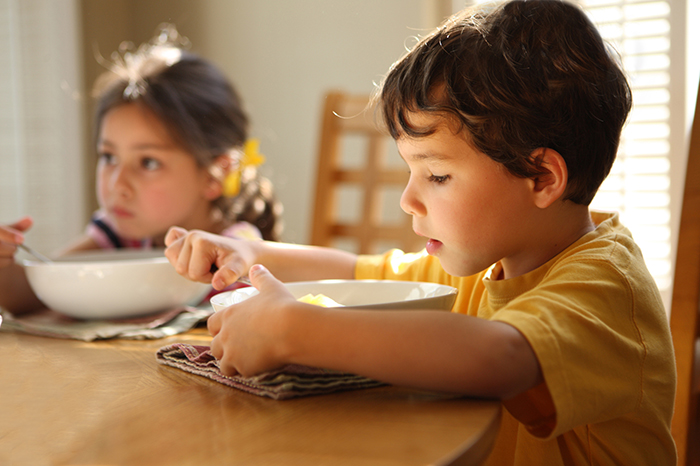 Since January 2012, the Moscow municipal kindergartens have switched to "industrial" food. Virtually all dishes for kindergarten canteens are prepared at specialized high-tech combines.
It is clear that the taste of even the usual for the child dishes made in an industrial way will be completely different from the one he is used to at home. This, of course, is a minus, but at the same time, parents can be sure that the crumb receives a variety of food that meets his age, and that meets all hygiene standards, and therefore is safe.
Especially for kindergartens, pediatricians and nutritionists have developed and introduced an approximate 20-day menu. He has several choices of dishes. The management of the preschool institution together with the parent committee can choose the one they like and then, taking into account the wishes of the parents, make changes for the next 10 days; however, it is absolutely impossible to go beyond the limits of the approved menu.
And if it is prescribed to eat porridge for breakfast, in the morning it will be hers. Another thing is that instead of rice garden can order porridge "Friendship". Your baby does not like porridge?
It's nothing you can do. It is impossible to take into account the preferences of each kindergarten pupil.
That is why experts advise parents to prepare in advance the child for innovations in the menu and for the new environment.
In order to more clearly understand what a kindergarten menu is, it will be useful for parents to get acquainted with the basic principles of its preparation.
The basis of the proposed dishes is a specific set of products that correspond to the age of the child and provide him with everything necessary for growth and development. Drawing up the menu, experts took into account the compatibility of dishes and the method of their preparation, so that they retain the maximum of useful substances.
For example, casseroles and rolls often used in children's institutions are remarkable not only because they are easily digested and their consistency enjoyed by children, but also because they combine vegetable and animal products (meat, eggs, milk, vegetables) well.
Professionals monitor the variety of diet. The 20-day menu was made just so that the same dishes would not be repeated during this period.
Agree, not all families can follow this principle.
Also, experts have clearly determined how much protein, fat and carbohydrates each child should receive during the day. Children under 3 years old rely on about 1540 kcal per day, and children from 3 to 7 years old – about 1900, so their portions are always a little more.
Moreover, products are properly distributed throughout the day. The dominant role is played by lunch – it accounts for 30–40% of the daily calorie count.
Breakfast and dinner provide 20–25% of the baby's energy needs, and afternoon tea and, in some gardens, a second breakfast — 5–10% each.
And – which is also very important – in kindergarten, a child is offered a certain diet, which, although not always suitable for kids, but is strictly observed. As for the number of meals, from January 1, 2016 in Moscow kindergartens it became five-time.
Now the children are also offered dinner. These principles are also helpful in preparing for home-made meals.
As for the safety of products and meals offered to children, their range, among other things, was examined in the capital Rospotrebnadzor and the Moscow State Inspectorate for Food Quality and Safety.