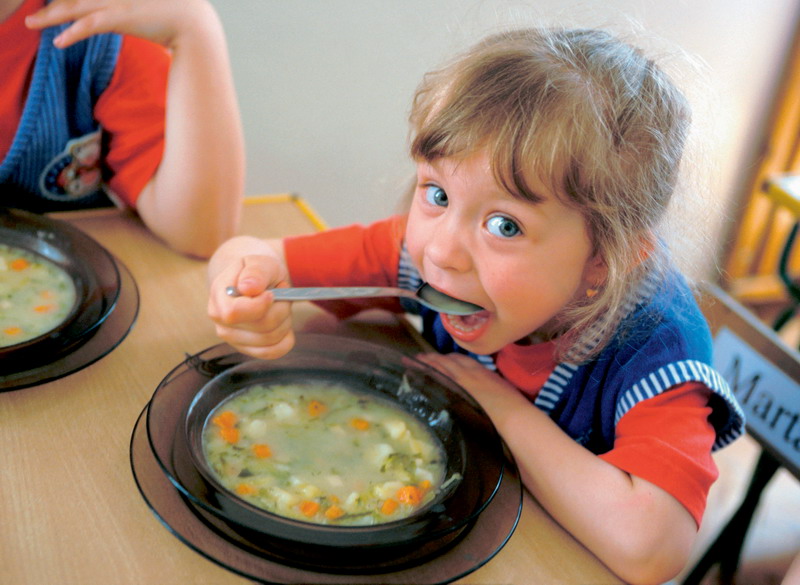 Today, more and more urban nurseries and gardens can boast a very decent menu. Even if your baby is not happy with some dishes from kindergarten cuisine, you can be sure that he at least gets fresh, varied and suitable for his age food.
After all, the menu of any kindergarten is compiled and approved by pediatricians and nutritionists. The kindergarten diet is a well-thought-out system, many of which should be adopted by the parents. Its plus is that it teaches the child to eat properly: fully (in the garden, the baby will eat the unloved soup, and porridge, and vegetables), varied and on time.
Although, what to hide, and kindergarten nutrition has drawbacks. One of the main ones is the non-individual approach to dishes: they are prepared for the team, and it is impossible to take into account the tastes of all children in them.
The basis of the menu in a manger or garden is a specific list of products that provide children with everything they need to grow and develop. This includes vegetables and fruits, meat and fish, dairy products, fats, bread, sugar, and in the right amount and proportions of the baby.
In kindergarten the baby will not offer dishes which can be not too useful at its age. And if a mother can succumb to the entreaties of her offspring and hand him an extra and completely unnecessary candy, if not boil sausages to him instead of a real lunch while running, this will not happen in the garden. Here, the child will be accustomed to food, correct not only in content but also in form: instead of fried chicken and grandmother's pancakes, which are difficult for the baby's digestion, he will be offered light soups, steam cutlets, curd casseroles, steamed vegetables.
As a result, your child's digestive system will not receive an extra load.
Another good habit, which is developed in kids in kindergarten, is diet. It may not always suit all children (especially if the child eats "when necessary" at home), but it is carefully observed.
It depends on how much time the crumb spends in kindergarten: if 18 hours – he is offered 1-2 breakfasts, lunch, afternoon tea and dinner; if 12 o'clock, in the afternoon snack include hot, and the kid is having dinner at home.
Why is diet so important? If a child gets used to sit at the table at the same time, by the appointed hour his body begins to produce substances that improve digestion, and the food is absorbed better and faster.
Many parents notice that since their baby started walking in the garden, it has become easier for them to solve problems with his daily routine or the vagaries of food. To consolidate this useful kindergarten "science", try to follow it at home.
For example, make sure that Saturday and Sunday entertainment do not prevent the child from sitting at the table on time and eating a full meal.