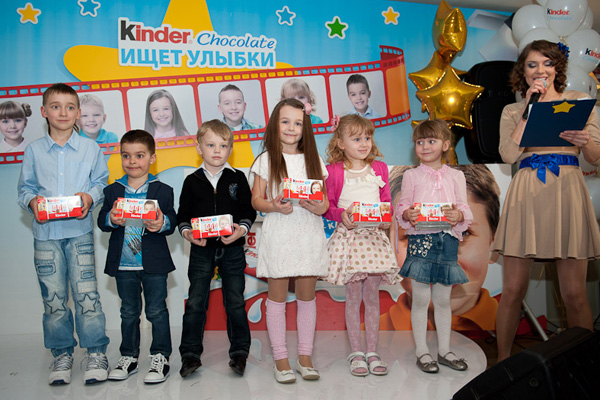 The competition turned out to be large-scale, in 2 months the organizers of the competition received about 70,000 photos with children's smiles from all over the country. Over 2 million people visited the site of the photo contest.
According to the results of the competition, photographs of Maxim Sidelnikov (St. Petersburg), Daniil Kondratiev (Ivanteevka), Alexei Mikryukov (Moscow), Valeria Godna (Moscow), Taisiya Sedova (Tver) and Natalia Arkhipova (St. Petersburg) took first place. At the awards ceremony, the winners were the first to receive a limited edition Kinder® Chocolate with their photos on the packaging, which will be available in April 2012.
About 120 guests, finalists of the competition, attended the AnderSon family cafe, which was dedicated to the award ceremony. For several hours, the children and their parents plunged into the atmosphere of fairy tales and magic, because they had to go on an exciting journey through the country of Kinder® Chocolate smiles. With the help of the face painting, Snow White, Rapunzel and Cinderella "turned" everyone into fairy-tale characters.
Animators in the costumes of the Bee and the Ladybird performed the baton and riddles. Also, kids could play kids curling on ice and take pictures with a charming pony.
But these were not all surprises. The performance of the interactive alchemical show "Crazy Science" delighted not only children, but also adults.
And when the group "Barbariki" appeared on the scene, no one could sit still – everyone danced! At the end of the holiday, all the guests were pleased with the sweet gifts from Kinder®.
To watch the video you need to install flash