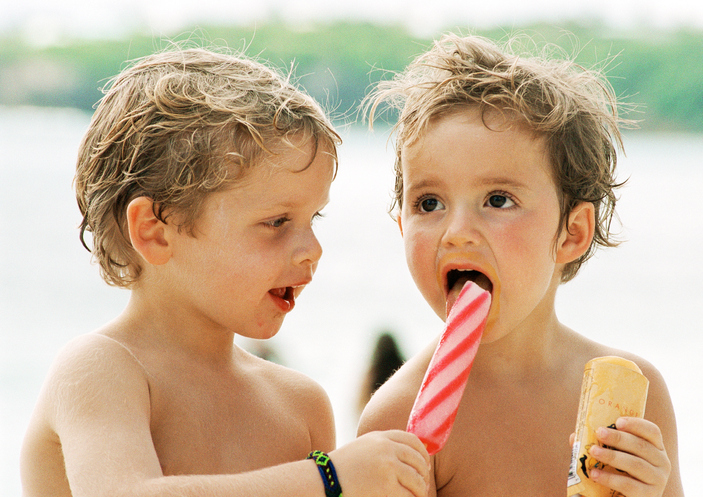 It bothers you that your son cannot say no. Without knowing the boy, it is difficult to draw conclusions about why he acts like this.
It is possible that the reason lies in the peculiarities of your son's temperament or in its relation to the world. And, perhaps, for the time being, he simply does not attach much importance to his actions, which are so disturbing to you.
However, I can assume that your son did not suddenly become so accommodating.
Try to honestly answer the question: how often in your family is it permissible for a boy to make decisions independently? After all, parents often by all means achieve obedience from their children, completely guiding their lives. As a result, the child gets used to the fact that he does not need to think about how to behave in this or that case.
At a certain stage it is convenient for parents – children do not cause trouble. Only then the child, growing up and moving away from the parents, out of habit, begins to act, thinking not with his own head, but as more reputable peers say. And not always, as you rightly noted, he is offered to do "good things".
The problem is that he does not have the skills of independent decision-making and the ability to critically assess what is happening. And then, indeed, there may be trouble.
To change the current situation, you need some effort in the relationship with your son. Really evaluate the boy's capabilities and in no case do for him what he is able to do on his own. To do this, clearly define what is within the competence of the child, and what is your responsibility.
Let your son take the initiative, support and encourage his initiatives. Do not compare the boy with other children.
As for bad behavior, try to correlate with each other bad, from your point of view, son's actions in order of importance. So, for example, there is no misfortune in the fact that the boy gave someone his sled to ride. It should strictly stop only serious misconduct of the son.
Discuss with him what exactly can bring evil to him and how to resist it. During the discussion, try to explain to your son that there is a way out of any situation.
Your task is to look for various options and solutions together with your son, to discuss all sorts of moral conflicts. Speak for him yourself, what specific words and what specific phrases can be rejected for those peer suggestions that can lead to bad consequences.
The child must have clear behavior algorithms in these cases.
You also write that you do not know how to make the boy respect himself. I think it is impossible. And that's why.
The child gets the first knowledge about himself from the adults around him. If an adult sees in him, for example, a fool and a lazy person, then with his behavior he will try to correspond to this particular label. This is also true if adults perceive the child very positively.
And children learn to respect themselves, relying on the respect that adults show to them. Thus, the personal development of the child depends on how the parents build everyday contacts with him, what words and characteristics he hears.
Therefore, it is advisable to celebrate all the positive moments in the behavior of children, all their successes, abilities, to respect their individual characteristics. The child must be sure that loved ones love him, even if he behaves badly.
Therefore, it is necessary to censure only a specific act, and not his personality as a whole. Then the child will be able to gain confidence in his abilities and capabilities, and, therefore, he will be for what he will value and respect himself.