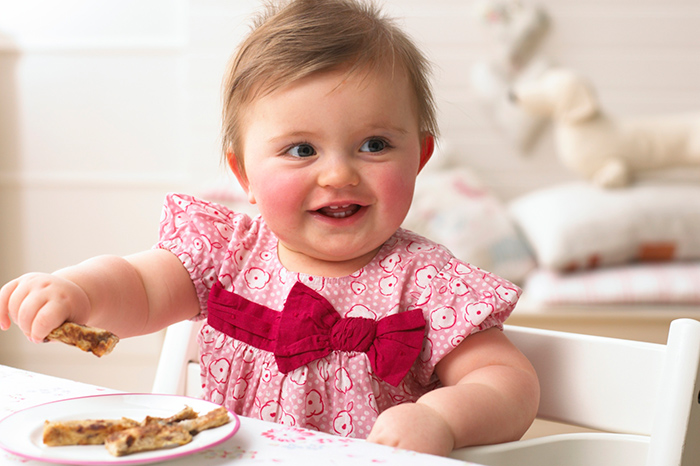 Gluten is a complex protein found in grains of wheat, rye, oats and barley, and consists of two fractions – gliadin and glutenin. And it is gliadin that can be perceived by the immune system as a foreign protein. In this case, an allergy in children to gluten occurs.
It can be temporary or lifelong. In the first case, gluten intolerance may pass with age.
In the second, especially if the child is diagnosed with celiac disease, the baby will have to follow a gluten-free diet all his life.
Allergy to gluten in children has certain symptoms. You can notice the violation after the baby is introduced to infant formulas that contain wheat flour, as well as wheat, oatmeal, multigrain cereals and flour products.
Moreover, the body can respond to gluten, both immediately and after 3-12 weeks.
In case of allergies, the mother notices that the crumbs of the buttock and the anus turn red, and she finds mucus in the baby's stool. In advanced cases, blood streaks may appear in the baby's stool. In addition, the child may resume intestinal colic, start increased flatulence, regurgitation, diarrhea, or constipation.
In this case, the skin can remain clean.
With celiac disease, the child's stool becomes abundant and liquefied, it is difficult to wash the bottom and the pot from him. At the same time, the crumb begins to lose weight, lag behind in growth and psychomotor development, his stomach increases in size.
In addition, the baby develops rickets and signs of a deficiency of vitamins and minerals.
If during normal food intolerance, gluten only irritates the intestinal walls, then in celiac disease the intestine cannot digest this protein at all and the work of the entire digestive tract is disturbed.
It is necessary to show the child to a pediatrician, an allergist and a gastroenterologist. Diagnosis will help the analysis of feces, blood tests for allergens and celiac.
If celiac disease is suspected, gastroscopy and biopsy of the intestinal wall are also performed.
When an allergy is ascertained, gluten from the baby's menu is removed for 6 months, and later, under the supervision of a doctor, they try to renew their acquaintance with it. A normal diet for gluten allergy implies the rejection of:
cereals and any other dishes made from oats, wheat, rye and barley;
bread, pasta;
baking cookies;
yogurts;
sausages;
spicy seasonings and sauces.
Celiac disease is a very serious disease, but with early and timely diagnosis, as well as strict adherence to a diet throughout life, the prognosis will be favorable.
The main thing with celiac disease and severe allergy to gluten – completely exclude it from the daily menu of the crumbs. Therefore, you must carefully read the labels and study the composition of products.
A gluten-free diet does not mean giving up on cereals, bread and sweets. Buckwheat, rice, corn, and gluten-free oatmeal are allowed from cereals.
Try also to acquaint the child with flax porridge. Bread can be from buckwheat, corn, rice and amaranth flour.
Your assistant will be a homemade bread maker with the function "gluten-free bread". Homemade biscuits made of gluten-free oatmeal with banana and corn sticks are suitable as delicacies.