In the 20-year-old photograph, the actor holds the crumbs of Anfisa and Evdokia. About the birth of children says: "We are believers (with his wife Oksana. – Note. Ed.), And we are young believers.
That is, we love love in its physiological definition. But we have no right to "plan a family", this is equivalent to the sin of murder. It remains to give birth.
Knowing this initially, we were ready for many children, no matter how difficult it turned out. When the one and a half year old Anfisa hugs me and says "Dad", nothing can bring me more emotion. "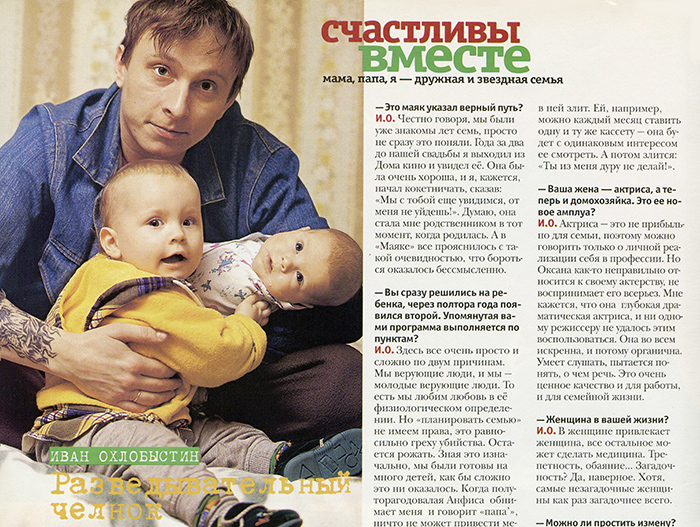 We represent Ivan Okhlobystin 20 years later.
– If I had married Oksana before, we would have not six, but twenty-six children. We spent a lot of time on any nonsense, but it was necessary to expand the family.
I would not change anything else in my life, because there were no situations where I would go against conscience.
I do not give advice to my children. Just motivating them and in simple language I explain what is needed for.
For example, that it is necessary to go to an institution not to become the most intelligent man in the world, but to choose your future estate for the rest of your life. Because you will be surrounded by people with whom you read the same books, listen to the same music. This is your social circle, your civilization.
At the institute, you choose your profession so that you do not work for a single day and live with joy.
I believe that children need to be educated to the maximum, so I work to pay for tuition, teachers and pamper girls, to buy some rags. Although they are very modest.
They dress beautifully, try, but they never had a fetish, that this cloth is better than that. All the time I have my shirts. I swear at them, and Oksana, an insidious woman, says: "Well, what are you fighting about?
Just T-shirts smell you. " And then my father's heart like a mosaic shatters.
And I am ready to cry sobbed with happiness and emotion.
With their difficulties, children often come to their mother. I, as a person attentive, as a rule, anticipate this. I do not interfere, but if I see that something is wrong, I try to alleviate the inner state of my child.
I do not always succeed. Because there are issues that are not solved with help. For example, when it comes to falling in love, uncertainty about work.
This person must decide for himself. But to surround him with attention, or at least to show it, is very important.
Now it's harder for everyone to get together, because the girls have already entered the institutions, so it turns out in fragments. And before that, we just had a system.
Do you know how great it is? We can ride the crowd, climb a national park on a rock or sail into the sea.
It's one thing when you go together with your loved one, and another when in such a crowd, and the whole world does not care for you.