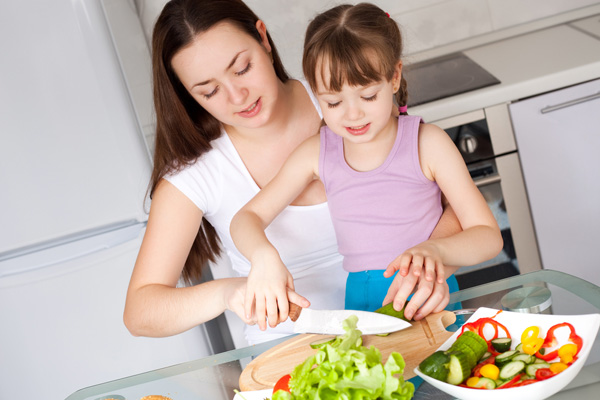 As a rule, young children are still poorly oriented in time. But a special signal that you invented or a ritual can help a tiny one to understand that the day, together with his active games, has come to an end and the evening has come when you need to do more calm things and prepare yourself for bed.
Even the most usual handshake can be a signal to the beginning of the evening, which you will reward him after coming home from work. And you can come up with a fun game. For example, take some small toy or any small object, hide it in a place accessible to the kid and then ask to find it.
A signal to the fact that the day is completed, and will find! In the meantime, your precious child will be busy searching, you can relax.
Some working moms and dads, who on duty have to wear expensive suits and dresses, often do not allow children to "hang themselves" on their necks immediately upon coming home, so that they do not stain their clothes. But isn't a child's hug a hundred times more expensive?
If you are afraid that the baby will stain you, simply put an old raincoat or coat into the car. You will be able to please the baby by giving him your warm, strong arms, which he dreamed all day!
In the warmer months, you can go for a short walk to a nearby park, park or playground in the yard. Watch what is happening around.
Concentrate the crumbs on the small details. Look at the birds, plants, bugs and spiders together, watch the sun go down.
This will help both of you to escape from the daily worries and relieve the accumulated stress.
The huge mistake of the majority of working parents – coming from work, immediately start their household chores. And all this instead of devoting at least a drop of your attention to your beloved child, because he has not seen you all day! Our advice: when you return home in the evening, first of all, be sure to talk with your baby so that he does not spend the next two hours fighting for it.
He needs only 10 minutes of your attention, and then he will go about his business.
A little water or milk, slices of carrots, cucumbers or small cherry tomatoes will help your little one to quench the feeling of hunger. In the meantime, he will chew, you can calmly come to his senses and start cooking dinner.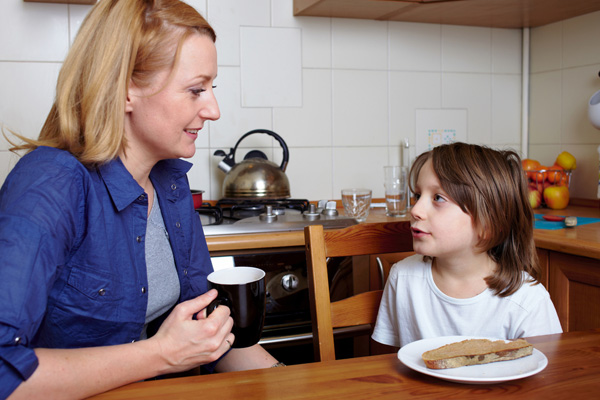 In our time, there are more and more situations when after a hard day at work mom has neither the strength nor the time to prepare a full dinner for the whole family. Well, one evening your homework may well do with a light dinner.
Prepare for them toast from grain bread with cheese or fish fillet in a double boiler, wash and chop fresh vegetables.
From 2-3 years old, the baby is already your loyal assistant in the kitchen! Even the smallest child can decorate dishes for a family dinner or lunch. If you give him a sprig of dill or parsley, he can already arrange them on a salad.
And how much joy there will be if you make a face out of mashed potatoes and add eyes, mouth, ears and nose to it! The crumb can also quite cope with table setting. Even the smallest child can spread spoons and napkins.
And let the help of the kid not too simplify the task of preparing dinner for you, but it will not be so offensive that you have to work in the kitchen after a long working day. In addition, children like to help, and the baby will be proud of each new assignment.
Dim the light, comfortably position the pillows on the couch, take out the warm and cozy blanket and turn on the music that you previously selected along with the crumbs from your home music library. The music should be calm and relaxing.
Get under the blanket with your child; if you have a pet, let the baby also put it together, and listen together, or even sing a couple of your favorite songs.
For the evening pastime is very well suited and watching cartoon films. The main rule: cartoons should be creative in nature, without elements of violence, because children are much more susceptible than adults.
After 4 years, children are actively developing their imagination, so they can be taken in the evening by offering to listen to audio fairy tales. Younger children can also be included, but at the same time fairy tales should be familiar to them in order to make the plot easier to understand.
In many families, there are cases of late dinner. Somewhere around 8 pm, the whole family sits at the table in full.
This is convenient, as both mom and dad have already come home from work, and eating with their parents is much more fun than being alone. Only now the youngest member of the family reluctantly carries a spoon on a plate and almost sleeps over the table. If the baby is not even three years old, it is wiser to feed him as soon as possible.
For example, at 18.30−19.00, especially if he used to go to bed early. And in the company of mom and dad you can eat in the morning or on weekends.