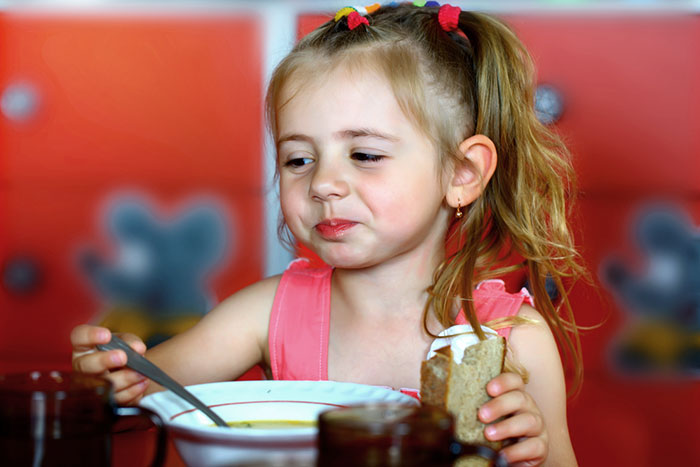 For Julia, a kindergarten is a forced measure. Initially, it was decided that home-schooling before school would be enough.
Grandmothers of relatives and cousins ​​- five people, and all as to the selection – with pedagogical education and a passionate desire to engage the child. The grandfather – the master of sports – provided a healthy lifestyle from birth, and the neighbors' children were quite enough for communication. The only problem was that at home Julia practically did not eat.
Neither persuasion, nor fairy tales, nor the whole performances played out for soup, did not help. Every breakfast, lunch and dinner – with tears and a plaintive whine.
Porridge is too hot, and now too sweet. Cottage cheese ugly, and all of some lumps.
In the soup, a lot of things floating. The pediatrician, to whom it was decided to deal with such a problem, ("Well, can't the child always eat some apples and cookies ?!"), said that there are no health problems, but he strongly recommended that Julia be taken to kindergarten. At first, adults were skeptical of such advice ("We don't cope with such a team, and there is one educator for twenty people"), but then they nevertheless agreed.
And for a long time they could not believe that Julia eats with everyone and absolutely without whims. Even specially, secretly from her, came to check.
Parents of children of two to five years old complain of capriciousness in food. At this age children are too selective, picky and stubborn.
But this is completely normal. After all, while the baby is very small, we strive to follow his wishes – even when the breastfeeding period ends.
Then the daily regimen and diet gradually become the same as in adults, and this is where the problems begin. After all, the attitude to food is very individual – just like other personality traits.
But if we are ready to reckon with such quality as, for example, sociability ("Can't play alone – constantly go to the park", "Doesn't keep the company for a long time – likes to sit alone"), we try to adjust our eating behavior has become. Breakfast – lunch – afternoon tea – dinner.
The first – the second – dessert. We are so calmer. And the child – no.
In such conditions it is difficult for him to determine his own needs, to understand what he himself loves and wants. The vagaries arise as a protest against too persistent demands.
It is enough for parents to reduce attention to the topic of the child's nutrition, it is easier to treat situations when he eats differently than, in our opinion, correctly, to allow himself more independence. It helps – with the exception of some special cases.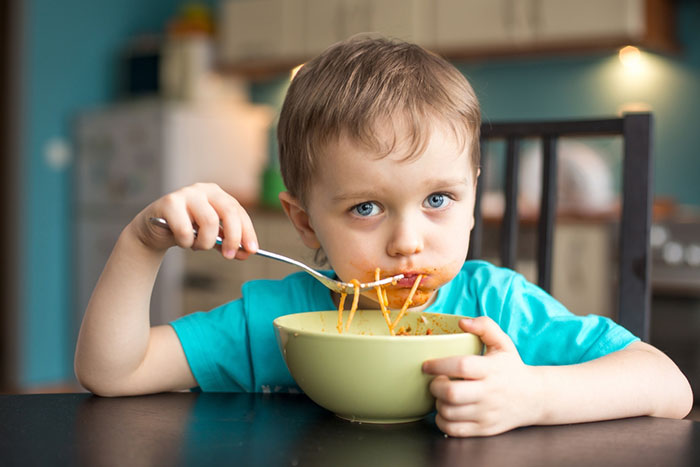 "I just don't know what to cook for the child. I bought a special book about decorating dishes and now I try to do something unusual all the time.
Soup in the form of a lake with boats (two hours only sails left), cutlets "Castle", potatoes in the form of hedgehogs. This is the only way to feed. He himself does not want anything.
There are children who literally bind their parents to themselves with their "weirdness" in food behavior. The topic "ate – not eaten" is discussed every day, and every day new ways are being sought to entice a child with food. However, this behavior does not mean that the child "does not want anything."
Quite the contrary: this is evidence that there is a very important need and that the child cannot manage to satisfy it. The need for love.
Unable to achieve it in any other way, children tend to demand it in this way – through food. So they feel real attention to themselves, care and affection.
Moreover, the situation most often happens in perfectly normal families, and it is impossible to catch adults in neglecting the child, in the absence of warm feelings for him. No, the child is loved, valued, it is very valuable.
He is bought toys, taken from early childhood to various developmental schools. But they cannot (due to the nature of their character or to the developing conditions) to express feelings in such a way that this is clear to him. Not often take on his hands, do not stroke on the head, do not hug.
The attitude is good, but without any special feelings, as if slightly at a distance. And it's not enough for children to know that they are loved, they need to see it and feel it constantly, every day.
The child cannot say "take me in your arms and hold me tight" or "say gentle words to me more often". He has to look for other ways to get what he needs.
For example, capriciousness in food. It does not cause irritation (perceived not as disobedience, but as a health problem), and at the same time encourages adults to pay more attention.
Food becomes a substitute for love. Rather, it remains – after all, initially, from birth, all the warmest feelings we have and are associated with food.
Then this connection should weaken, but the lack of enough emotions in life preserves it. In adulthood, such people become gourmets in the highest degree – the feeling of pleasure from life is associated with food very much. And often they also do not know how to express feelings differently than through food.
It is easier for them to buy a cake for a child or to bring it to a children's cafe than to just play, to spend some other time with it. Among people suffering from excess weight, there are also quite a few who, as a child, learned to equate feelings with food. In general, if a child is too capricious and selective, sometimes it is necessary to stop feeding it at all.
Well, that is, to exclude this individual, special approach. He sits down with everyone at the table, if he does not want to, he does not eat.
Do not offer anything, do not replace. But such a simplified approach to nutrition combined with the complexity of emotional power.
In this sense, to offer as much as possible, and just as ingenious. Affectionate nicknames, kisses, strokes, lullabies for the night, tenderness of the most different types.
All this will be perceived without the vagaries, be sure.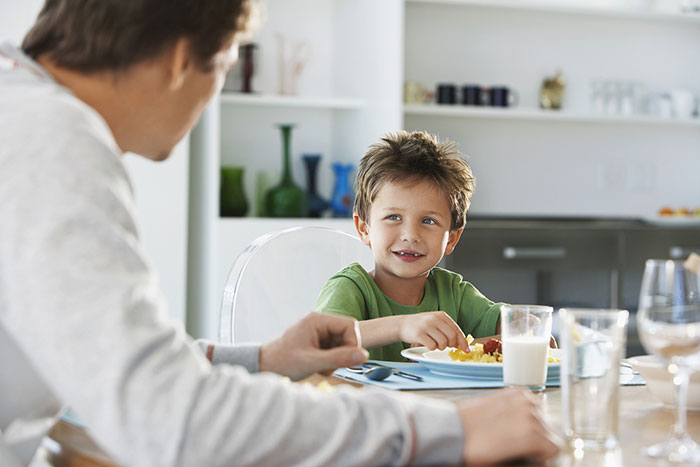 "We have a calm, docile child. It is not difficult for us to convince him of anything. Now he is four.
All friends and acquaintances tell about this age the real horrors: stubbornness, tantrums, children become simply uncontrollable. But no, it's all right, fortunately, because I can't bear the whims of children. The son is still reasonable and obedient.
I say "I must wear a hat" – he puts on, I say "go draw a picture" – he draws. But to feed him is a problem.
If you do not want, then you can't persuade everything. I begin to persuade that this is necessary, useful and so on – he generally moves the plate aside and says that he is sick.
Even dad can't cope with it, although once he forced the child to sit at the table until the evening. In general, the problem is the only one, but serious.
If it were not for this, it would be the perfect boy. "
Sometimes the goal of a whim is a whim itself. The child makes a demand for something, not because he needs it, but to make sure of his own strength. Therefore, he looks so happy after he won (let it be a matter of sheer nonsense – stay on the street for another five minutes or follow the road not on this road).
I am old enough, independent and I can also decide what to do. This is the essence of age crises.
If adults are dominant, harsh and very strict, then it is impossible to exercise independence. It is too risky – even if it is not about physical punishment, but about restrictions or, for example, boycott.
There is only one area where you can somehow persevere, food. Because even the most strict parents understand that feeding by force is already like torture.
And because the whims of food do not cause a very strong negative reaction of adults. True, in such a situation, parents often quarrel among themselves, figuring out who is to blame for this problem, but this also pleases the child more likely. In families with strict upbringing, children like to be aware that they are not alone to blame for everything.
If, against the background of a very correct behavior, the child is too capricious at the table, then parents should look at their family through the eyes of their son or daughter. Imagine yourself in their place.
How many times a day you use the imperative mood, how many – you resort to threats like "I will punish", "look at me". How often a child does what he really wants.
And how he feels at the same time.
"Recently at the dacha I found a whole pile of magazines about healthy eating. It became very bad – they fed me as a child.
The morning began with the fact that I had to drink a glass of water or juice, then eat porridge, then grated apple. Lunch, dinner – all with the same conventions and rigor of time.
Even in the summer they woke me at half past six, because breakfast should be at seven. Mom and grandmother didn't care what I was doing: if it was time to eat, you had to give up and go eat.
Already in my childhood I hated the kitchen and dreamed of the day when I could calmly, without scandals, have anything I wanted. Now I have my children.
And I think that it is more important to ask the child what he did in the kindergarten, what he was playing, and not whether he ate everything at lunch. "
Surprisingly, often adults themselves provoke such conflicts. Treating the child solely as an object of care.
Parents and grandmothers are overly attentive in terms of the health and well-being of the body, but ignoring its age characteristics. This happens, for example, if a child has been waiting for a very long time and idealized life with him.
A child in dreams seemed only a baby, which you can swaddle, bathe, feed, watch how he sleeps sweetly. To the fact that every year the child will grow older and more independent, parents are not very ready.
They want to extend the wonderful period of early childhood, where everything is clear, positive. But do not swaddle the same five year old!
Don't play rattles with him. In the field of nutrition to keep the usual cares is quite real. In addition, due to this behavior, you can also raise your own self-esteem ("This is how I am a mother, I don't regret time and energy for the sake of my children").
The protests of the child in this case are completely explainable aggression. In response to pressure and intrusive control.
One can cope with this only in one way – "respect for the child as a person, recognition of all his age-related abilities. Talk to him more often, avoiding baby talk (also one of the signs of preference for children's qualities in a child) and frankly toddler tender nicknames ("dolls", "babes", "kroshechka").
Often offer him to make a decision of two or three options. In all – including the choice of dishes for dinner.