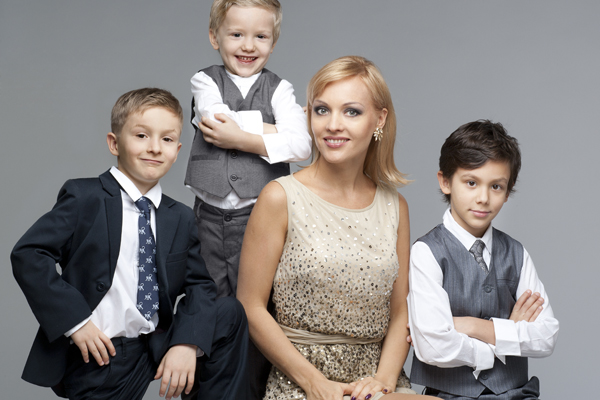 HAPPY PARENTS Why, having finished two faculties of MSU at the same time, did you decide to take up journalism? IRINA SASHINA Probably, this is fate. I was already finishing university when I was invited to work on television, and when I got there, I realized that this is my world, my drug, without which I can't live.
And two of my education is also very useful. And I received the third degree – journalistic – because I think that a person should be professionally trained in any business that she does.
S.R. You are an excellent student, an excellent student at the institute, "Miss Moscow State University", finally. Looks like you, Irina is a perfectionist?
I.S. That's for sure! And, on the one hand, it helps me a lot in life.
And on the other – it interferes. It hinders first of all because I not only can not relax and calm down until I do everything "on the top five", but I also expect the same from others. And with children as well.
Even my relatives say to me: "Give the children a little breathing." No! The eldest, Alexander, I have attended Montessori development courses since three months.
I barely started crawling, and already I moved some cubes, I inserted the keys.
S.R. Have you already been an excellent student?
I.S. I came to the conclusion that my mother raised me like this. We lived in a military town in the Moscow region, where there was not even a school, so we, kids, were taken from the first class to study.
Sometimes the jeep broke, and we walked back. After school, I quickly did my homework and ran through the woods to the next village to catch a bus and go to Ramenskoye, to a music school.
And returned home in the night.
S.R. Mom had to force you? I.S.
Mom never forced me, but she always said: "Ira, if you really want something, achieve. You can, I believe in you. "
Now I quietly try to instill this feeling in my children. Although it is not easy. For example, with the elder, Sasha, you have to force somewhere, somewhere to persuade, and somewhere to demand.
Maybe this is wrong. Sometimes I doubt … But I know that in life you need to burn, you need to want and be able to achieve.
Otherwise you will just be trailing in the tail. Trample others more nimble!
S.R. And you demand a lot from the younger ones?
I.S. The youngest, Roman, still does not go to school, but he is already engaged in music, in the school of early development, and roller-skating.
The average, Hermann, is studying in the first class, for the third year already he has been professionally engaged in hockey at the CSKA school and also goes to the music school and the guitar. He himself wanted to learn how to play, because my dad plays the guitar.
S.R. Is your husband a journalist too?
I.S. No, he is a biologist, plus he has a second, economic education.
We both studied at Moscow State University and there, after graduation, and met.
S.R. Is he also a perfectionist in upbringing? I.S.
Not like me. Like any man, he is very restrained, very responsible, purposeful, but focuses on a single field of activity and discards everything superfluous. And I, as he says to me, are sprayed and I want the children to do this and that and that. On this basis, we have differences, because I believe that they should be given different knowledge precisely so that they then isolate the necessary, separating the wheat from the chaff.
At least, this will help them to decide, to find exactly what they want to do – that's the main thing.
S.R. Are three sons a conscious choice? I.S.
I always wanted to have a lot of children. I myself am alone in the family, and I really did not have enough, and even now there is not enough brother or sister. Therefore, I wanted my children to have such close people.
And each time consciously approached the issue of pregnancy and childbirth. Even my employer laughed and said: "Well, everything, two and a half years have passed, now Sashina will go on maternity leave."
And I really left. Even the difference in my children is equal – 3 years 3 months.
And I am very glad that I have exactly three sons. These are my defenders!
How they pity me! It is necessary to come from work in a bad mood or tired, the boys immediately understand this: "Mommy, what do you want?
Mommy, sit down! "It's so nice. The love of three sons is like love in 3D: such a complete three-dimensional model that surrounds me from all sides. All boys are personalities.
The first one has some positive qualities, the second – others. The third, small, is generally my little pride, joy, my mother's copy. A little man, absolutely open to the world, very bright, kind.
For him, there is no greater joy in how to approach me when I come home from work, and just touch and hold on to my mother and follow me. We are already laughing: "Charging?" – "Charging!"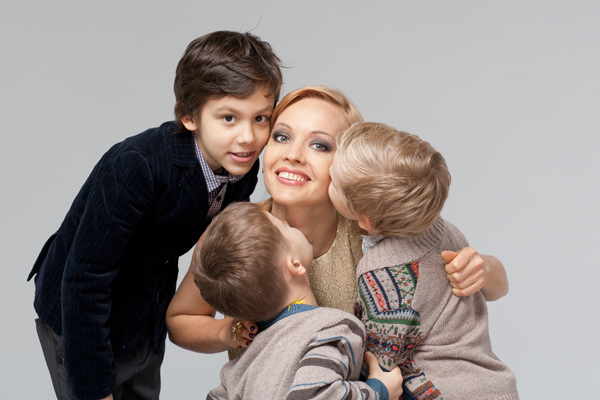 S.R. Was jealousy among sons? I.S.
Was and is still, and nowhere to go from it. It manifests itself in different ways.
Sometimes someone, such as the elder, says: "It would have been better if they didn't exist!" At first, I swore, then began to explain that the brothers are the closest people who will be in life, and you cannot say that. And sometimes, when the younger ones see that I have come and engaged in lessons with the older one, they specially start fighting, shouting, running around to get my attention.
I tried to raise my voice, but tears and hysterics begin immediately, and I understand that this is a defensive reaction, because everyone wants their mother to be with him alone. I found a compromise and in the evening I sit down between two rooms and read three different tales in a row.
S.R. What are you targeting primarily in education?
I.S. Probably, first of all, we bring up children the way we were raised, and I often consult with my mother and mother-in-law. I believe that we should never dismiss the experience of previous generations, because all situations are repeated in one way or another in life.
Of course, today's children are very different from us, but the eternal values, norms of life, which we want to instill in them, remained the same. As for books on education, I also read them.
For example, the advice from Ada Della Torre's Parenting Errors helps me a lot.
S.R. And is there something in the upbringing that with the older ones seemed to be right, and with the younger ones – no longer?
I.S. Yes there is.
For example, with younger ones I try to listen more to their inner state. I began to let the small and middle lazy more.
If the elder had only "need" and no "want", then not so long ago, when Herman didn't get enough sleep for me and asked if he could not go to school, I said: "Well, don't go."
S.R. How did Alexander react to this?
I.S. "And me?" He asked. "You can choose one day in this quarter when you can walk," I replied. And sometimes on weekends I arrange a day of laziness. On this day, the boys can command me and do what they want: to go all to the cinema, or lie around all day on the couch, or play hide and seek.
On this day I become their daughter, and they are my parents.
S.R. Are you the main parent in your family?
I.S. No, dad. The last word is always his.
Dad said – and this is no longer discussed. And this not only enhances his authority, but also helps me a lot, I can always say that I can no longer influence anything after his decision. We can be called strict parents, but also loving.
Boys with us bathe in love! The husband is less sentimental than me, but in something more loyal, allows more.
For example, he loves computer games, and, of course, often at the weekend, all the men in the house all day long play them.
S.R. Who, what you want to see them in the future? I.S.
The main thing is that they become integral individuals. For the rest, even I'm afraid to think. I don't want only the material factor to be decisive, I really hope that they will do what they love – that their eyes burn.
Here the senior, for example, – the typical technician, any designer can collect. The average loves hockey so much that the worst punishment for him is to skip the workout, and he does every day.
Herman has such a small knowledge, he is sure that he already knows everything and knows how, and there is almost no authority for him.
S.R. All the boys in the names have the letter "p", which is believed to add masculinity to the owner. Do you know about this?
I.S. That is why we chose such names.
In my deep conviction, as you would call a child, so he will grow. But do not always call them full names. Alexander is Sanya, Sanka, without rigidity.
Herman – Hera, but he really is a real Herman. The name suits him very much, or he already grows so under the influence of the name: with a strong and tough character, stubborn, but at the same time purposeful.
And at the same time, Hera can be so affectionate that he is ready to give the last shirt. In general, I get great pleasure every time I discover something new in my sons. And little Roman is also Chamomile.
Sunny Boy! And outwardly everyone is different: Sanya is a brunet, Hera is blond, and Roma is blond with blue eyes.
How some parents made such different children is a mystery!
S.R. Do you think about the time when you will have three daughters-in-law?
I.S. I'm waiting for it. I have no daughter, and I think maybe at least one of them will be her for me.
I want to be friends with my daughters. I even got a small notebook where I write down the notes "What will I be the mother-in-law." Among them, for example: "To love the daughter-in-law as she is" or "To be a friend, but not to impose yourself."
And I also know for sure that I must inspire my children to marry only for love. It is most important. Because it is easier to live with a loved one and raise children.
And you can just sit together and shut up. It is a great happiness to have a favorite job and a beloved man.
And even better when there are four of them.