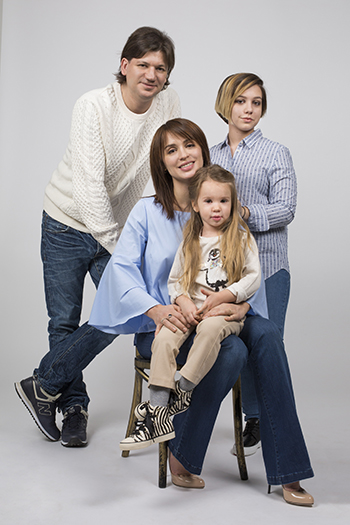 HAPPY PARENTS Irina, you already have such a long time – 17 years! – television experience. Do you remember what you felt when you first saw yourself on the screen?
IRINA MUROMTSEVA It happened when I was a correspondent for the program "Today" on NTV. It is not enough to say that I was worried – the state was on the verge of panic, very scary. On the screen, I didn't like myself, as I actually didn't like then, being a correspondent: a clumsy, awkward, kind of iron woodcutter.
At some point, having worked on TV for quite a long time, I realized that this could not be fought except by making communication with the camera mandatory. Defeating her pressure on herself.
And that is why – for no other reason – I became a TV host. Although in my first releases already in this capacity, the pressure of the camera had not yet been overcome, and my colleagues said: "Go, look — they show Hmuromtsev!" I really was very serious, tense.
S.R. Is everything different now?
IRINA MUROMTSEVA Of course. But … Since I didn't want the TV presenter profession to be my only way of self-expression, I left the Russia channel and started producing the Park program on First Channel.
Then there were "Guests on Sundays." Perhaps something similar will happen again, but in a different reincarnation. And now I am working on the "Morning" of the First One, and am in the process of creating a new program.
But it's too early to talk about it.
S.R. If you compare the percentage: your work and family – is it equal? IRINA MUROMTSEVA For me, probably, it's equal … In the first place is both family and work.
I understand that without a job, my family will not only be uncomfortable, I will not be completely happy. Work in my life was always, and began on the radio at 16 years old.
And this is not only a way of self-expression, but also the opportunity to feel more free, independent, open to some unpredictable new things that can not come only through family.
Work is a way to communicate with the world. When my younger daughter Sasha was born and after 2 months I had to go to work, I built everything in such a way that it would work out for me. I understood that I'm going to work, I will plunge into this atmosphere, I will enjoy what I do, imbue myself with the necessary energy, and, returning home, I can give the child more.
Of course, there is a factor of fatigue and so on, but my work gives me much more strength than if I had been at home all this time. With the older one, Lyubasha, I, however, spent that year and a half, but then I didn't work so actively yet, and work for me didn't mean so much as it is now.
S.R. Irina, tell me: when on the set of the program did you feel that you are giving birth, did not panic?
IRINA MUROMTSEVA No, there was no panic or confusion. I was ready for this, it was the birth of a second child. Only I was mistaken for a day, I had to leave literally the next day.
Quickly called the editor-in-chief, husband, doctor. And calmly went to give birth further in the hospital. You know, in such acute situations I usually don't get lost, I immediately take myself in hand, I know thoroughly what to do in extraordinary situations.
It is much more difficult for me to pause, some kind of slowdown in work. That's when I feel confused. I can not say that it is good, because ideally everything should be harmonious.
Because of my determination and speed, there are still some traits of character at the moment when there are big pauses, such as, for example, a decree, the time between two projects, I feel uncomfortable. I even tried to spy on how people exist at this time.
Here is my elder sister, as she went on maternity leave with her eldest child, she never returned from it, having given birth to two more. But I would not be able to sit at home for so long, I need activities outside its walls.
And if it is not, I will simply create it on level ground.
S.R. Are your daughters as active? IRINA MUROMTSEVA Time will tell.
The eldest, Lyubasha, is different. Has always been very thoughtful, more contemplative.
Before, my friends and I traveled often, and I took Lyubasha with me. She overcame long distances – they drove somehow, for example, all of Vietnam, and everyone was amazed how implicitly, without showing any displeasure, the child endures it.
We will run for shopping, for an hour, for two, and Lyubasha all this time is quietly sitting with a book and waiting for us. Now, with transitional age, something, of course, has changed, but I really listen to her opinion. We communicate, I share with her, she knows perfectly well what is happening in my life, as I do in her, but she has a much wiser look at many things.
I attentively listen to her point of view even on things that are difficult for me, because this is a completely different view. Not that he is not close to me, he is just different. I did not assume that the situation can be approached from this angle.
That is, I learn a lot from my child. Perhaps she lacks what I have, for example, quick reaction … But everyone has their own pace, their own fate, their own rake, and finally, it is impossible to protect the child from them.
Of course, I am not talking about an obviously awful, such as drugs, for example. Of course, without extremes, but there are some things related to studies, with the choice of friends, to which a person should come himself. In the sterile space there will be no other, very important things that affect the character, the fate.
When I realize that in my life there was something similar to the current problems of Lyubashyn, I just share it with her. Previously, it happened, yes, I insisted on something, now that she is already 15 years old, no.
And I accept this, experiencing the transitional age of my daughter with her.
S.R. What does Lyuba like, where does she study?
IRINA MUROMTSEVA She studies in a humanitarian lyceum. But she did not like school for a long time.
By the way, I recently read an article by psychologist Anna Varga that modern children have a different perception than previous generations. In this connection, the school should switch to another form of education, and everyone learns the old way. And I absolutely agree with that.
I do not want to say that the transitional age is a solid negative, you just have to go through it and go further, with a more or less real understanding of where. Today, children are mostly alone with themselves, and it is very important that they be in harmony with them, so that they do not have the feeling that they lie to themselves and do what they do not like. For a while, Lyuba had a passion for electronic music, now it is on the decline.
Today, the daughter draws, and before that there were literary quest, directing. So far I can not say which profession Lyuba will choose, but it is obvious that she is a creative person.
S.R. You talk about harmony within yourself – and this can be taught?
IRINA MUROMTSEVA I think so. This is how to reveal the talent of your child – and for this there are techniques. About talents it comes when the child is 3 years old, and 15–16 years old – the age is similar, so the advice is the same.
It is important that there are more different opportunities for the manifestation of oneself. Of course, the line between just laziness and lack of interest, disappointment is subtle, but it seems to me that the parent is able to catch it.
And move with the child further, and, if there is a return, beat to this point, help. Only help and suggestion, but not imposing. You can express a point of view, denoting that this is only my opinion, and you, they say, of course, do it your own way.
And then something out of it will sprout something of its own, then the child will have the feeling that this is exactly him, that it needs to be addressed. And, when there is something like this, probably, there is a feeling of harmony, a feeling that a person lives not in vain, does something that brings him pleasure and benefit to others.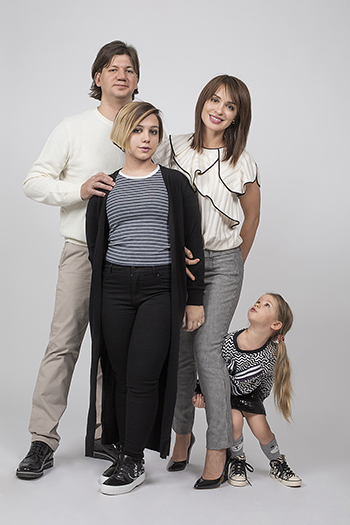 S.R. When Sasha was born, did any experience with Anyone help? IRINA MUROMTSEVA Sasha is completely different, but the experience certainly helped.
Younger much more mobile. We recently went to the dentist.
He has a lot of collapsible mock-ups of his teeth, jaws, gums in his office, and while we were talking with the doctor, Sasha disassembled and assembled it all several times. The doctor joked: "I wonder if it would be left here for a few hours, what would happen to the office?" To which I replied: "Then you will not return to the dentistry office, but to another doctor's office, where everything will be reequipped differently" . Sasha is extremely fast, for her three and a half years she even managed to break her leg, not to mention the multitude of mini-injuries.
And with her all the time you need to be alert, constantly keep your ears open.
S.R. What classes do you take the youngest? IRINA MUROMTSEVA We tried everything motor: dancing, ballet, rhythmic gymnastics.
And they realized that none of this is suitable, there must be something alternative. In rhythmic gymnastics we were told in five minutes: "Take your girl, she spoils discipline," at the ballet, under the beautiful classical music, Sasha lay and lifted her legs, while everyone did some pas. Not interested.
We have a very good nanny, with whom she sculpts, draws, but we will go to kindergarten necessarily. Sasha remembers well, knows how to analyze, she has a rich vocabulary, which she skillfully uses, so I think about a bilingual kindergarten.
Nearby we have just one where the tutors are native English speakers and in groups only communicate in it.
S.R. What is the relationship of the sisters?
IRINA MUROMTSEVA Already better. Jealousy, of course, was.
At first it was difficult. Very carefully Lyubasha perceived Sasha.
It can be understood: 12 years of idyll reigned in our country – and suddenly a new little person appears who separates us. I, of course, tried to pay attention to the elder one, but it was physically impossible that I could not jump over my head. Yes, it was like this: "Remove Sasha!
Don't enter my room! "Now everything is quieter. "Let me circle you!" – now Lyuba says to her sister. In addition, Sasha grew up.
And she is so sweet! This is not some kind of love-hate, this is love with care, as to some planet that is interesting, but what to expect from it is unknown.
Lyuba is still in the process of getting used to.
S.R. Are you a strict mom?
IRINA MUROMTSEVA If we compare with our dad, then I, of course, stricter. I had a very strict mom. Highly.
I could never tell my mother what was happening to me, what love I had or something else, because I knew that there was no understanding. Many of the things that my mother did were certainly useful for me, but now I try to do the opposite.
I think that when there is contact between the child and the mother, this is very important and good. This allows you not to make a bunch of dramatic mistakes and also relaxes.
Moreover, such communication with us occurs not only on the verbal level, no, we feel the mood of each other and without words.
S.R. Is Luba close to Maxim too? IRINA MUROMTSEVA Maxim is not his own father, Luba, and their relationship has lasted a long time.
Maxim appeared in our family when his daughter was 11 years old, and at first everything was not easy, there was also jealousy, the position of "who are you." Today, their relationship is regulated, but Maxim doesn't bring up Luba anyway, as he tried to do at first.
By the way, maybe that's why the process of their lapping was delayed. Maxim brings up Sasha. And soothes me when I bring up Sasha.
He can be called a good dad, he helps me a lot.
S.R. Are there any traditions in your family?
IRINA MUROMTSEVA It happens that we all go together to have lunch or dinner somewhere, although it rarely falls to the day when both I and Max are free at the same time. I strive to ensure that family traditions were. You know, such a weekly mandatory lunch and breakfast.
To all at one time sat at the table or go somewhere together. And so that the phones were turned off and everyone would talk, exchanging affairs and problems, joys and sorrows.
This is our goal, and we will definitely achieve it.