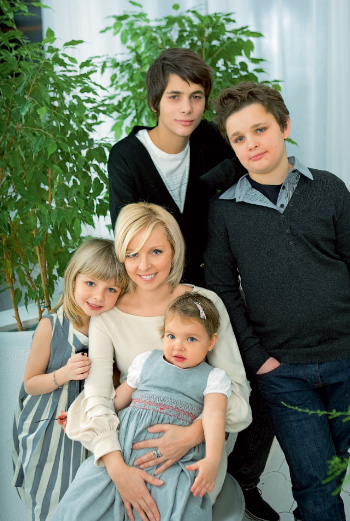 HAPPY PARENTS Irina, four children – so it was conceived? IRINA LUKYANOVA You know, my mother cannot be in our house for a long time – noisy. Once she said: "Of course, you said in your childhood that you want a big family, but I didn't think it was so big."
It happened. When I met my future husband Mikhail, I learned that he has two beautiful boys: the eldest, Misha, 16, and the youngest, Denis, – 15.
Well, already in the process of our life together, Anna (6 years) and Alexander (2 years) were born.
S.R. You give the impression of a very friendly family. Why don't boys live with their mom?
I.L. They live with their mother when they come to Moscow.
There they have a school, classes … And all the weekends, holidays, holidays they are here.
S.R. So, you have a good relationship with Michael's first wife? I.L.
None We never even saw each other.
It happened.
S.R. And you yourself were an only child?
I.L. Yes.
My mother is a doctor, she still works in the resuscitation of the Russian Railways Hospital, and my dad is a four-time Olympic champion in rowing, now a current coach. By the way, he was at the time the helmsman in the team, and when the "Brilliants" had the song "Steering", the father always shouted: "It's my song!"
S.R. Do you also seriously involved in sports?
I.L. Dad really wanted me to become an athlete.
But … I had no sports abilities. I was engaged in gymnastics and at 13 years old, having already beaten off everything that is possible, I simply told my parents: "I will not go to the gym tomorrow."
For dad it has become a tragedy. True, later my mother told me that, looking at me at competitions, my father said: "No, it will not work …" I did, while I was approaching the shell, I had time to sneeze, yawn, fix my swimsuit …
But gymnastics has given a hardening to touring life … Nobody can compare with how it brings up professional sport. After the gymnastics, they gave me choreography, so I was all wondering why they were suffering there, which is hard …
S.R. At first, did you get into the "Brilliant" dancers?
Did you do choreography seriously? I.L.
Moreover, my classmates and I organized a choreographic ensemble, I think, a good one. "Ego" was called. Won in the "Morning Star", the ensemble went concerts. And then one friend began to persuade me to appear in a new group.
The years 1995–96 were difficult in the courtyard … "Ego" began to disintegrate. And here I am sitting on New Year's Eve, there is no work, the situation is unclear, and here the producer of "The Brilliant" is ringing Andrei the Terrible and is calling for a tour almost tomorrow.
So began my touring life.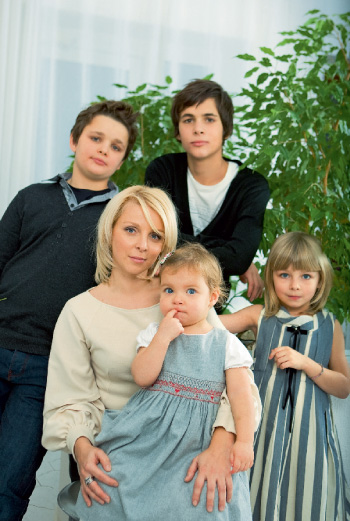 S.R. You were only 19.
How did your strict parents let you go? I.L.
I just recently showed my mother tapes of our then speeches – so my mother was shocked. Said: "I would know that it would be so, it would prohibit."
I remember once in Yekaterinburg at some festival we enter the hall where all our pop stars are having dinner, and they ask about us: "Who is this?" – "Brilliant". – "Lord, they are children at all!" And we did not understand much then – where are they going, why. At some point, they even stopped asking which city we were going to.
Just find out if it's cold or warm.
S.R. With Michael, too, thanks to the "brilliant" met?
I.L. With Ksyusha Novikova flew from Egypt, the plane was detained for almost a day.
Near the man was sitting, of course, somehow talking. But Mikhail did not live in Russia then, and we began to torture him, which Russian groups he liked.
He does not know anything, he says: "I just recently listened to some" Brilliant "ones, like nothing.
S.R. It is clear that you have nannies and assistants, but four children are four children. How do you organize all?
And the children you have, I must say, very educated. I.L.
Somehow it turns out. Maybe my education as a teacher of choreography works, maybe my father's genes – no wonder he is a coach.
The first time, when the boys came – and they were then 6 and 7 years old – I thought: "God, what to do, how, where?" Well, somehow we found a common language.
S.R. I understand that you yourself had a severe upbringing. I.L.
Dad athlete, military. No questioning.
For example, I had to run every day. I can not run in the morning – it means running in the evening.
S.R. Keep your children in the same severity?
I.L. I would like to, but it does not work out for me the way my dad does.
Although Ani, for example, has such a good, tight schedule of classes – drawing, tennis, music, English. Tennis was specially given away, and Anya is a young lady with us refined – so we chose the sport harder.
S.R. After a hard first pregnancy, how did you decide on the second?
I.L. A second pregnancy was planned.
And it was very easy. I did not even change the way of life – the car drove, I moved a lot. And … preterm labor.
Sasha was born weighing 2 kg. True, now no one will say that she is premature.
S.R. Are you planning more children? I.L.
Oh-oh-oh … So far everything is complete.
S.R. Who is the main teacher in the family – you or your husband? I.L.
Dad is white and fluffy. He loves us all and pampers. I can sizzle.
But even if dad said something sternly – all that means seriously.
S.R. Have a favorite place on earth? I.L.
You know, we love our home too. But never give up and travel with the whole family.
True, there are so many of us that any journey requires thorough preparation. Generally speaking, if we talk about ourselves, then I feel good where we are all together.