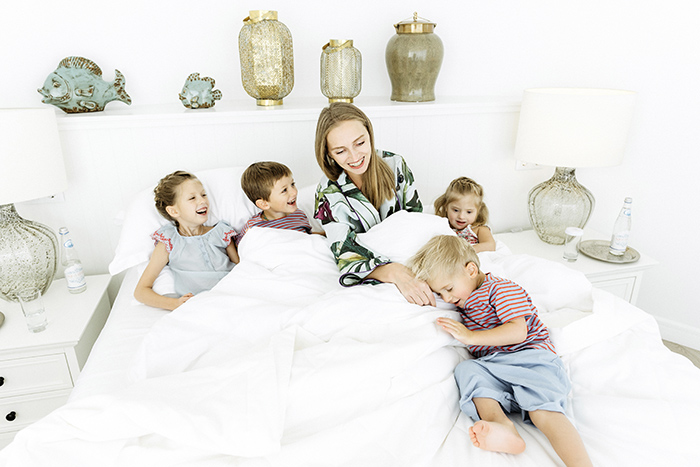 Irina, congratulations on your birth! What is the name of the baby?
– Fevronia. My husband and I liked the name immediately.
They chose a name as soon as they found out that I was expecting a baby.
How do you manage with five children?
– I do not know a person who would be in time. But a mother with many children has the feeling that the more you do, the more things appear.
But I do not try to do everything. If, before giving birth, I was able to release a couple of articles a day, do reviews, now I can not go on the air at all.
What is Internet for you?
– This is not a way to kill time or miss real life. This is a very cool bonus!
I found a husband on the Internet (moreover, in three days, on a dating site). In the same place I recognized some kind of usefulness, such as how to arrange breastfeeding without calling a consultant. And Instagram is generally a great opportunity to get distracted and not to burn out.
I can not go with my girlfriends in the evening to the bar or go shopping for the weekend. But I can put the children to sleep and communicate on any topic with readers. Remove stress, irritation or just joke.
If a woman wants, the Internet will be her friend and help in any business. Although it happens otherwise.
Girls look at someone's pictures, idealize someone else's life, driving themselves to depression or despondency.
How long have you been a blogger?
– My account is about 7 years old. I began to actively lead him after the birth of the second, special daughter. She has Down syndrome.
At first I was not ready for such an alignment, and then I found out that nothing terrible had happened, our life did not collapse. Moreover, with the advent of Masha, she became more interesting, fuller and more amazing.
Sounds unbelievable? But everyone who meets our family falls in love with Manya. At first I just wrote the chronicles of the life of a family with an unusual child.
And then I somehow let go of the topic of features, and I began to just talk about everything: about travel, about life, about the health of children, about our family everyday life and adventures. Then I realized: I'm a blogger!
I communicate in a blogger environment, have made friends with many girls and are still friends.
Was it difficult to accept the news that Masha has Down syndrome? Do you have any advice for parents with a similar problem?
– To agree that your child will never be the same as everything is quite difficult. There were many tears, there were stages of recognition of the fact. But in the end, we not only accepted the feature of the baby, but also worked to make it easy for her in this world.
She is very beautiful, cheerful and smart girl. But it gives her more difficult than ordinary children.
We work with a speech therapist, she has great success.
Masha and her syndrome is not a problem for us at all. Parents who are faced with the same situation and are now at a loss, I would advise just to thoroughly examine the child.
Many health problems do not occur from the syndrome, but from the fact that special children are more likely than usual to have various additional ailments. For example, with a thyroid gland. If you do not get rid of them, the child faces a lag in mental development.
Previously, these children are not properly examined, it was easier to write in the fools.
You gave birth to four children in Russia, the fifth daughter appeared in the USA. Especially with all their children went to give birth?
– We were not going to the States just to give birth. It just so coincided: our intention to go to the United States, giving birth and sending a husband.
He is engaged in organic farming in Russia, and in America there is a lot to learn in this area. Well, in the appendage of the younger daughter received a second citizenship.
We plan to live in Russia. And then we'll see.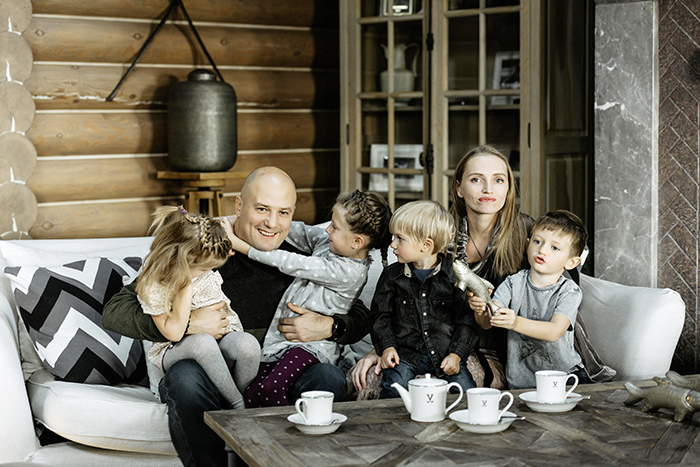 What is remembered fifth birth?
– They turned out the most wonderful! Apparently, if you wish, a woman every time recognizes her body, all the tricks of childbirth are better and better. It was a trance childbirth, not at the clinic, but at home.
I lived a fight, and then completely relaxed, fell into a dream, rested. Often found myself smiling.
The idea of ​​giving birth at home came to me even before the appearance of my first child. But I still gave birth to the first two daughters in the maternity hospital.
In general, it is wonderful that we live at a time when so much is known about natural childbirth, a great world experience has been gathered, there are high-class midwives! And at the same time there is an opportunity to receive medical care if it is necessary.
But is it dangerous to give birth at home? *
– Anything can happen at home and in the clinic. Home birth must be properly prepared. Then everything will be fine.
And it will turn out to give birth without any medical interventions, while receiving a healthy child. The bonus will be an incredible feeling that you can do everything and more.
This is an indescribable feeling when you own your body, your energy, manage your feelings! Even pain.
Good childbirth will replace the best and most expensive personal training. This is such pumping!
My three younger ones were born at home. And I can talk about the birth endlessly.
* (opinion of the hero of the publication may not coincide with the opinion of the editorial board)
Masha for brothers and sisters in a special place?
– Children communicate like all brothers and sisters. They play together, put on performances, climb on sport complexes and so on. We do not single out Masha, nobody rushes with her like a chicken with an egg.
We have an absolutely ordinary life. The little ones know that her sister is unusual, that she has a peculiarity.
We are talking about this because they need to know what to answer if they are asked by friends. For example, why Masha is worse talking.
For my children, it's normal that people have different characteristics and talents. They grow together and see where Masha is lagging behind, but also notice how she surpasses them.
Is weather conscious choice?
– Our family is generally irresponsible in terms of children. We do not calculate the difference in age, gender, horoscope, that there are still people who are bending.
We just always wanted a lot of children and are happy to accept gifts that the Lord sends us.
And the husband is on your birth?
– For us, a husband at birth is as natural as a husband at conception. And he himself claims that it is no less beautiful.
What could be more wonderful than to see how the most precious crumbs, entrusted to you by God come to the world! Dad, we have a great!
Such a dad, who carries children around his neck, plays lego and board games with them. Kids with him more interesting than me. I can only read a book, chat, cuddle, feed.
And dad is magic, a completely different level of communication. In general, our family can be precisely called traditional and patriarchal.
And it's very cool when the head of the family is smart, loving, generous and thinking. It has all the most complex and important decisions.