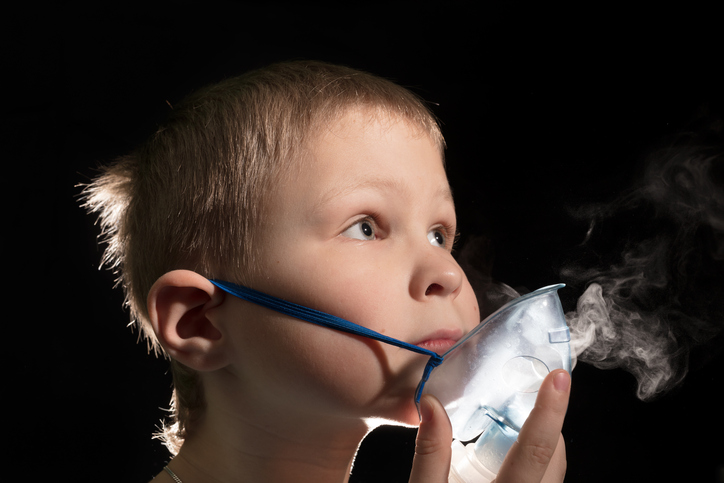 Inhalation of mineral water for children can do over the usual pan. Take a container with a volume of approximately 250 ml, pour mineral water into it.
Heat the pot to 50 ° C. Tilt the toddler over a pot of warm mineral water and cover him with a towel.
And within 2-8 minutes your child in this position should breathe over the pan.
And now honestly: your baby will sit 2 minutes in this position? That is why special devices have been used for inhalation for a long time. But before you do inhalation with mineral water, carefully read the instructions for the device.
If there is no mention of mineral water among medicines, it means that an inhaler for mineral water is not suitable.
For example, of all types of mineral inhalation nebulizers, only compressor and ultrasound are suitable.
Under high pressure, the compressor injects air into a container with a solute, thereby creating fog, that is, the substance is split into microscopic particles. High-frequency ultrasonic nebulizers disintegrate the substance into microscopic particles using ultrasound.
In order for inhalations with mineral water to children to bring maximum benefit, bear in mind that:
inhalation should not be done at elevated body temperature;
Do not use boiling water for inhalation, as inhalation of hot steam may cause burns to the upper respiratory tract. At the same time, if the water is not heated, the therapeutic effect will be weaker;
with angina and pneumonia inhalation with mineral water is not recommended;
inhalations are contraindicated in heart failure, frequent nosebleeds;
at a cold during inhalation with mineral water, it is necessary to inhale warm steam only through the nose;
during inhalation when coughing with mineral water, warm steam must be inhaled predominantly through the mouth;
procedure is carried out in an hour after food. Within an hour after inhalation, the child is better not to eat or drink anything.
Before the procedure, be sure to release the gas from the mineral water. To do this, pour it into a glass and leave for 1.5-2 hours until all the gas bubbles come out.
To get rid of gas faster, you can mix the contents of the glass vigorously. Children under 3 years old inhalation spend at least 3 minutes, after 3 years – at least 5 minutes.
Such mineral water as "Narzan", "Essentuki" No. 4 and No. 17, "Borjomi" will be effective. When coughing, such inhalations stimulate the excretion of sputum.
Take 2-5 ml of mineral water and pour it into the reservoir of the inhaler. After that, the device turns on, and the baby inhales a couple of mineral water through a straw or a special mask.