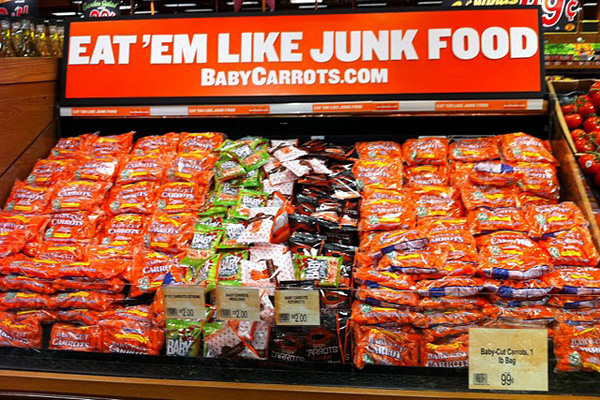 Children around the world are very similar to each other in their taste preferences. Few of them will cope with the temptation to try another batch of chips, while the offer to eat some more carrots will surely provoke a strong protest.
How to "crush" children's resistance and instill in kids love for vegetables?
In September 2010, the Baby Carrots advertising campaign ("Carrot for Kids") started with a sensational slogan "Eat'em like junk food". Here we need an explanation.
The term junk food literally means "junk food." "Junk food" refers to everything that is sold in packs, contains dyes, flavor and flavor enhancers, various E, preservatives and almost a daily supply of calories, moreover, useless.
Chips, crackers, smoked meats, sweets and soda from the category of junk food – all that children usually beg for in parents in stores. And now a healthy fast food niche for children has appeared on the market.
Even fast foods began to offer bags of carrot sticks and apple slices.
To put peeled, washed, and dried vegetables on the market — and to interest mothers and children in them — you need a convincing idea. Advertising agency Crispin Porter + Bogusky proposed to make the package look like a package of chips.
That is, vegetable snacks were simply "appointed" in commercials as "cool" as junk food. The campaign has spent 25 million dollars. There were even carrot applications for the iPhone.
Parents are not happy – vegetables have become a fashion-trend in children.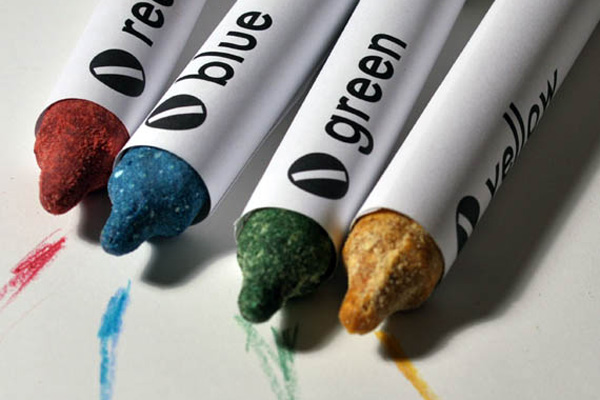 Luxirare offered another elegant solution to the problem of healthy nutrition for the little ones. Only to the topic came from the other end. In infancy, mouth and lips are the most important tools for perceiving and knowing the world. Therefore, the kids are pulling everything in their mouths, not dismantling, dirty or clean, edible or not.
Luxirare invented using this "reflex" to make babies 'nutrition safer and healthier — and they released edible crayons. On the website http://luxirare.com/crayon/ you can see their step-by-step preparation and find out the list of ingredients for different colors. This is very interesting, because you can do something similar at home.
All ingredients are readily available: cereals, nuts, dried and dried fruits. Shredded marshmallow sweets marshmallows are used to "glue" the masses.
Molds are easy to make from washed plastic packaging for markers. Each piece of paper is wrapped in paper so that the pens do not soften or smudge themselves. And you can safely draw!
Not on asphalt, of course, rather on paper, but still interesting.
Of course, the idea of ​​Luxirare is quite controversial: what if the child decides that all the crayons are edible? And what a pity to harass expensive nuts and dried fruits into drawings!
But edible crayons are just a witty idea, and you decide how to apply it correctly. After all, you can make "magic" crayons only for a holiday in order to surprise and cheer the children. To carry out, so to speak, an advertising campaign for vegetables and nuts – for the future.
You can do without drawing, and just make nut and fruit sticks – and offer them to your child instead of chocolates.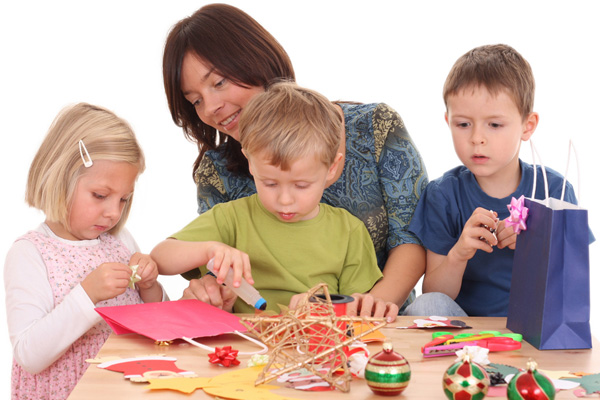 After the crisis of 2009/10, it became again fashionable to do everything with your own hands. In the West, there is even an analogue to our "Och. Shallow hands" – the DIY movement – Do It Yourself, or "Do it yourself". Knit, sew and sew clothes for a newborn soothes and helps to significantly save the family budget.
In many countries, the real boom of homemade woven children's handbags and purses from colorful paper strips (cut from fashion magazines and chocolate wrappers) is now a real boom. Sew a "zipper" into such a handbag – and the child will proudly fold his simple treasures there.
In our childhood, we also made such wicker bookmarks and wallets.
Well, the fashion is back! Therefore, do not be afraid to create and teach your children to this process.
After all, as you know, needlework develops fine motor skills, and with it logical thinking and ingenuity. The main thing is to motivate the child correctly: where nervousness, coercion or ignoring the result arise, there is no place for enthusiasm, creativity and the desire to get recognition again.
More and more technology is being drawn into our daily lives. Thus, the Japanese brand Fujitsu presented to the public its new development – talking teddy bears.
The robot bear has 300 possible reactions to external stimuli. In response to various human actions (stroking on the head, motion sickness on the hands, and so on), the bear is able to give a lot of answers: laughter, sneezing, crying. The robot has 12 degrees of freedom (paws, head, eyebrows, ears, mouth move).
In addition, a bear speech synthesizer reproduces a number of phrases at the level of a three-year-old child. It is not yet known whether such interactive toys can instill false impressions to the child and thus cause a tamagotchi effect, but the advantages are viewed.
Such toys are good companions that will help brighten the baby moments of loneliness and sadness.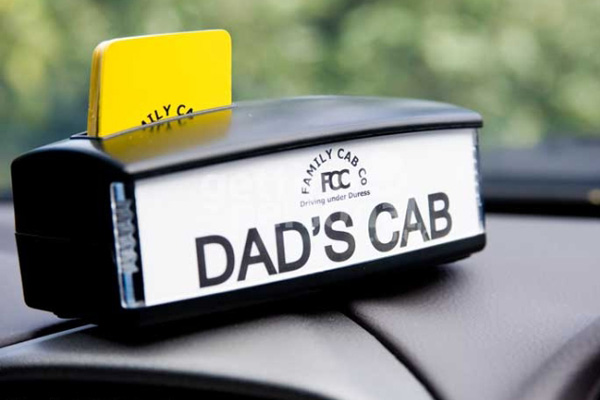 Already today, learning gadgets (small electronic devices) are emerging that can participate in family processes and create traditions. Here, for example, Dad Cab (in translation something like "father's taxi-counter"). Ambiguous, but entertaining invention, the idea of ​​which came from everyday observations.
Parents spend an enormous amount of time taking their children to school, from school, to section, to the pool, to dancing, etc. In general, some part of the day working as "family taxi drivers." And because they usually pay for taxis, the creators of the gadget reasoned.
But what kind of "monetary units" go in the family?
Respect, gratitude, reciprocating kindness – in fact, this is exactly what it is accepted to "pay" for a good attitude. The ideologists of the Dad Cab car counter interpreted it literally: they added cards with a "bill" for each trip to the clock.
Here's how it works: the parent takes the child to the destination and presents the "bill" – there may be something like "At the weekend, bring me a cup of tea and a fresh newspaper." Many will find this approach too formal.
But it can be easier to explain the laws of life to children, the need to appreciate parental time and the "cost price" of family care with concrete actions.
The question of the formation of gratuitous kindness in a child is even more important. But no one says that it is necessary to transfer the family to "commodity-money relations". Use these devices better in a humorous, playful way.
The principle itself is interesting, for its use in your family it is not necessary to buy a device.