Little kids are capable of making such performances that even comedic directors in Hollywood never dreamed of. But does this really mean that now you have to give up dinner away from home until the child enters the university? Not at all!
The ability to behave in a restaurant can be learned.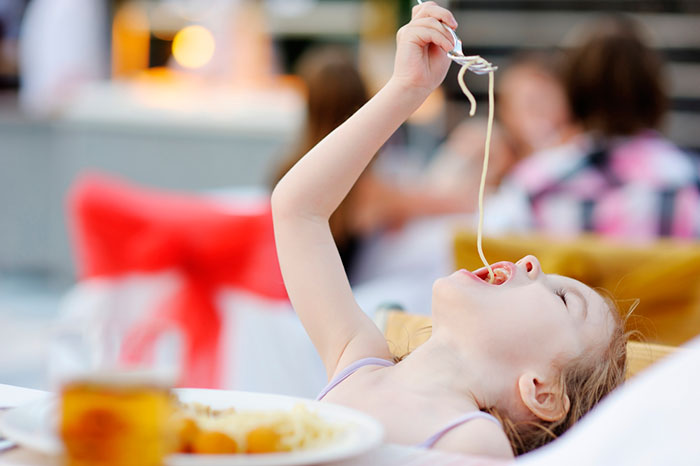 One of the easiest ways to prepare a crumb for going to a restaurant with adults is to sit at home regularly with their parents. Let him observe everything that happens, watch how and what you eat, and try to eat himself.
Teach him how to behave properly at the table. If the child knows that you do not support pranks at the table at home, there is less chance that he will want to repeat this in public.
Also discuss with the children the rules of conduct in the restaurant before you leave the house. Even a 2-year-old kid can understand basic things.
Choose for cafes and restaurants for joint trips, in which visitors come with children and in which there is a children's menu, there are children's rooms and entertainment. You should not go to restaurants with a child late at night, especially at weekends.
This will allow you to avoid crowds and provide quick service.
Ask the attendants to put you at a table located away from the rest of the hall, where there are visitors without children. As soon as you sit at the table, ask to bring you bread, crackers or crispy sticks – that is, everything that can take the child for a while.
Ask to bring food to your child first or to warm up the food you brought with you from home.
Grab a notebook and pencils from home so that the child draws, writes, a laptop on which cartoons are recorded, a bag of knick-knacks and 2–3 favorite books of the kid. You can also take with you a pack of light meals to feed the baby, while the restaurant will prepare the ordered dish.
We all know how, sometimes, it takes a long time to wait for the waiter to ask for a bill after the meal. Protect yourself from this: be sure to ask for the bill immediately after you are served food.
If the baby begins to whimper and fidget in the chair, act immediately. To get started, just try to walk with him along the street near the restaurant, if the weather allows, or just walk with him to the toilet.
If this does not help, the best solution would be to wrap the food with you.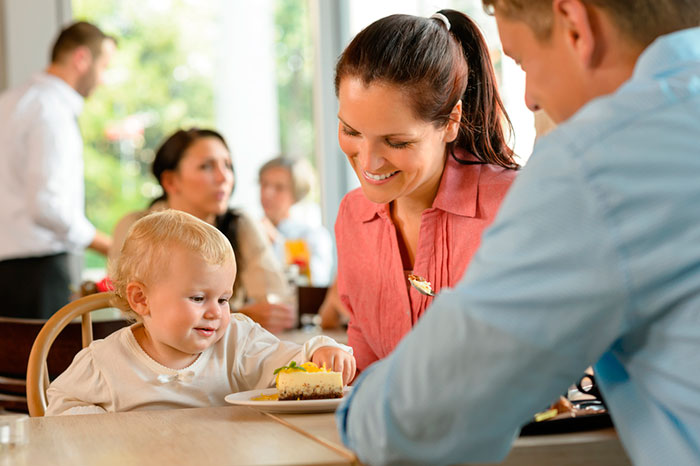 If you go to a restaurant with a baby up to a year – one and a half:
Find out in advance about the availability of special high chairs.
Even if the baby is full, bring along a "snack": jars with your favorite vegetable or fruit puree, juice, and cookies.
Be sure to prepare a set of replacement clothes – just in case.
Wet wipes, replaceable diapers and a diaper will be needed in order to change the clothes of an embryoed baby.
Stock up on a couple of new toys so that the enthusiastic kid gives parents the opportunity to enjoy the local cuisine, of course, at an accelerated pace, but at least not burning themselves.
If you are planning a trip with older children:
Find out in advance whether the restaurant provides a children's menu with healthy and tasty food for the child.
Try to choose a restaurant where a squall of indignant glances does not come down on your table at the first sounds of a child. For this purpose, suitable quiet places with a family bias.
Loud music as a permanent background is the reason to refuse to go to this particular restaurant.
It is great if there is a special "inventory" in the establishment: coloring, cubes, constructors. The original interior of the hall with an aquarium or a live corner will help to distract the child. Ask your manager if there are any similar delights available.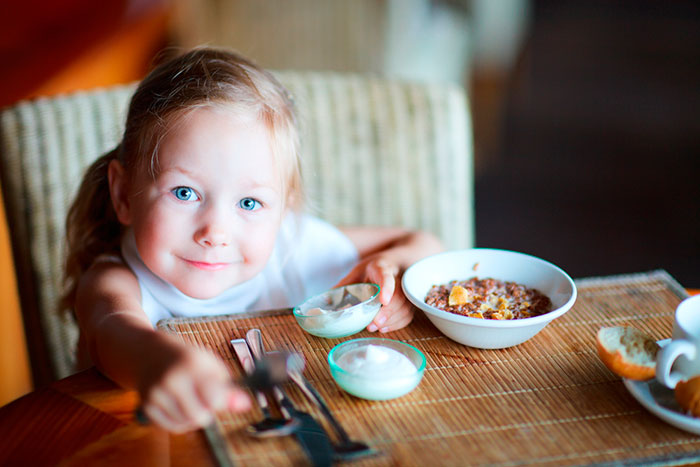 There are restaurants in which it makes sense to come with the whole family. They provide special menus for children – such as, for example, in the restaurants "Japan Mom", "Il Patio", "Sushi Paddle", Da Cicco, "Sirena", "Italian". In the latter, every weekend there is a game culinary program for kids. The restaurant "Ilya Muromets" always welcome visitors with children.
There is a living corner, and at the weekend there is a games room. There are classes for children in which they learn to cook sweet treats and learn about Russian culture and ancient customs.
In the American restaurant The Pink Cadillac for the youngest guests organized a game space of 50 square meters. m. It has a huge number of toys: from the labyrinth with balls for kids to Sony Playstation 3 for older guys. On weekends there is a children's animation group, performances, parties and various master classes are organized.
The restaurant has all the amenities: a changing table, a ramp for baby strollers, and high chairs. And the children's menu is excellent!
DaPino is a chain of family Italian restaurants that are suitable for both business lunch and family parties. There is a free game room, and on Saturday – the free School of the Little Pizza Maker.
The kid will get a lot of pleasure, an unusual culinary experience and a photo for memory, and during the course of 4 lessons – a diploma from a small pizza maid Da Pino.
Special mention is worthy of the AnderSon family cafes, where interesting events are held daily for children of different ages: master classes, lessons at the Culinary Academy, Pappet shows and much more. Each cafe of the Anderson chain has its own schedule, which is better known in advance on the website.
The Tres Amigos restaurant offers guests dishes of Latin American cuisine, rich in spices and spices, but this does not mean that the child will remain hungry, because the menu has a section for children. In each room there are screens that show what is happening in the children's room.
On Friday evening and all weekends, an experienced nanny is watching for children. And in the restaurant "Russian fishing" you can go fishing with your children. Tackles and bait here give free.
In the restaurant "Baden-Baden" on Friday, Saturday and Tuesday the teacher works with the children. For children, a separate toilet and a microwave so that baby food can be warmed up by babies.
The restaurant "Farm" also has a children's room. The nanny watches children's games from 5 pm on Fridays and from 11 am on weekends; On other days, children are allowed into the room only with one of the elders.
A special children's menu is not provided, but you can easily choose what the child eats with pleasure. Another real family-owned restaurant, Makarov, is famous for its children's menu and game room, from which children refuse to get out, even when it's time to go home.
The nurse psychologist deftly resolves conflict situations between children, deals with them according to educational programs. Babysitting services will be included in the bill.