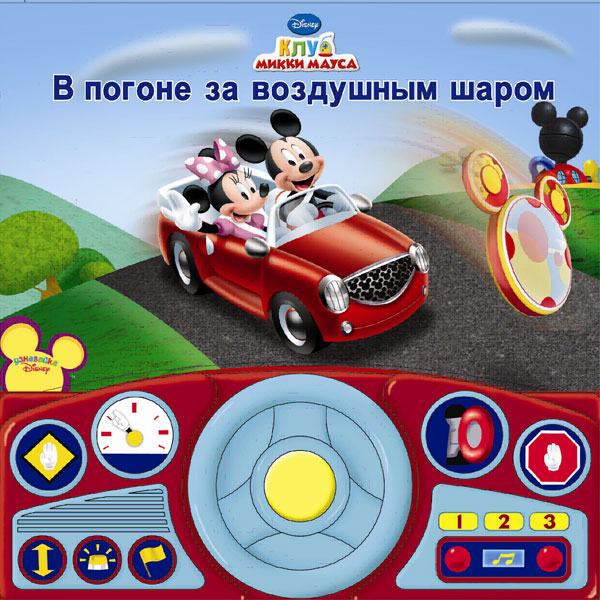 "Chasing the Balloon" is a fascinating, brightly illustrated, sound book about the adventures of Mickey and his friends.
Together with Mickey, you and your baby will have to go on the road to save the clumsy Goofy and his dog Pluto, who accidentally hit the balloon basket. Mickey will catch up on his magic car balloon and rescue friends.
The book includes a control panel with sound effects and a steering wheel with a beep button. In the process of reading, an adult should offer the child to relate the pictures in the text of the book and the pictures on the sound bar, pressing the corresponding buttons and "voicing" the story.
Thanks to this, the child will not be a passive listener of history, but a participant in the events.
Books and coloring book series "Recognition is designed for children from 2 to 5 years. Each of the books fulfills its developmental mission, helping the child to sharpen fine motor skills of hands, memory and logical thinking, as well as learn how to count and distinguish geometric shapes. Disney's favorite heroes – Mickey Mouse, Winnie, Handy Manny, Little Einsteins and others – will tell the children fascinating stories and, at the same time, introduce them to the world of music and art, the basics of geography and biology, and also teach you to find solutions for various tasks. .
And in the publishing house there is a new educational magazine for preschool children "Recognition".
In the "Recognition" series:
Higher and higher . Mickey Mouse Club
Daisy doctor Mickey Mouse Club
Rainbow for Minnie. Mouse
Save the earth together! Mickey Mouse Club.
Little Einsteins. Stick and color
Handy Manny. Stick and color.
In the amusement park Disney. Mosaic book
Mickey and his friends. Music book.