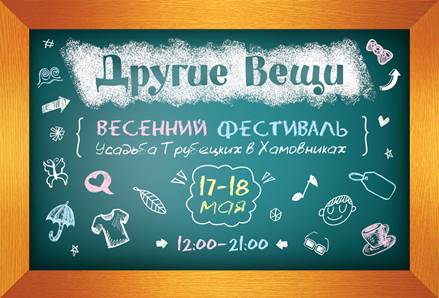 "Other Things" is the first Russian hand-made project, bringing together many talented fashion designers, designers and craftsmen under its brand to present them to a wide audience. From year to year the participants of the festival and their work connoisseurs expanded the community of "Other Things", filling it with a special atmosphere of creativity, comfort, freedom of communication and self-expression.
This spring the festival will be 8 years old, on this occasion, the organizers prepared a "delicious soup" of various activities and entertainment, and as a dessert – prizes and gifts from partners.
More information about the program:
Design make up
100 designers with the most vivid and fashionable things of spring: collections of clothes from natural materials, jewelry, accessories, eco-cosmetics, interior items and much more!
Master Classes
More than 40 different master classes, among them: painting gingerbread, making traditional folk dolls and gel candles, pottery, decoupage on the skin, decorations made of felt and the brightest – cooking Pasta freska on a 1.5-meter pan!
Activities
All day long and absolutely free: we practice yoga on the grass, learn to dance in the "latino" style with the best teachers of the Galladance school and strive for personal growth in special trainings from the "Female Magic".
Children
Drawing on graphic tablets is a fun, developing and exciting leisure for the whole family. If you wish, you can save your drawing and become a participant in the competition, according to the results of which the author of the best work will be able to take the brand new Intuos Wacom tablet with you.
A series of entertaining and educational activities for children from the "Collection of Ideas" magazine — we launch a kite and build paper cities.
And of course, in case adults don't buy, we learn to cook sweets on our own: on May 17 and 18 from 4 pm to 5 pm in the zone of master classes.
Food
Picnic on the grass: grilled vegetables and sandwiches, salads, meringue, handmade chocolate, waffles with maple syrup, natural lemonade, fruit tea and mineral water as a gift.
Clear sky
The festival "Other Things" together with the charity foundation "Clear Sky" again holds an action to raise funds for the benefit of children from orphanages. Foundation volunteers at the organization stand will gladly accept: shampoos, soaps, powders, shower gels and other hygiene products.
Bring all useful!