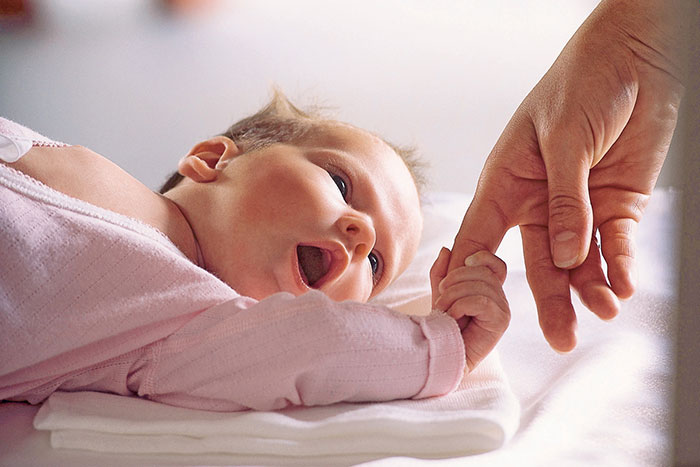 Increased muscle tone is not a disease, but one of the manifestations of problems in the work of the nervous system. There are several reasons for the appearance of hypertonus.
1. In babies of the first months of life, an increase in muscle tone is most often a symptom of perinatal encephalopathy (PEP), the main cause of which is hypoxia, that is, oxygen starvation of the brain and other organs and tissues of an unborn baby. It may appear due to:
chronic diseases of the mother: problems with the kidneys, liver, cardiovascular system; endocrine disorders or infections (chlamydia, toxoplasmosis, herpes);
difficult childbirth;
bad habits (smoking, taking sedatives), malnutrition or harmful work of the future mother.
Disorders of muscle tone due to AED can be mild (last for two months), moderate (from two months and longer) and severe when the recovery period takes more than a year.
2. The appearance of hypertonus is associated with trauma received during childbirth. In this case, the problems will be concentrated in a specific area of ​​the body, for example, in the right arm and leg, or in two legs at once.
3. Hemolytic disease of the newborn, which may occur due to the incompatibility of the Rh factor of the mother and baby.
During the examination, the neurologist will clarify the reason for the appearance of disorders of muscle tone and prescribe treatment. He will determine when it is better to start, how long to continue and whether to repeat.
As a rule, the treatment includes massage, physiotherapy, physiotherapy. In some cases, children are prescribed medications (stimulants of metabolic processes in the nervous system, vitamins B1, B6, B12, glutamic acid, vascular preparations).
In order not to be mistaken in the conclusions, it is necessary to examine the child at the moment when he is calm. The main thing is not to make sharp movements and remember that the position of the head affects the state of the tone in infants: if you turn it to the left, the left hand and foot will unbend, and the right ones will bend, and vice versa.
Pay attention to how actively the baby moves and whether its movements are symmetrical. In case of violation of the tone, they can be slow or, on the contrary, sharp, throwing.
Normal muscle tone in newborns is somewhat elevated. However, if, when dressing your baby, you notice that his legs are difficult to bend and spread, consult a doctor.
The second important point: place the child on the legs and observe if he does not cross the feet and does not rest on the fingers. Share your observations with the doctor.
Incorrect, or rather, not peculiar to age, provisions can also mean the beginning of problems. For example, if a child keeps his head confidently from birth, it means that the extensor muscle of the back muscles is so high that the head began to fall back.