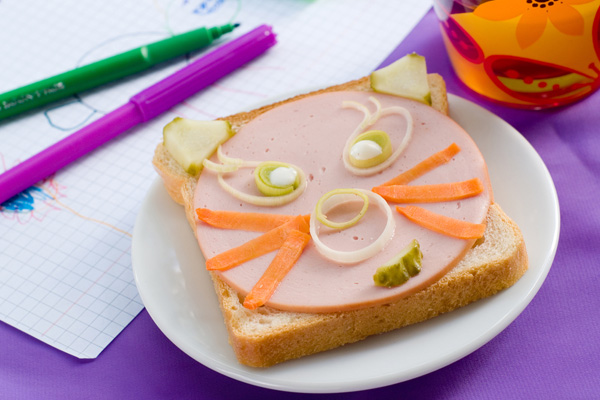 In the nutrition of babies, it is allowed to use only special children's sausages, and no way before 3 years. The rules of preparation are approved by the State Standard, and it is important to look for its mention on the packaging.
The fat content of baby sausages and sausages should not exceed 22%. In recipes only high quality meat with the addition of flour, starch, and soy protein can be used. The inclusion of genetically modified components is not allowed.
In the list of allowed additives more than 30 items. Among them there are no phosphates, burning spices, preservatives, flavor enhancers (including glutamate), artificial flavors and dyes. Nevertheless, antioxidants, emulsifiers, stabilizers that are relatively safe for healthy babies are used.
However, in children who are predisposed to allergies, these substances can provoke it.
Children's sausages, sausages and wieners should not be considered as a substitute for meat in the baby's daily diet: they have much more fat and salt. Such products can be offered to the baby no more than 1-2 times a week in portions of 70-100 g. For bacteriological safety reasons, a piece of sausage or a sausage must be boiled for 3-5 minutes before serving: even if they are made according to all the rules, It is not known in what conditions they were stored in the store. "Delicacy" is desirable to combine with vegetable side dish, and not with pasta: then the dish will not be oversaturated with carbohydrates and better assimilated.
As for the "adult" sausages, it is impossible to give their children of preschool age: they contain many harmful additives, and it is difficult to predict the quality of raw meat. Such products can cause kidney and gastrointestinal diseases even in a healthy baby.
Premature familiarity with sausages can negatively affect the work of the gastrointestinal tract, and exceeding the age norm – to distort the food habits of the baby.
You should not give sausages and sausages to children under 3 years old: the child's body cannot cope with such food, because it contains excess fat and salt. As a result, atopic dermatitis, biliary tract dyskinesia, and problems with the pancreas and kidneys can develop in the baby. In addition, if too often replacing meat with sausage, the taste of natural products will soon seem to your baby bland, he will pick and choose to eat wrong.
To rectify the situation is not easy: when a child begins to refuse healthy food, most parents go on about it, if only he does not go hungry.