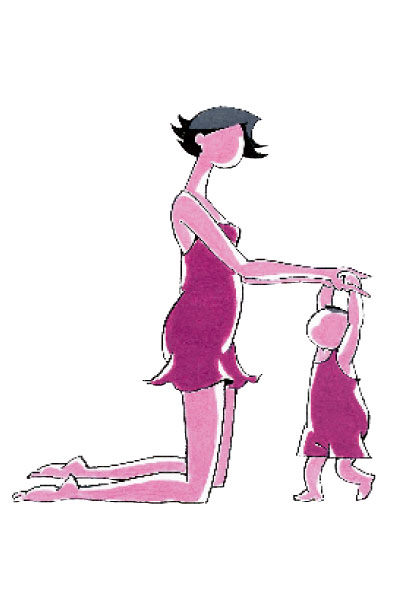 The position in which you lean forward, holding the baby's hands, is uncomfortable for you or for the child. The stereotype of the wrong tilt, which exists in most of us, causes a lot of unpleasant sensations, and even the kid will have to lift his head up a lot. Better get on your knees, putting your feet shoulder-width apart.
Now, being at the same height with the child, take him by both hands.
Walking with a stroller, do not lean forward and keep your head above the rib cage. This position is normal, eliminating overload of the muscles of the neck, which is fraught with headache and muscle pain, reduced vision.
Try to reach down with your coccyx, and lift your chest up so that the spine can take the correct position, and your chest and lungs are not compressed and do not interfere with your full breathing. Rely on the foot completely, and not just on the toes, to distribute the body weight on the muscles evenly and not to overload its already problematic areas, such as the lower back.
Get down on your knees, put your buttocks on your heels, straighten your arms. Take the baby more comfortably: with one hand, support him under the ass, and with the other, press him to the back.
This position will not disturb the balance of the body and will not drag you forward. Rising up, first get up from one knee, then lean on the other leg.
Keep your baby close to you.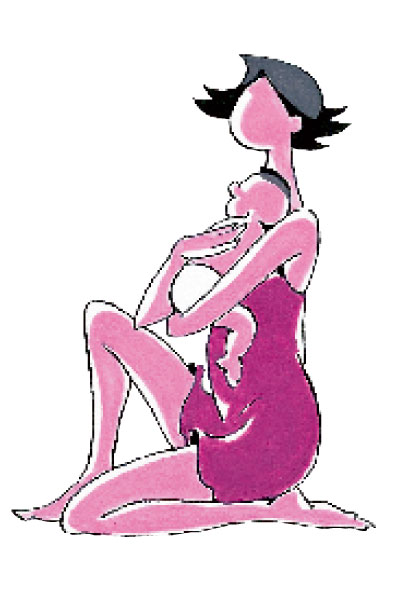 If you need to carry the baby, support his head with one hand and place the other under the ass. Change the position of the child and the supporting arm more often.
Do not slouch and watch your shoulders: lower them with the shoulder blades down to the waist to free the neck muscles and not to round the back.
Putting a small one in the crib, keep it closer to you, bend your knees, transfer your body weight to your heels, then you will perform the movement using the strength of your arms and legs and not overloading your back. Without rounding it, lean forward.
When removing the baby from the wadding, act like this: bend over, keep your back level, and your knees bent; With your hands, take the child, bend them in your elbows, clasp it, hold it close and straighten it.
Feed your baby more often while lying down. This position relieves the spine, relieving you from back pain.
Lie on your side, hold the child behind your back with one hand, and put the other under your head. Bend your legs at the knees and hips.
It is better not to leave them on the floor, so as not to harm the lower back muscles.