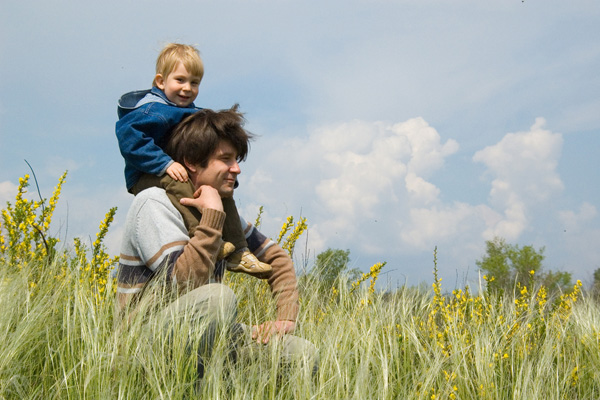 Do not rush to explore uncharted paths immediately after arriving at a new place. Let the baby get a little comfortable in the first few days and acclimatize. If the baby has already turned 2–3 years old, take a walk with him to the next glade, where you can spread a warm cozy blanket and have a small picnic.
Or spend an hour and a half with him in a nearby forest, but don't go too far.
A long journey of more than 2 hours, with an obligatory picnic break, can be arranged on the third or fourth day of your stay at a new place. But keep in mind in advance that children are not able to walk for long only in order to walk. Kids are not interested in the process of walking, they are more interested in the world around them.
The baby stops to pick up a pebble or pick a flower he likes. He can run after a beautiful butterfly, or his attention can attract a ladybug, perching to rest on the grass. Keep in mind that the optimism and strength of the baby can end at any time and he will begin to whimper and ask for home.
Distract his attention and play some fun and interesting game!
Before you go, be sure to check the weather forecast. If, despite the optimistic forecast of weather forecasters, a thunderstorm or heavy rain will catch you on the road, immediately turn back.
It is not necessary to travel on very hot days: children get tired of the heat much faster than adults.
So that the baby is not tired of monotonous walking, play something with him on the way. Let it be not just a walk in the woods or to the nearest river, but an adventure journey under the code name "Rescue of a Good Sorceress" or "Dwarfs Explore the Forest".
Walking is also easy to learn the basics of geography and astronomy.
Take with you a compass and explain to your child how to determine the directions of the world, at the same time tell us how to navigate without a compass. Children 4–5 years old can already tell how to use the plan and the map of the area.
It's great if you can go on a real little hike by predetermining the route using the map.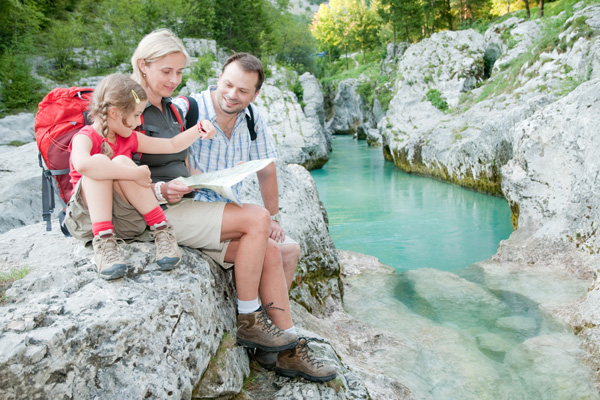 Before you go camping, take care of the correct equipment. Do not take with you a lot of unnecessary things, you still need strength. If the crumb will require his personal backpack, do not refuse him, but make sure that the baby does not fill it to capacity.
Backpack should be almost empty. After all, without unnecessary toys, you can find something to entertain the crumbs in nature. You will also need:
Headdress. Children, as a rule, do not like wearing panama, caps and kerchiefs, so make sure that they do not remove them.
Footwear. Boots are good for walking in the wet forest, but the baby will not be able to walk in them for a long time, so take care of replacement shoes. In general, as for shoes, it should be comfortable, waterproof and breathable, be fixed on the ankle and not fall off of the foot.
If you walk in the heat on the road, put on a crumb sandals to keep your feet from sweating.
Clothing. Even in the heat of the forest, the hands and feet of the crumbs should be protected by a light shirt and trousers from nettle, sharp branches and bushes.
Bring a windbreaker, jacket or raincoat in case of bad weather.
Insect repellent. Be sure to use it before heading into the forest.
Sunscreens. Several times during the day, apply sunscreen to your baby's skin.
Drinking water, non-carbonated. Take it in abundance and give the baby a regular basis.
Products. Take with you juice, fruits, vegetables (most importantly – not perishable), cheese, cereal bars.