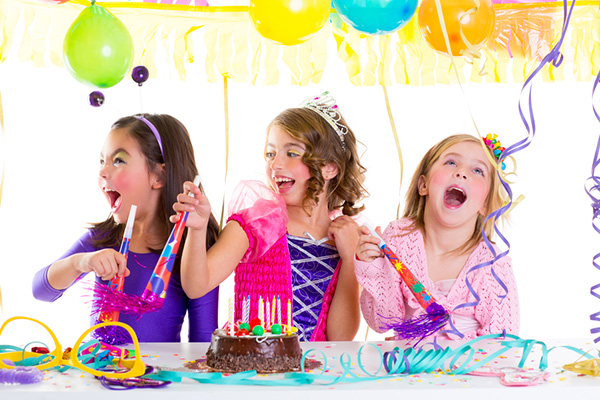 "Simple but well organized" is the formula that should be followed to give the child the desired holiday. Do not judge from the height of your age, try to look at things through the eyes of kids!
Choose quality over quantity and don't try to gather too many friends.
The standard rule: the number of guests is equal to the child's age + 1. Limit the holiday time to 2–3 hours. Take care of treats, cake and sweets, water and fruit juices in advance. Children do not need too much glitter and tricks for a holiday.
Just a few simple ideas and a variety of games.
As you know, children love to change clothes. To make sure of this, it is enough to catch the baby in the living room in her mother's shoes or father's shoes, with her mother's bag on her shoulder and in glasses on her nose. And if we, adults, are able to laugh these clown rooms, why not try to organize a costume ball?
A few days before the holiday, rummage in the closets and take out fabrics, outdated dresses, hats, accessories that could help guests turn into a pirate, a cook, or even a father or mother – why not? It is not worth spending a few hours for the purchase of new expensive suits.
Children will be just as fun if they tie a bright scarf over their heads or put on a big white shirt instead of a dress. If necessary, buy some inexpensive accessories.
But makeup, on the contrary, should be of high quality. A drop of imagination – and the trick is in the hat!
You can easily sum up your eyes, paint a shaggy beard, or a vampire's teeth — all that is asked of you. In this case, it is better to prepare children for the holiday together: one clothes, the other paints.
Then we start the game and offer children situations in which they can play the roles of their favorite characters.
Who among us as a child did not go at least once in search of treasure? Be sure, and your children will be delighted with this game.
But keep in mind, searching for treasure requires space, otherwise everyone will have to tread on one place. If there is a garden or a park near your house and if there is enough time and the weather allows, you can go there. The game begins with a card or an anonymous message that you give to a child.
This is the starting point from which the children move to the next one, where they will find another clue, and so on, until they find the treasure box. In the old tin can or a wooden box you can put "jewelry" – gifts wrapped in bright pieces of paper for each child and sweets. Riddles, puzzles, charades, puzzles … you will need to prepare all the stages, not forgetting that they must be adapted to the age of the children.
To play it even more interesting, you can offer young researchers to take the names of famous treasure hunters or detectives and distribute items to them that will help them in their search: a magnifying glass, small plastic tweezers, a spatula, a flashlight. They will be proud that everyone is responsible for something specific. And you are required to come up with a story and riddles that children will need to solve in order to reach the goal …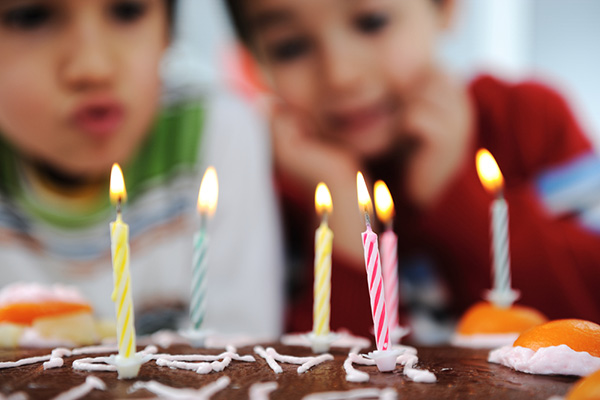 On children's birthday parties, as a rule, draws of small gifts for guests are also a great success. The well-known classic version of the prize draw: wrapped in beautiful paper, the prizes are hung on strings, and the children with their eyes blindfolded are cut off in turn. Someone who has cut the rolls, that was the prize.
The number of prizes should be more than the participants of the draw, so that the latest one also has something to choose from.
Tastes are aroused from a very early age: why not use a birthday to play and cook together? When the guests arrive, wear apron on each child (or a large napkin) and distribute plastic cutlery.
There are a lot of cooking games: for example, you can take turns tying children's eyes and letting them smell different foods – fruits, chocolate or even spices – vanilla or spicy herbs. By the same principle, the game is built when we offer the kids to guess the product to their liking.
Try to choose products known to children, and those that they love, for example, Nutella, jam, ice cream, banana, orange, apple, etc. Then you can invite them to make a fruit kebab from the fruit (each stringing those fruits on a skewer) which he loves most: apples, grapes, pineapple …). It is good to add candied fruits or dried fruits to them.
The holiday is an excellent occasion to give children to try exotic fruits that may not be unusual for them, such as mango. You can try to make a salty version of such kebabs – from cubes of cheese, vegetables, mini-sausages, cherry tomatoes, mozzarella balls … Another great idea is dragee beads! Oh, and do not forget to prepare in advance a small cardboard box for each child so that he can take home with him a part of what he has prepared.
After all, he will be very happy and proud to share this with their home.
"We live in a regular apartment, and my son's birthday is in winter. It is not easy to be indoors when the number of invited 8−10 children and most of them are boys. Two weeks before the holiday, we make invitations together and distribute them in kindergarten to those who want to come.
On our birthday, we hang balls and homemade decorations in the apartment. Be sure to bake a cake (this year I will bake a cake in the shape of a castle with a tower!).
I also plan some games in advance in order to reassure the guys a little: the Internet is full of interesting ideas. "
Milena, mother of 6-year-old Lesha and 2-year-old Masha
A simple solution for the smallest is to organize at short intervals what everyone really likes – dancing: jump, clap, circle, sit, swing … Then sit on the carpet or pillows to rest and take a breath. At this time, you can invite children to listen to the sounds of nature: rain, birds singing, the sound of the sea, asking them what they hear.
Then we move on to active exercises: jump, tumble on the carpet, walk along the bench, keep balance, crawl through the tunnel … And in the end everyone calms down a bit, you can invite the children to dance and sing a song together.
To make the children fun and interesting, and the atmosphere at the celebration was solemn, you need to take care of the musical arrangement of the holiday. For this, cheerful children's songs or melodies from cartoons are best suited.
The music will add solemnity and create the right atmosphere.