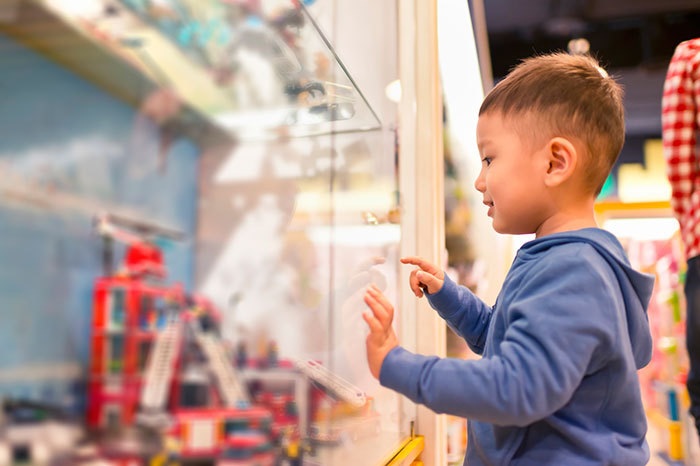 Strictly speaking, children under four do not react to advertising. And they react rather to our parental interest in it.
Advanced high-tech rattle, multi-storey designer, Barbie doll with a wardrobe for all occasions – a small child does not need it. But then we have it. Very often, we strive to bestow our children simply because we have been inspired: fashionable means good.
We must comply with the spirit of the times. Or because in our childhood there was nothing like that.
So first you need to learn how to disguise your interest in one or another children's goods market object, even if you are genuinely interested in them.
Advertising or not, but the child's eyes every day certainly falls on the most diverse highly attractive objects.
The first thing to do is to reduce the risk of meeting them to a minimum. To build, for example, routes of walks in the area or in a hypermarket so as not to fall into the zone of temptations.
The second is to keep in mind that young children always want to get what they want immediately. And the younger the child, the harder it is to wait.
So, the most reliable way to protect yourself from unnecessary acquisitions is to switch the attention of the child to something else. In most cases, the question will be removed.
The third important nuance: it is important for any child to have the same that his friends and girlfriends have in order to be taken for his. After all, many children's things (toys, magazines, clothes) are a kind of clan sign. Here it is better not to refuse categorically, but you need to prioritize.
The task is to select from the mass of requests and demands the most essential (that is, prestigious in the eyes of the child and his peers). Yes, and the choice of things with the attributes of the characters of animation is now very large – you can always find a compromise for every taste and wallet.
Habits are laid from early childhood. And the right attitude to shopping, too, must be formed now, in the first years of life.
Offer a choice. You can not buy a doll and a designer, let him choose one thing. Do not impose anything, just direct. Let him decide what is acquired first, then what. Disappointed in the choice in half an hour? Nothing wrong. This is how we learn to make the right decisions.
Learn to handle money from an early age. The child must understand that money does not fall from the sky and tend to run out. Even a baby should understand what is "expensive" and that not all cash reserves you will spend on it. It will be easier for him to realize this if you do not realize all his desires, even if he asks for nothing. You shouldn't buy on demand everything that your crumb poked with your finger: even at such a young age, children should know that parents cannot (and should not) satisfy their every "consumer" desire.
Be sure to explain the reason for your refusal. The kid should know that his opinion is considered and that if not bought, there are good reasons. Give reasons that are available to the concept of the baby ("Yesterday we bought you, and today we need to buy for grandma."). Show what pleasant can be in such a turn of events ("You will give – she will be delighted!", "What a fine fellow, you care about your grandfather."). Comment on purchases for other family members – the child will understand that he is not the only object of financial investments and will learn to wait for his turn.