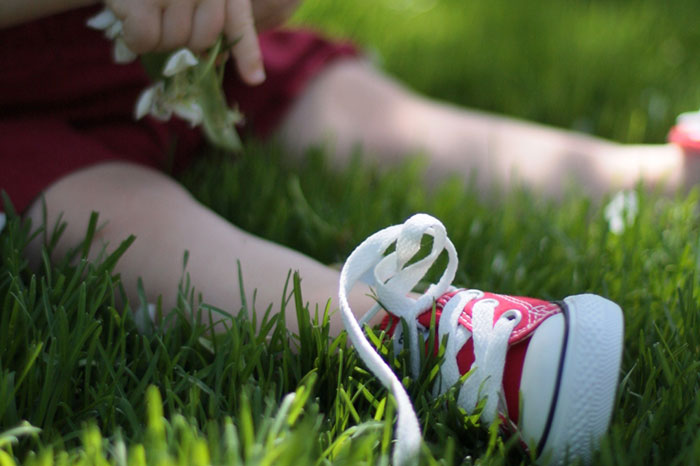 Children's shoes bring us love. It is impossible not to smile with one memory of all these tiny shoes and sneakers, received as a gift after the birth of the baby … But any mom will remember that funny mini sneakers or fashion shoes were not really needed by her baby. Parents buy all this miniature-sized shoes only for their own pleasure.
The baby looks so funny in these microscopic copies of adult clothes and shoes!
Of course, when the baby grows, it starts moving, crawling on the floor, you are trying to protect its legs from the cold. But if the child is sitting in a stroller or car seat, shoes for him are just an interesting toy or a hindrance that you want to get rid of. High boots with laces still have a chance to survive, but too open summer models of shoes are easily removed.
And often, during long summer journeys or waiting in the clinic, children, tired of traveling and queuing, take off their shoes and throw it away, gladly freeing the legs. Following the shoes or sandals, socks fly, and then other objects, because such an interesting experience immediately wants to be repeated, and the shoes and socks are already over. Of course, such situations cause you irritation, but be patient: until your baby is on his feet, he perceives his shoes as a toy.
Very soon, when he learns to walk, he will certainly try to try on your shoes to feel like an adult.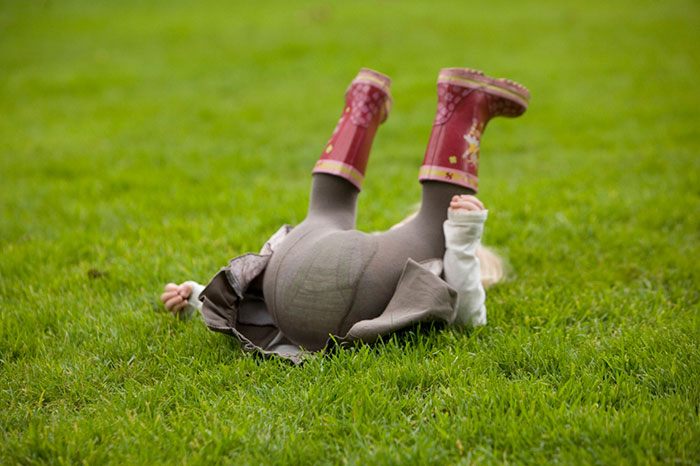 From the first months of life, the child begins to discover his own body. He examines his hands, bends, trying to grab his leg.
By the age of five months, he can already reach his mouth to the mouth and sucks or bites his finger with pleasure. His body is as new and surprising for him as the whole world around, this is a real field of discovery.
And do not deprive him of this, forging off excess clothing, socks and shoes.
Daria, the mother of 6-month-old Matvey, says: "At home, when Matvey is lying in his crib or on the rug, I often take off his booties and socks; I see nothing wrong with pulling the fingers of my legs into my mouth. If he does that, then he needs it. "
On a walk in the park, your child grabs his leg, pulls on his shoelaces, pulls off his socks, and it looks like this game doesn't bother him. He comes to taste when he sees how you collect everything he throws out of the stroller over and over again.
"I've lost my legs already," says Elena, a mother of three children. "I solved this problem by asking my eldest 12-year-old daughter to walk a few meters behind me during a walk. She picks up everything that falls out of the stroller. "
But not everyone has a serious and responsible elder daughter. Then why persist?
If the weather is good, leave the baby with bare legs – your little joker will have to invent a new game for himself.
Footwear for the kid – the object of increased interest. A toy and an item you often want to get rid of.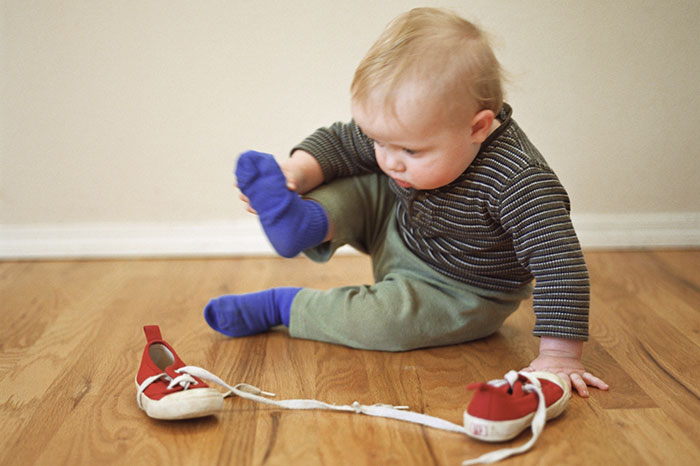 There is no need to put the baby on too early, until he is on his feet. True, the opinions of experts on this subject diverge.
Some people think that parents should let their children walk barefoot so that they have direct contact with the ground and the arch of the foot is formed correctly. Others, on the contrary, advise to protect the feet of the child from external influences.
Use any opportunity to let the kid jump with bare legs – on the beach, if the sand is not hot, on the grass and at home. This will give the baby freedom of movement and help in the development of the muscles of the ankles.
He will also receive new tactile sensations – and this is incredibly important.
For walks and exits "to the light", choose a model that protects and supports the leg: with a closed heel, with a flexible and non-slip sole.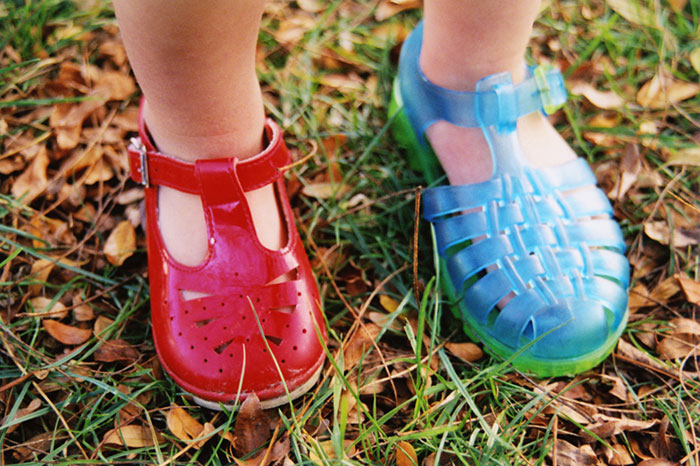 If your child has already begun to walk, but still continues to pull off his shoes, he may feel uncomfortable, his shoes are small or large. In any case, it is very important to choose the right model.
First, the size: your baby is still too small to tell you if it is convenient for him, so just measure his foot at least once every three months – because he is growing very fast. Between 9 months and 2 years his leg grows by 2.5 cm. Sellers use a special foot gauge on which the baby puts the foot, stretching out his fingers.
If you can't decide which model to choose, choose higher shoes that cover the ankle. Whenever possible – from soft skin that legs could breathe. Avoid velcro models – they are too easy to unbutton and their foot is often not firmly fixed.
And this is the main criterion for choosing shoes for the smallest. Prefer shoes with laces or buckles.
In no case do not wear shoes for a baby that have been purchased for growth under the pretext that the child will wear it longer. The foot grows quickly: every 3 months the shoes need to be changed. Do not use the shoes of his older brother or sister for the baby, from which they grew up – the older child's foot has a different shape.
Make a holiday out of shopping. The first real shoes – this is the whole event!
Constantly shoe the baby, until he learned to walk, there is no sense. You can teach him a little.
Stomping baby: 5 practical tips on how to choose shoes for the first steps
The choice of shoes is a very important matter, because the correct development of the child's feet, and therefore his future walk, depends on him. We tell how to choose the first children's shoes and what to focus on. Read more
To the orthopedist march step!
Usually, parents think about whether everything is in order with the baby's feet, only when he begins to walk. But doctors advise to pay attention to this from the very first days.
Why are regular visits to the orthopedist necessary? Read more
Summer shoes selection rules
With the first rays of the spring sun, we begin to dream how our children will build sandcastles on the beach and run on the green grass. And since the kid cannot do without comfortable summer shoes, parents actively tread the paths in the direction of special stores.
And there eyes run up from multi-colored shoes, sandals, slippers and sneakers. What is the choice to stop the summer season was not overshadowed by orthopedic problems? Read more