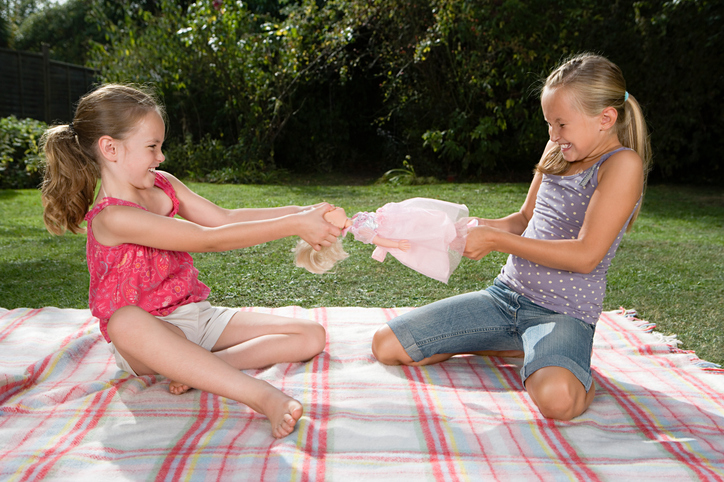 All moms know the situation when the baby starts screaming every time someone tries to borrow his paddle or truck. You probably tried to explain to the little owner more than once that no one would want to play with him if he behaved in this way. But the kid does not convince.
Do not try to tell him about a brotherly feeling, about the possibility of giving up something for the pleasure of another person. For a two-year-old baby it's too high matter.
And that's fine.
At the age of two years (sometimes a little later), the child realizes for the first time that there are things that belong only to him. A cot, clothes, toys – about this baby now confidently says: "Mine." But the child, unlike adults, perceives his things as part of himself.
And therefore he regards the attempts of other children to take possession of them as an encroachment on him. During this period, the baby goes through a phase of building up his own "I", psychologically separating from the mother. Finding a sense of autonomy, he builds and denotes the boundaries of his personality.
For a baby, what is outside of it is also one with it. And when we ask him to borrow a little friend with just a shovel or a machine, it's the same as if we asked him to part with his pajamas or bed for a while. And the negative reaction of the child is not a whim and not a manifestation of egoism, but a categorical statement that he needs to have everything he has with him in order to feel his integrity.
Do not be ashamed of the child for the manifestation of greed, thus ignoring his feelings and denying support. Do not deny the right of the child to make their own decisions: by showing respect to the feelings of the child, you will facilitate the passage of this phase of development.
You must have noticed the fact that children, who know perfectly well what "my" is, still do not understand what "someone else" means. This is often the cause of conflicts that flare up on the playground: for a minute, without forgetting about their property, the child, without fear and doubt, tries to take possession of the comrade's favorite toy.
This is because the child is not yet able to take into account the interests and desires of other people. He does not know how to control and restrain his momentary impulses, and the desired object must immediately be in his hands.
Gradually, with your help, the young expropriator will understand that other children also have things that belong only to them, and they feel the same possessive feelings towards them as he does.
Some babies behave like real altruists and easily share their toys with other children. Does this mean that the formation of their personality is somehow wrong? Should it be alarming and how to relate to such "generosity"?
Is this not a sign of weak character, inability to stand up for yourself? There is no special cause for concern here: it's just that these children have found a different way of building and affirming their own "I."
They derive confidence and a sense of their integrity from something else. Perhaps they have enough approval coming from their parents.
For them, the baby is their property, what they own and need: "My son is the most beautiful, kind, generous …". So parents fill the "I" of their crumbs, while on his part he does not have to make special efforts.
There are advantages and disadvantages. The child is able to show generosity and is not too attached to material values, but most often this is how he acts, supporting the wishes of the parents.
In many cases, it will be more difficult for such a child to take care of itself and defend its interests.
Do not force the child to borrow their things, first ask his opinion. But it may turn out that he does not mind, but simply does not know how to do it, or he is afraid that he will not be given a toy. If you see that the baby is worried, just be near him and comment on everything that happens.
When your favorite object returns to him safe and sound, praise the baby and say that now he can play with his toy again. To make the temporary separation from the property less painful, have the children exchange.
The content of the games is mutually enriched, and each keeps its "capital". If you go to visit, take your toys. In a strange house, there is sure to be something that will interest your child, and it will be easier for the little owner to share with a guest who did not come empty-handed.
Be sure to tell the child in advance that when you leave, he will be able to take back all his toys. For children of two or three years old, this is far from obvious and can cause great anxiety, preventing exchange and mutual concessions.