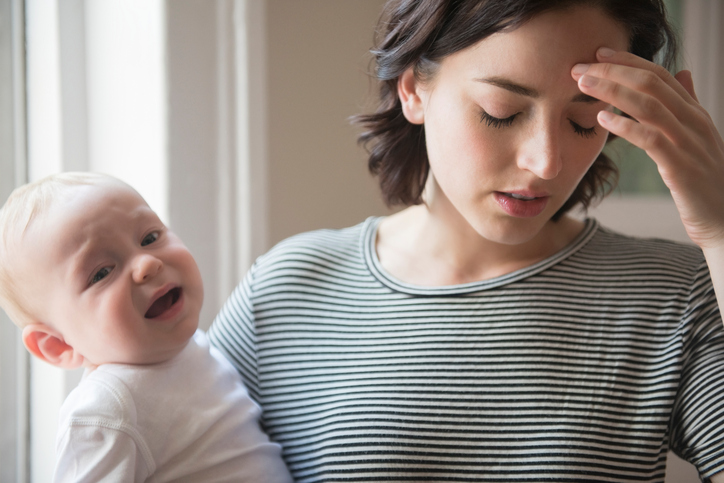 "When we had a son, my husband got a second job, began to come home late, so taking care of the child completely fell on my shoulders. My parents and his parents live in other cities, there was no one to help us. I tried to convince myself that it was natural: the husband earns money, the wife takes care of the house and the children.
But the burden was too heavy. At least for me.
After the hospital, I seemed to be in prison. There was a feeling that my freedom, my thoughts and my body were taken away from me. I worked "mom" day and night.
Cooking, cleaning, sleepless nights, walks, whims, tantrums, crying.
I did not want to have a second child, but my husband gave an ultimatum. And I gave up. Now I am very sorry about this.
Now our daughter is 7 months old, and the feeling of hopelessness has only intensified with her appearance. "
Kristina, 27 years old, Kostya's mother, 4 years old, and Daria, 7 months
Until the 18th century, love for children was considered an optional appendix to the maternal instinct. If you do not believe, read the book "On the Child's Side" by the famous French psychoanalyst Francoise Dalt. Until recently, if we take the historical scale, the children were treated without fanaticism.
That they need to be somehow specially "developed" has never occurred to anyone. Perhaps because children were treated as inferior adults and even bad, but still helpers. Daughters usually had duties at home from the age of three.
The sons of the peasant handicraft and the environment helped the fathers in the field and in the workshop. In aristocratic families, children often met with maman and dad once a day to say hello, and spent the rest of the time in the company of uncles and nannies.
So the parents had little responsibility, to say the least, to feed the offspring as far as possible and explain to him, on occasion, what to do is useful and what not.
Freud changed everything. Before people with psychological problems, no one listened. And when they were given the floor, it turned out that many traumatic experiences are connected with childhood.
The conclusions were obvious. Children, as it turned out, have a very rich inner world.
They are extremely vulnerable, so they need to be cherished, developed and certainly love. Soon, a happy childhood was declared the key to a successful life and spiritual harmony of every adult, and the mother was proclaimed the main person in charge of the "bright future".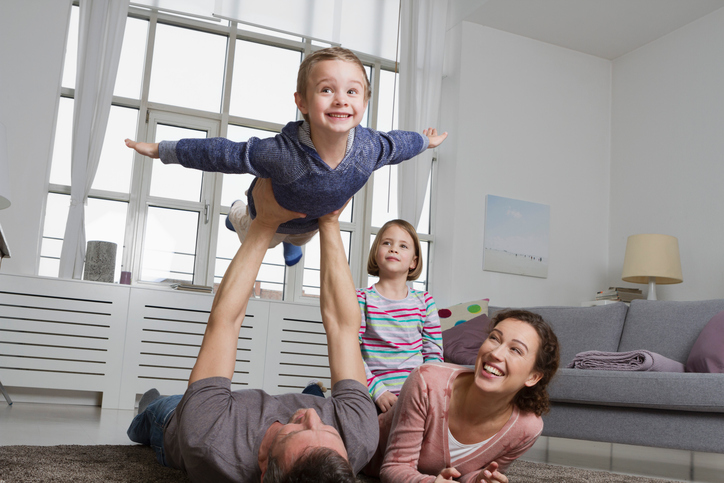 In what this approach has evolved today, we feel for ourselves. A woman in the 21st century must keep up with everything: be a multifaceted personality, an excellent mistress, an exemplary wife and an ideal mother.
And it is highly desirable that she does not give up work and retain financial independence from her husband, otherwise the kit will be incomplete, and this is another reason for despondency and Samoyed.
But let us reason logically: such requirements are initially impossible to fulfill, and the burden of responsibility is objectively excessive, even if the mother is at home with the child. After all, she needs not only to maintain immaculate cleanliness, but also to have time to walk with the baby for 4 hours a day (as pediatricians advise now), and in the remaining time to develop the crumbs strenuously (as psychologists recommend). Our mothers and grandmothers did not even dream of such loads in nightmares.
They didn't have time or energy – a stroller with a child shamelessly went to the balcony. If the family had older brothers and sisters, they were obliged to look after the younger ones.
And no one wondered over the children's menu: what was in the shops and refrigerators was served on the table, including fried potatoes and sausage sandwiches.
And we cannot allow such "irresponsibility". After all, the ideal mother should take care that the products are fresh and high-quality, and the dishes are balanced.
To do this, you first need to think about where all this splendor to get, and then stand at the stove for three hours, because not every husband will be delighted with broccoli and steam meatballs.
Such mockery of themselves usually does not lead to anything good. If a woman performs all these feats alone, sooner or later the body and mind are depleted. The consequences may be different.
Some mothers are tormented by a strong feeling of guilt, because they do not have time. Others make a choice in favor of the child, not the husband, and on this basis the family often breaks up. And the third – and they, perhaps, the majority – begin to experience conflicting feelings for the child.
Such mothers love their children, but when there is no strength to endure, they break down. "Terrible" thoughts crawl into their heads: "It would be better if it was not there", "That would be to turn back the time", "Why did I just subscribe to it?". Often there is a desire to drop everything and escape.
Anywhere.
Why is this happening? As soon as it turns out that it is impossible to fulfill social requirements, the woman begins to feel unsuccessful. Simply put, a loser: "Everyone succeeds on Instagram, but I can't!" And who is to blame?
That's right, child, because it's because of him that I "don't go anywhere," "don't see with my friends," "can't go to work." However, it is not the baby that should be blamed for everything, but physical and moral burnout.
You shouldn't blame yourself for dangerous fantasies either. The manifestation of irritability, anger and anger towards the child in this case is natural. Positive emotions require a lot of energy.
When there is none, there is no room for them.
Negative feelings for a child arise not only because of burnout. Children are born for various reasons. For example, a woman may decide to become a mother, because "it's time", "it's necessary", "otherwise her husband will leave."
Then the baby becomes not a "target", but a "means". When it turns out that he did not meet expectations, despair sets in.
There are different reactions to the collapse of hopes: someone gets depressed, someone openly shows aggression towards the child, and someone, on the contrary, begins to over-protect him in order to drown out the inner pain. But in all these cases, emotionally engage in communication and get pleasure from motherhood.
Even more difficult is for women who have gone through a divorce during pregnancy or shortly after giving birth. Normally, parting with a beloved man awakens in us the same feelings as the loss of a loved one.
This is the real psychological trauma in which we go into regression, that is, we give out children's reactions: irritation, anger, emotional coldness. But, again, talking about dislike here is impossible.
In an emergency, the instinct of self-preservation works. The psyche freezes tender feelings, and all the forces go so that mom can deal with her grief.
The child has nothing to do with it, but it is a very convenient object for "discharging". To realize this relationship prevents a strong feeling of guilt, so it is better to seek help from a psychologist.
And it is also very important to understand that the love for the baby lives inside, just as long as the insults and despair drown it out.