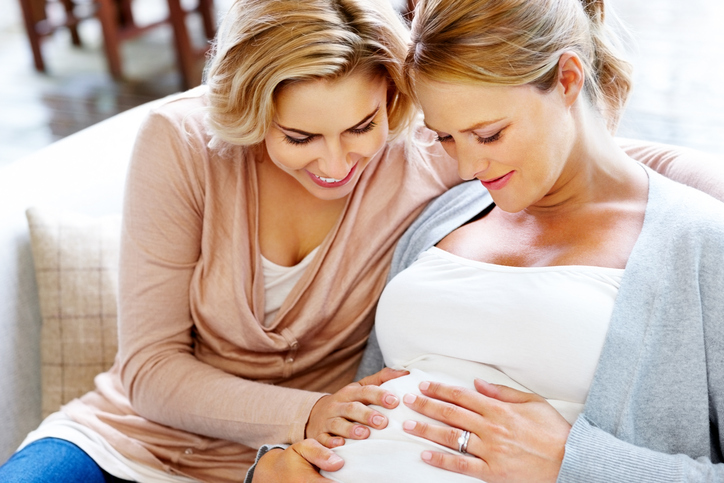 Such a question, rather like an insistent request, is heard by every expectant mother during pregnancy, and not once. In our country, perhaps even more often, because in our culture there is a sign: if a young lady touches the belly of a pregnant woman, she will soon find herself in an interesting position.
Most future moms calmly react to increased attention to their own person, but some annoying, and sometimes even arrogant persuasion is annoying. There are women who, because of this, refuse to go to visit, meet with friends and participate in family celebrations. Such a seemingly cardinal decision, as well as a harsh reaction dictated by hostility and internal rejection, also has a right to exist.
True, the question here is rather not about the norm, but about the fact that it is difficult for you personally to say "No!". You may be afraid that your refusal will be interpreted as a manifestation of distrust or disrespect.
Yes, the stomach, especially when it is already difficult to hide it under the dress, with its size and outstanding shape, as if it begs for compliments and caresses. It is certainly impossible not to notice him, so many of us find it difficult to resist the inner impulse to stroke him. If we discard signs, then this can be a simple explanation: when we touch the belly of a pregnant woman, in the depths of our hearts we want one thing – to touch the mystery of the origin of life.
As the fortune teller touches his crystal ball while trying to read his fate, so we hope to get a short, but completely mystical experience.
However, it does not prevent future mothers from having their own thoughts on this. A pregnant woman in general and her stomach in particular are very vulnerable.
And the future mother understands this better than anyone else. The larger her stomach becomes, the more fear of injuring it can become. So it is only natural that the closer the childbirth, the more she thinks about how to protect herself and the baby from potential risks.
The fact that there are people around who don't think about it, ignore these risks and want to touch her stomach at any cost, may alarm the future mother and even annoy her. In fact, such a reaction is due to the instinct of self-preservation.
No wonder that in the wild nature of many species of animals, pregnant females try to lead a solitary, secretive way of life, so that once again they do not show themselves to the eyes of either enemies or brothers. And here, in people, the persistent desire of others to touch the abdomen can be regarded at an unconscious level as physical aggression towards the child or violation of personal boundaries.
If you personally dislike such touches, you have the right to say so openly. Of course, it's still better for a husband and next of kin to relax, yet they are directly related to your unborn child and wish you only good. But with people outside your close circle of friends, you are not obliged to share this privilege.
They can say so: "Sorry, I do not like being touched by my stomach. I only allow my husband! "