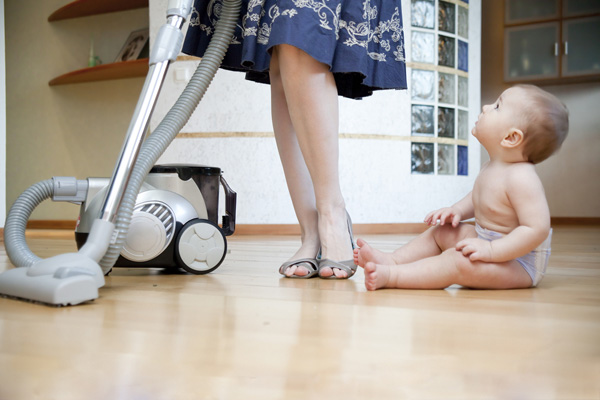 While the baby is in the mother's stomach, its gastrointestinal tract is sterile. But as soon as he begins to move toward the exit through the birth canal, both beneficial and harmful bacteria enter his body through the mouth.
After birth, colonization continues. Thus, the process of formation of the immune system, for which both beneficial and conditionally pathogenic microorganisms are equally important, goes on.
However, during the first year of life, the crumb is really very susceptible to harmful bacteria, so their number is important to control.
Just "declare war" does not make sense. First, to achieve sterility at home is impossible.
Secondly, in reasonable quantities microbes are necessary for the child to strengthen the immune system.
To adhere to the golden mean, it is enough to observe basic hygienic requirements.
Wash your hands often with soap: so you can protect yourself from many common diseases transmitted by contact (primarily from intestinal infections).
Repeat the procedure before you touch the baby, feed it, start cooking.
In the first months, limit the number of guests. Avoid contact with sick people.
Do not kiss him on the lips.
There should be a minimum of dust in the nursery, so wet cleaning is necessary every day. Use with this detergent or not – a personal matter.
If you trust household chemicals, it is better to choose the most benign ("green") formulas and use them no more than once a week.
Cleaning should be carried out in the absence of the baby, and after cleaning thoroughly air the room. Wash baby clothes and diapers too once a week. You need to choose only those powders and detergents that are allowed for use c 0 months: they are hypoallergenic.
The first two weeks after washing laundry, it is desirable to iron on both sides with a well-heated iron.
Some mothers after each walk disinfect children's plastic equipment, others boil linen daily, and others abuse bleach. How justified are these measures?
There is no need to disinfect toys (both indoor and outdoor).
Once a week, plush animals should be washed in a washing machine, and plastic ware should be washed out under running water as it is soiled.
If the baby does not have an allergy to animals, it is not necessary to get rid of pets for sanitary purposes. Your task is to ensure that quadrupeds and birds are grafted and do not bite. It is simply dangerous to use powerful chemicals in the nursery on an ongoing basis.
It will not be possible to kill all the germs, but a massive allergenic attack on a baby can be arranged easily. Boil underwear – too much: ironing is enough.