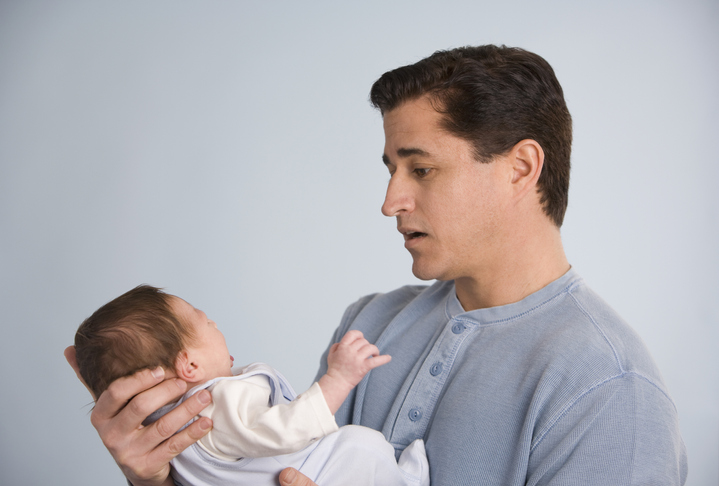 Unfortunately, you did not indicate the age of your baby, but judging by the fact that he does not hold the head yet, the addition to your family happened quite recently. From experience and practice I know that from the point of view of everyday issues, all 9 months of gestation can be prepared for the emergence of a new family member, but for changes within the family as a structure, the new roles of each family member have to be adapted as they go. The most difficult time, of course, is the first few months.
You are now not just a husband and wife, but also parents of your common child. Each of you probably has a lot of joyful and disturbing emotions on this subject.
Everything that happens to a baby in its own way worries both you and your husband. You can imagine how much you both got scared when the baby fell on the sofa.
It is gratifying that everything worked out, and this episode can be attributed not to the punishing the guilty, but rather to the mobilizing! But for some reason it is with this difficult for you.
The reasons for this may be very different.
On the one hand, if your child is really newly born, then you live with him a natural symbiotic relationship, in which the mother is so subtly mentally attuned to her child that a single whole is created, where the child's feelings are directly accessible to the mother, and her own child lives as her own . If you think about what happened falling, then we can assume that you felt the horror of a falling baby and his response hatred of the thrower, and now you experience them as your own, fearing unexpected repetition.
Here will help the conscious separation of his perception from the experience gained by the kid. And it seems that you have already begun to do this, reminding yourself that your husband dropped his son unintentionally.
It is also worth thinking about what good your spouse does for a baby every day. After all, there are no ideal parents, and children, by the way, often forgive us our mistakes, relying on a positive and warm experience of care and love.
In addition, remember that the hormonal alteration of the body, and the postpartum sensations of loss and emptiness can increase and even hypertrophy your senses in relation to external events. Therefore, give yourself and your husband a little time to get used to the new life, trust each other more and forgive mistakes.
If at the end of the postnatal merger period (3 months) your fears and doubts will still torment you, I would recommend you to work them out deep, best with the help of a psychologist. You care about your baby's father's own feelings.
After the incident, it seems to you that you have fallen out of love. I suppose it is necessary to understand not the fact of lack of feelings for her husband, but the fact that it was his offense that led, as you think, to the extinction of feelings.
And now neither the birth of a child, nor the ready repair are not sufficient factors for you to connect your life with this person.
I think it would be useful for you to realize how exactly "irresponsible attitude towards a baby" can reflect your own feelings in relations with this person (or other people). What exactly your deep-seated need remains to this day unsatisfied (for example, safety, security).
Can another (husband, girlfriend, mother) relieve your suffering and to what extent?
So, deeply working through our experiences, we can one day discover their root, which is often far from those people who are offended. Then we learn to take care of ourselves, trust ourselves, forgive ourselves for our weaknesses, and gradually give the same to others.
And most importantly, everyone benefits from this inner transformation – both you and your inner circle.